Island Games 2015: Ella Taylor wins two more tennis gold medals
Last updated on .From the section Tennis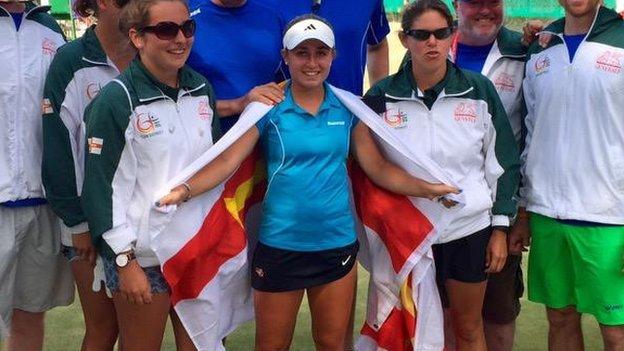 Guernsey's Ella Taylor has won two more Island Games gold medals after cruising to victory in the women's singles final and winning the mixed doubles.
The 20-year-old, who won team gold on Monday, thrashed Reegan Greenwood from the Isle of Wight 6-0 6-1 at the Caesarean Tennis Club.
She then teamed up with her coach Rob West beat Isle of Man 6-4 6-1 to take more top honours.
"I played my best match all week," Taylor told BBC Radio Guernsey.
"She's a very aggressive player, so I had to make it tough and show her I was up for a fight," Taylor added.
Meanwhile Jersey's Scott Clayton lost out to the Isle of Man's Billy Harris for the second Island Games in succession.
Harris, who beat the number one seed in the quarter-finals two years ago, beat Clayton 10-8 in a deciding tie-break after the pair were level at one set all.
Clayton took the first set 7-6, but lost the second 6-4.
"He came through at the end, it was close, but I didn't play the way I wanted to play," Clayton told BBC Radio Jersey.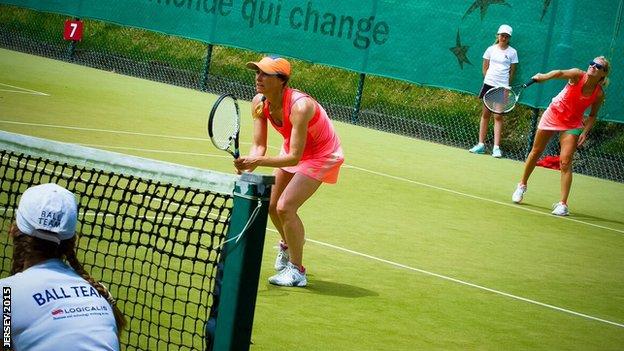 He did come away with one gold as he teamed up with James Connelly to win the doubles final against Guernsey's Dominic McLuskey and Patrick Ogier.
The Jersey pair prevailed 6-1 6-2 though there was despair for the hosts in the women's doubles final as Clare Clarke and Rebecca Edwards lost to Isle of Man.
The match went to a champions tie-break after the first two sets were shared, with Isle of Man denying the hosts gold.