Wimbledon: Heather Watson's 'top-10 tennis hurt' Serena Williams
Last updated on .From the section Tennis
Wimbledon 2015
Venue:
All England Club
Dates:
29 June - 12 July
Play:
Outside courts 11:30 BST; Centre Court and Court One 13:00 BST
BBC coverage:
Across TV, radio and online with up to 15 live streams. Read More:
TV and radio schedules.
"To me, she played top-10 tennis."
Ahead of their Wimbledon third-round tie, most would have expected this post-match analysis to be describing top seed Serena Williams' game. Instead it was Heather Watson who received that accolade from former British number one Sam Smith.
Current British number one Watson played, in the eyes of most experts, some of her best tennis against the 20-time Grand Slam champion.
However, she fell agonisingly short, losing 6-2 4-6 7-5 on Centre Court.
Williams, 33, said she was impressed by the 23-year-old, calling her display on Centre Court "unbelievable".
Here is how BBC Sport's pundits, Andy Murray and the rest of the tennis world reacted to Watson's performance.
'Watson played a game Serena doesn't like'
Seven-time Grand Slam champion Justine Henin: "Not only did Heather hit the ball very well, she played a perfect match tactically. She was very good in defence and tried to put some pressure on Serena.
"The serving speed between the two players was a big difference but some players, myself included, have proved they can compensate in other ways, like being quick on the court and having good timing.
"Watson played the game that Serena doesn't like - a lot of balls coming back."
Three-time Wimbledon champion John McEnroe: "Watson is extremely fast around the court and she was able to use Serena's lack of pace to her advantage. Having excellent timing is a good thing to be able to do and Heather Watson showed that in abundance."
Great Britain's Fed Cup captain Judy Murray: "Heather was blown away in the first set and Serena was serving big and hitting big off the ground. But Heather dug in, there were a lot of drop shots and short balls and she disrupted Serena's rhythm."
Former British number one Annabel Croft: "She backs herself a lot. Heather gets so many balls back into play, her style is about making you play a lot of balls."
BBC Sport's tennis correspondent Russell Fuller: "Deep ball striking will only get you so far against Serena Williams, and so the drop shots and sliced forehands were crucial in breaking up the world number one's rhythm."
Henin: "I was also very impressed by how Watson could control her nerves in such a big match in front of her home crowd."
Where did Watson fall short?
Watson's coach Diego Veronelli: "There are a lot of good things to take from this. Afterwards she said she didn't play well enough in the big moments.
"The difference was very little and we will watch the game over and try to fix anything we need to.
"That game at 3-0 in the final set, if she had taken it and gone 4-0 then that would've been crucial, but once it was 3-1 Serena got back into the match."
Henin: "What Heather missed was hitting more winners. To make the difference she could be more aggressive.
"But when she had the opportunities to be more aggressive, she couldn't go for big winners because she isn't as powerful."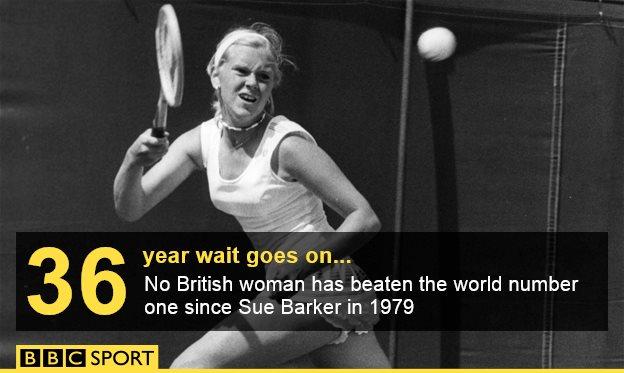 'Watson showed she can hang with the best'
Judy Murray: "I hope she can get over the loss quite quickly as this was the first time she has been in such a position against the best player in the world. But if Heather is realistic, she will use that to her advantage and say 'I can hang with the best of them'."
Former Wimbledon semi-finalist Tim Henman: "This match will be a great motivating factor for Heather. She played an unbelievable match and was so close to beating the best female player ever in Heather's home event on Centre Court.
"It will motivate her to keep working hard and working on her weapons to keep moving up the rankings. This has to give her confidence."
Fuller: "The defeat will hurt in the short term, but the knowledge that she can compete with the very best should be worth its weight in gold."
Can Watson break into the world's top 10?
Former British number one Sam Smith: "She should listen to Serena saying that the top 20 is probably setting her ambition a bit low. To me, that was top-10 tennis."
Croft: "I definitely think she could be a top-20 player. I think Heather has a similar game to world number three Simona Halep and she is a great, great match-winner.
"We saw so much positive stuff and I think this will motivate her to work even harder."
Two-time US Open champion Tracy Austin: "This will give Heather a lot of confidence, she can get at least top 20 this year."
Judy Murray: "After the first set, which was so one-sided, Heather's backhand was world class and she can take a lot of encouragement from that performance."
Henman: "It will motivate her to keep working hard and working on her weapons to keep moving up the rankings. This has to give her confidence."
Reaction of her fellow Britons