Wimbledon 2015: Serena & Venus Williams set for Centre Court clash
Last updated on .From the section Tennis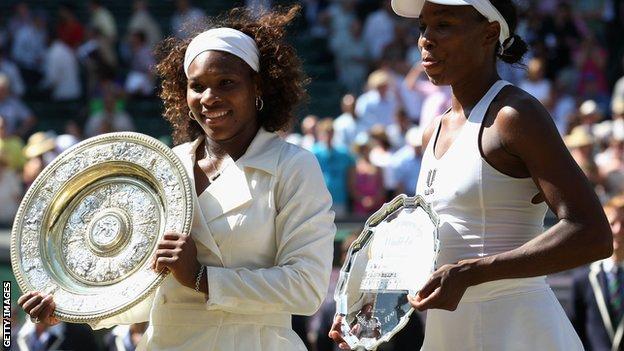 Wimbledon 2015
Dates:
Until 12 July
Play:
11:30 BST outside courts; 13:00 Centre Court and Court One
BBC coverage:
Live across TV, radio and online with up to 15 live streams
Serena and Venus Williams play each other for the 26th time when they meet in the fourth round at Wimbledon on Monday (first match on Centre Court at 13:00 BST).
The Americans, who have both won five Wimbledon singles titles, share an incredible 27 Grand Slam titles.
Elder sister, Venus, 35, has steadily been recovering her form over the last 18 months after suffering from a debilitating autoimmune disease.
However, there has been no stopping Serena and the 33-year-old claimed her 20th Grand Slam title at the French Open last month to edge closer to a second 'Serena Slam' and her bid to win all four majors in a calendar year.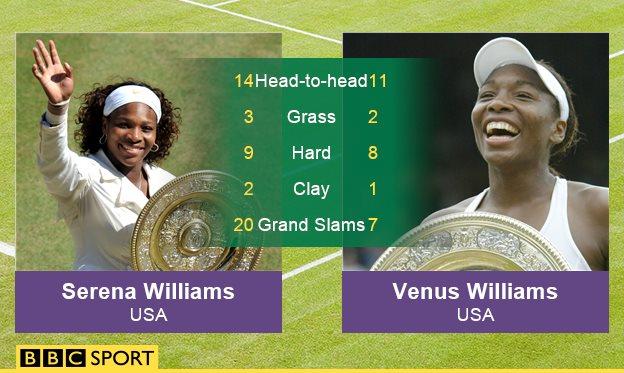 Serena on Venus
"She's my sister today, she's my sister next week, she's my sister next year: I think that's a little more important than a match.
"It's unfortunate that it's so soon in the tournament, but we're going to do the best that we can. We'll leave everything out on the court. When it's done we'll go back to regular life.
"I expect more people to be rooting for Venus. I would be rooting for Venus. She's been through so much. She's been so inspiring to me and to a lot of people with the same things that she goes through. She's just an incredible individual.
"I just don't know how I'm going to do, to be honest. I'm playing the toughest player I've played in women's tennis."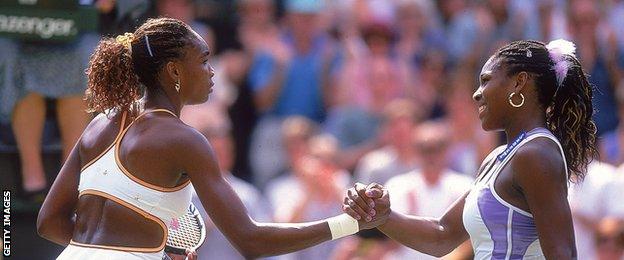 Venus on Serena
"There's no easy points against Serena. No matter how Serena's playing, she knows how to win.
"I'll probably be cheering for her. No matter what she's been through, she's never complained.
"You see players that continue to talk about injuries that are like 9,000 years old.
"She never complained once. You have to give her credit for that. She's gone through so much that no one could even imagine."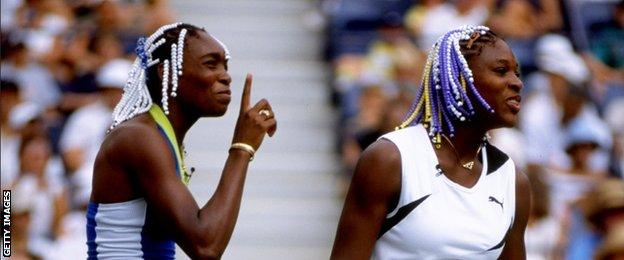 What are the BBC experts saying?
Tracy Austin, who won the US Open in 1979 and 1981: "It's incredible that two sisters, that are so close, have been vying with each other in majors for so long.
"You've got to give credit to their parents, Richard and Oracene, for keeping the family so tight and close. They have done an absolutely wonderful job.
"They made the two girls realise from an early age that every time they play it is just a tennis match."
Centre Court order of play - day seven
Serena Williams (US) v Venus Williams (US)
Ivo Karlovic (Cro) v Andy Murray (GB)
Roberto Bautista Agut (Spa) v Roger Federer (Swi)
Monday's full order of play
Lindsay Davenport, a three-time Grand Slam winner: "How many people become a five-time Wimbledon champion? How many of those people also have a five-time Wimbledon champion as a sister that you have played against in Grand Slam finals? Remarkable.
"You can often see the pain on their faces when they have played each other but they have always been so resolute go out there, take care of their business, and that's it.
"They walk off court together and they are totally fine. They have got it down to a fine art, they are each other's biggest fan and cheerleader. It's all about family."
Serena feeling the weight of expectation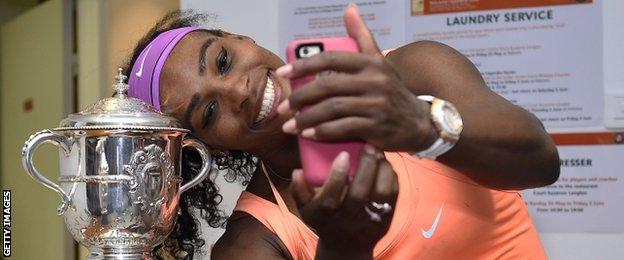 Britain's Heather Watson served for the match against Serena in the third round before the American recovered to win to keep alive her hopes of the calendar Grand Slam. Serena is also just two major titles away from equalling Steffi Graf's record of 22.
Davenport: "I think we saw Serena show some of the pressure she is under in her match with Watson. But once again she fought hard and found a way to get through.
"Everybody wants to know how you bottle Serena's mental strength.
"We have very rarely seen throughout the history of women's tennis, someone as mentally strong as her. We have never seen someone roar and grunt and applaud themselves with fist pumps like Serena does. She has got that belief and is not intimidated by anyone.
Austin: "Serena likes to be the best at everything she does.
"Her results have been so solid and consistent, particularly over the last three years and there is no slowing down as making tennis history is so important to her.
"She is just two behind Steffi Graf's mark and that is a huge motivation to her. "
Venus's struggles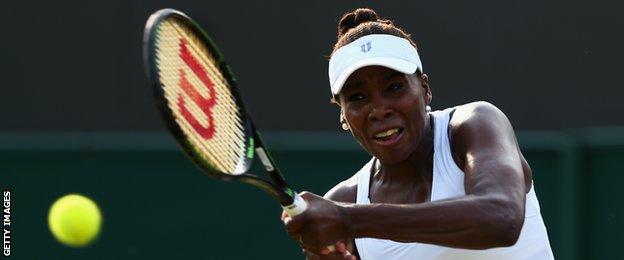 Venus was diagnosed with Sjogren's syndrome in 2011, an autoimmune condition which can cause fatigue and joint pain. Due to the illness her ranking fell to 103 by the end of 2011 before she made her comeback in 2012. She eventually returned to the world's top 20 in 2014.
Austin: "People sometimes forget what Venus has been up against. She never properly lets on how she is feeling day-to-day. Some days she wakes up tired, and others she feels terrific.
"She has really paid attention to her diet and has started to feel better and get her career back on track. She got to three finals and won a tournament, and also beat Serena in the semi-finals in Montreal (their last meeting) which was huge for her. "
Leaving a legacy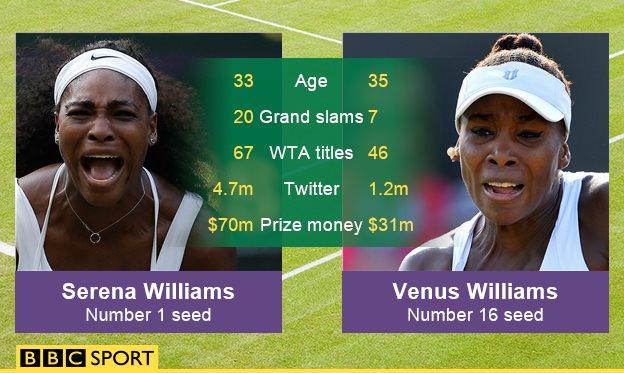 Austin: "You have got to think of the impact they have had on young women who have started playing tennis and in particular African-Americans taking up the sport.
"Venus is one of the outstanding champions we have seen in tennis and done so much in getting equal prize money for women, especially here at Wimbledon.
"And I think Serena's legacy will be being the greatest female player of all time.
"The impact that they have had together as sisters makes their achievements and influence even more profound."
Davenport: "I think they are still going to achieve a lot, lot more.
"For them both to have sustained the levels they have is astonishing. Their father Richard was always saying by the time they were in their mid-20s, they would be out of the game.
"I don't see either of them going anywhere soon."
Partisan to peaceful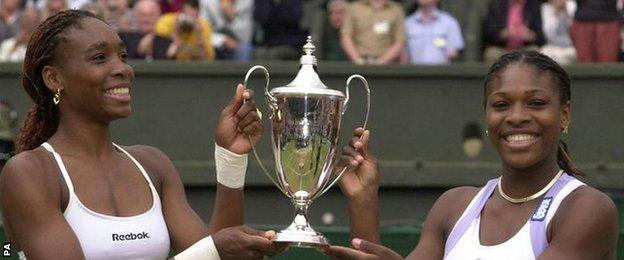 Davenport: "After the noise on Centre Court from Serena's last match with Watson, don't be surprised if this is played out in near silence.
"You often find that matches played between these two are quiet as people equate them as being one entity, so strangely they don't cheer for one or the other.
"Serena could go from one of the most partisan crowds to one of the most peaceful."
Davenport and Austin were talking to BBC Sport's Paul Birch.