Wimbledon 2015: How Roger Federer inspires global devotion
By Mike Henson
BBC Sport at Wimbledon
Last updated on .From the section Tennis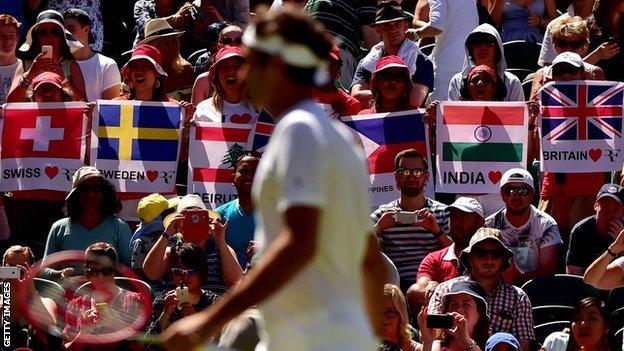 Andy Murray has been on the receiving end of it. Novak Djokovic hopes one day to match it. And tennis has never seen any thing like it.
Whether it is the 'RF' monograms splattered on caps and shirts or the red-and-white-clad mobs of fanatics, Roger Federer's support is different.
He is a bigger draw at the turnstiles, he attracts more sponsors, he sells more clothes, he is the world's favourite tennis player - certainly now, quite possibly ever.
Each year the ATP have an online vote for the most popular player on the men's tour. For the last 12 years - through the rise of Rafael Nadal, Murray's historic triumph at Wimbledon, Djokovic's current pre-eminence and his own three-year Grand Slam drought - Federer has won it.
The ATP - perhaps reluctant to stoke any resentment among his rivals - will not release full figures for Federer's winning margins through those years.
But in 2013, a poor year for Federer on court, he polled 56% of the vote. It's safe to presume other years have seen similar landslides.
But it is not just a matter of numbers. There's much more to it than that.
Who are the 'Fed Heads'?
They are a breed of fan that the sport has never seen before - a multinational travelling troupe of diehards for whom tennis is secondary to the man himself.
Thousands of miles of travel, drained bank accounts and weeks of queuing all to support the 33-year-old Federer.
"For me, no Federer, no tennis," says Beata Kumor-Wierzba from Poland, accompanied by her husband, Wlodek.
"We have followed him about four years now. Our daughter is studying and now we have time to go around.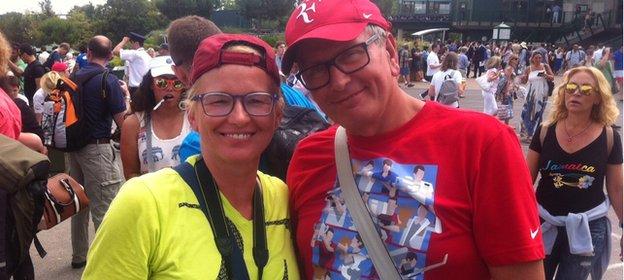 "We were at the Australian Open, at Indian Wells, in Halle, in Monte Carlo, in Rome, at the French Open, now here at Wimbledon and we will go to the US Open, then to Basel and then come back to London for the World Tour finals."
Wlodek and Beata are independent Roger watchers, but his official fan club, Fans 4 Roger - £42 for 12 months' membership - are also in attendance.
Their members have come from Sweden, Lebanon, India, the Netherlands and Brazil to proclaim their love for Federer with personalised national flags.
Mapping the 17-time Grand Slam champion's social media following against that of Murray shows just how far Federer's appeal extends around the globe.
Outside of the United Kingdom (Murray), Spain (Nadal) and Serbia (Djokovic), it is difficult to find a country where he is not the most popular tennis player.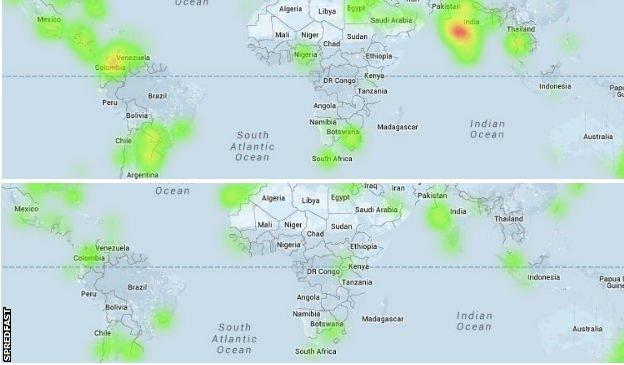 But is it rational?
He is arguably the greatest player of all time, plays in an almost eerily serene manner, and, with 33 years on the clock, the chances to see him in the flesh are fast diminishing.
But the sheer depth of devotion that Federer inspires is difficult to tally with mere matters tennis.
Trevor Smith left Newcastle for Wimbledon at 04:45 BST to see Federer play Sam Querrey in the second round. He returned home 22 hours later, snatching some sleep before heading off to work.
"I never have any split loyalties whoever he is playing, it is Roger all the way," he explains.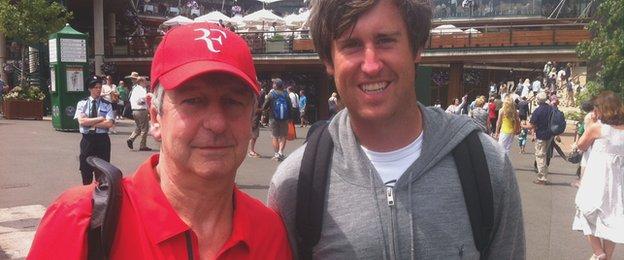 "Watching Roger has helped me through some tough times - my mother died 18 months ago. The way he came back from a poor 2013 in 2014 - he is just class on and off the court."
Smith is not alone.
Some have tattoos of Roger Federer's monogram.
William Skidelsky even wrote a whole book.
In 'Federer and me', Skidelsky, the former books editor of the Observer, describes his obsession with Federer and how, after first watching him play on a Shanghai hotel TV, he was entranced by the "silky wondrousness of his play".
What follows is a trip down a rabbit-hole into a world of tickets touts, early-hours satellite viewing and impulsive trips to out-of-the-way events.
The book also includes a brutally honest passage in which Skidelsky and his partner, emotionally shattered over the death of an unborn child, travel to the O2 to be consumed in the calm of a Federer match at the World Tour Finals.
What's the appeal?
Even his biggest fans struggle to quite explain the potent alchemy of Federer's personality and play.
Renee Kropel has travelled from Amsterdam to Wimbledon, to start a cycle of watching Federer at the All England Club before crossing back over the road to camp in the queue for tickets to his next match.
Last year she followed Switzerland and Federer through four rounds of the Davis Cup, travelling to Serbia and France and spending £500 on tickets to the final alone.
"It is very difficult to tell," she says. "He is very classy, everyone says that I know, but it is true.
"There is no difference with him on or off court, he is just the same person."
The Federer who beat defending champion Pete Sampras in a breakthrough victory at Wimbledon 2001 did not seem likely to become such an emotional focal point.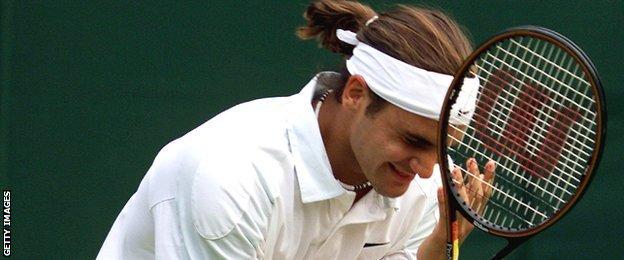 His sleek public image was yet to emerge; his calm on-court demeanour was a relatively recent change from a tempestuous junior career.
But, according to sports sponsorship and marketing consultant Nigel Currie, Federer emerged at the right time and from the right place to maximise his obvious appeal.
"He comes from a country that had not been a powerhouse in the sport and that makes him unique. It frees him from some of the traditional rivalries and narratives and allows him to be his own man," he said.
"However, added to that, his English has always been incredibly good. English is the lingua franca of tennis - three of the four majors are played in English-speaking countries.
"The ability to crack jokes and make subtle articulate points, to speak it like a first language, makes it easy to be communicative and human to the widest audience.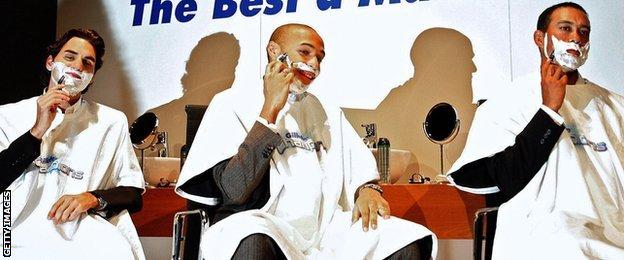 "He was one of the top stars at the time that social media such as Twitter began to take off. He was one of the individuals who grew with that, it was a mutually beneficial thing for top athletes at the time - they helped social media grow and social media helped them grow. "
The same could be said of Tiger Woods and Thierry Henry. They were signed, along with Federer, in 2008 as a major three-pronged campaign to sell razors. All three were sleek, yet solid citizens at the top of their game.
The other two have since slipped from the pedestal, yet Federer's reputation - the odd broken racquet and cheesy chocolate advert apart - remains as blemish-free as his finals-day whites.
That constant quality, amid the muck and scrutiny of being a successful modern-day sportsman, is just as key to the Federer allure.
While he keeps that, the Fed Heads will keep coming back for more.