Wimbledon 2015: Nick Kyrgios 'shocked' by criticism
Last updated on .From the section Tennis
Wimbledon 2015
Dates:
Until Sunday 12 July
Play:
Centre Court and Court One 13:00 BST
BBC coverage:
TV, radio and online with up to 15 live streams. Read more:
TV and radio schedules.
Nick Kyrgios says he has been "shocked" at the level of criticism he has received following his Wimbledon exit.
"I've read a whole lot. Comments like 'he shouldn't be representing Australia', 'he's a disgrace'. It's tough to read. I'm human," he said.
"I don't really want them to love me. I don't want their love, but everyone deserves respect."
Kyrgios added he was "really shocked" by how people had reacted.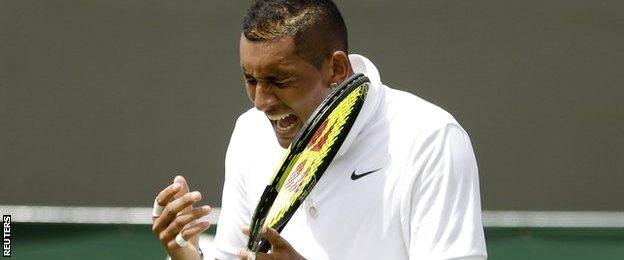 Australia have not had a men's major winner since Lleyton Hewitt in 2002. World number 29 Kyrgios and 22-year-old Bernard Tomic, who is 26th in the men's rankings, are their best chances at ending that drought.
But Kyrgios has been criticised for his behaviour, while Germany-born Tomic accused Tennis Australia of abandoning him after he had hip surgery last year and will not be chosen for this month's Davis Cup tie against Kazakhstan in Darwin.
Australian Olympic swimming great Dawn Fraser said the pair should "go back to where their parents came from" if they did not behave properly on court, before apologising for her comments.
Andy Roddick, former US Open champion
"I would be hypocritical if I got mad at anyone for throwing a racquet or saying something to an umpire. You see the kids at Kyrgios's matches and the young people flock to him. Where I draw a line is the tanking part. We have all watched tennis long enough to know you were not trying.
"As long as the personality comes from a place of passion, I am all for it but the not trying thing I can't get with it at all. We hope he learns a lesson. You don't see guys at the top of the game who choose not to try at times.
"Hopefully he would be open to guy like Lleyton Hewitt talking to him. Hopefully someone like that could steer him on the right path."
Kyrgios, who has a Greek father and Malaysian mother, called Fraser a "blatant racist".
"It's been tough for me waking up every day with negative messages," Kyrgios told Fairfax Media.
"People don't really know what goes on in my life. I've read a lot of what's been said about me."
Kyrgios's grandfather is battling illness and the row between his friend Tomic and Tennis Australia is also a distraction.
"At times I feel lost. I'm questioning what I should do out there and that's a bad thing," he said.
"I'm a guy that's always played on instinct on the tennis court. That's how I should be."