Andy Murray column: Beating Federer made me feel I belonged
Last updated on .From the section Tennis
Wimbledon 2015
Dates:
Until 12 July
Play:
11:30 BST on outside courts and 13:00 on Centre Court and Court One
BBC coverage:
Across TV, radio and online with up to 15 live streams available.
Read More:
TV and radio schedules.
I was 19 years old the first time I beat Roger Federer and my coach stopped me before I got back to the locker room and told me: 'Act like you belong'.
It was 2006 in Cincinnati, and Brad Gilbert gave me that advice in the corridor.
I didn't really know what I was supposed to do at that moment but he wanted me to behave as though beating Roger wasn't unbelievably surprising to me. That was hard as it was my biggest win ever at that stage and a huge day for me.
Roger had beaten me in Bangkok in our first meeting the year before but I'd played a pretty good match.
I remember being disappointed that I hadn't got to play him in the Davis Cup the week before because I wanted the opportunity to learn from one of the best. Thankfully I got that chance the next week in Bangkok.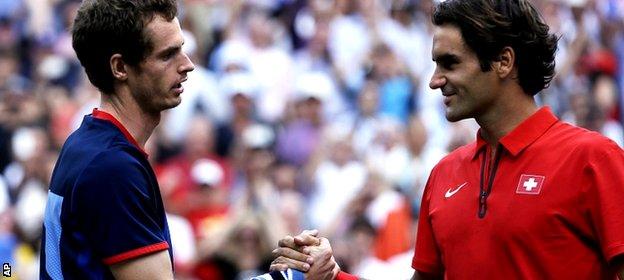 It was different back then because nothing was expected of me and I just went out and played, and some decent stuff too.
Almost 10 years on and we've faced each other 23 times, including two of the biggest matches of my career over the summer of 2012 in the Wimbledon and Olympic finals.
It will be a special feeling to walk out onto Centre Court with Roger again on Friday in a Wimbledon semi-final.
I've had great support every year I've played here and Roger is popular everywhere he plays, so it should be an amazing atmosphere and I know it will help me.
'It's not just the serve, it is what's behind it'
I've watched bits of both those 2012 finals in recent weeks but I'm not sure they will have much bearing on Friday's match - it's probably more important to have a look at some of his matches during this Wimbledon.
I know Roger has been serving very well but it's not just the serve, it's what comes behind it.
He has a very good, accurate serve but also backs it up well. People can talk about how good different guys' serves are but how they follow it up when the ball comes back is key.
On this surface Roger is extremely comfortable from the back of the court, but he likes to come forward as well, and that's what makes his service games tough to break.
Roger does tend to play quite quickly on his service games but as a returner I don't mind that so much because there's less to think about.
When you're returning it's a bit more instinctive, whereas when you're serving there's more to concentrate on.
'Rory will make up for his injury in the future'
I saw that Rory McIlroy had wished me luck just after I got off the court on Wednesday and I must say it's a real shame he's going to miss the Open with an injury.
We've met a few times and went out for dinner in New York last year, and I then went to watch him play out there. He's a very nice guy, very humble, but he has confidence in himself.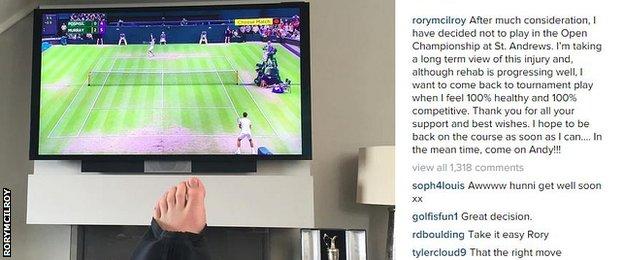 It's really bad luck that he got injured but accidents happen and golfers have very long careers, so as much as it's a shame right now, he'll be able to make up for it in the future I'm sure.
I know what it's like to miss your biggest tournament of the year because I was injured during Wimbledon in 2007, the year that Jamie won the mixed doubles.
It was really tough. Missing any of the Slams is hard to take, and the older I get the more I realise how important they are, but in my case Jamie won the mixed so that made up for it.
I hope Rory can get back on the golf course quickly.
'I wouldn't want to get on the wrong side of him'
I love speaking to other athletes because you can always learn stuff from them, and I had a visit from British heavyweight boxer Anthony Joshua while I was in the ice bath after my quarter-final.
We chatted about ice baths, boxing, tennis and just discussed the similarities and differences in how we both prepare. It's only his second year as a professional and there's probably still stuff he needs to do differently and learn, so it was nice to chat to him.
He's a huge guy - very, very strong, powerful and quick, and very composed. He's not a scary guy when you meet him but when you see him in the ring, he can do a lot of damage. I certainly wouldn't want to get on the wrong side of him.
Like Rory, he's an unbelievably nice guy, very humble and down to earth, but he's confident and also realistic. It's good to see and I'm sure he'll go on to do great things.
Andy Murray was speaking to BBC Sport's Piers Newbery. You can follow Murray on Twitter,Facebook and Instagram.