Wimbledon 2015: What's all the noise about grunting?
By Howard Nurse
BBC Sport at Wimbledon
Last updated on .From the section Tennis299
Is grunting louder than a lawn mower a natural part of tennis or is it unsporting behaviour?
Should it be accepted as being part of the game or should rules be introduced to outlaw players from exhaling so loudly when they hit the ball that noise levels exceed 100 decibels?
Grunting became topical again at Wimbledon when Belarusian Victoria Azarenka was forced to defend her on-court noises following a quarter-final loss to Serena Williams - and another 'shrieker', Maria Sharapova, is in semi-final action against Williams on Thursday.
Tennis pundits have had their say and the subject has been heavily discussed on social media, but what is it all about?
Why does it happen?
The definition of grunting is to "make a low inarticulate sound, typically to express effort or indicate assent".
Some studies claim noise can be of psychological benefit but what are the reasons behind players making such a sound during matches?
BBC tennis pundit Andrew Castle's verdict: "Young players are taught to grunt. It's built into their training, big exhalations help stabilise players' strokes."
BBC tennis pundit and 1977 Wimbledon ladies' champion Virginia Wade's verdict: "Every player exhales to the point of grunting, you just have to do it and it is part of the game. Even when I play now I know I grunt a little bit."
Who are the most famous grunters?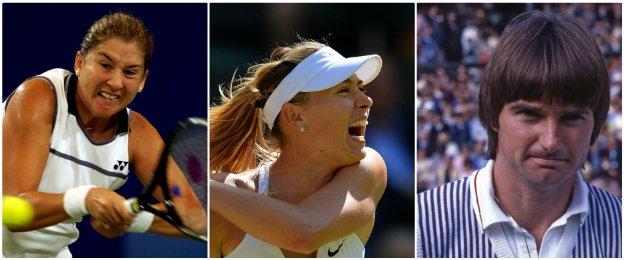 American nine-time Grand Slam winner Monica Seles was among the first women to be recognised for grunting in the nineties.
She upset Jennifer Capriati numerous times by "screaming at the top of her lungs", with her compatriot claiming it was a "deliberate hindrance".
More recently, Portuguese player Michelle Larcher de Brito was at the centre of rows during the French Open and Wimbledon in 2009.
Russian world number four Sharapova has long been a grunter, but was quieter when she won Wimbledon in 2004.
Her grunts have been recorded at an octave above the notes of a soprano singer, while Azarenka's have reached 105 decibels.
Virginia Wade's verdict: "The thing that worries me is when you have the likes of Victoria Azarenka and Maria Sharapova playing each other, then it can get extreme.
"It's not just the women; the men also do it as we saw with Nick Kyrgios."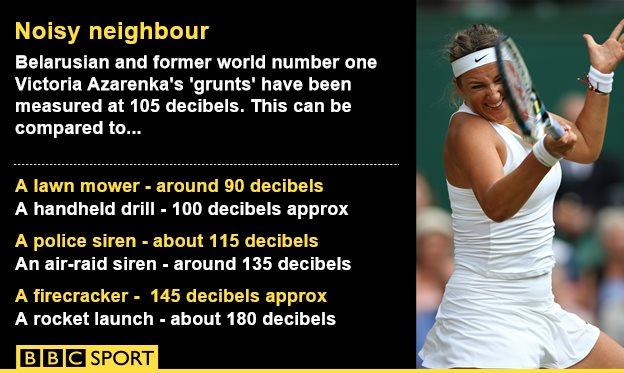 When did grunting start?
It's hard to say, but former world number one Jimmy Connors was among the early male grunters, while eight-time Grand Slam winner and Andy Murray's former coach, Ivan Lendl, complained about Andre Agassi during the 1988 US Open.
"When Agassi went for a big shot, his grunt was much louder, it threw off my timing," he said, hinting at gamesmanship.
Virginia Wade's verdict: "I don't think anyone really grunted that much when I was playing.
"Towards the latter half of my career, when things got more professional, it slowly crept into the game. You were almost taught to make sure you exhaled properly and coaches started to build it in to your game.
"Frankly, the thing that worries me is the damage they will do to their vocal cords."
What have the players said this week?
Azarenka was unhappy with questions put to her about grunting after her loss to Williams on Wednesday.
"I'm so tired of these questions all the time," she said, pointing out that "Rafael Nadal grunts louder than me".
"It happens in every sport," she added. "It is time to put it aside and not talk about it all the time because this is not what is important. Look at the good stuff. Stop bringing up this ridiculous stuff."
Williams gave grunting questions similar short shrift: "I'm done with controversy. I can't, I'm tired, I have to do an ice bath. If you have any other questions, I'm cool, but I'm done with that."
Who's complaining?
Nine-time Wimbledon women's champion Martina Navratilova wrote in the Sunday Times in 2009 that the timing of the grunt was crucial.
She wrote: "It affected my game because to me it is important to hear the ball hit the racquet; you can hear a bad shot before you can see it and the sound is an imperative part of the game."
British number one Murray complained to the umpire about the noise generated by Argentine opponent Carlos Berlocq during a tour event in the United States two years ago.
Murray felt Berlocq was turning his grunt on and off in a bid to unsettle him as it went from low to very loud.
Nick Bollettieri, who coached both the Williams sisters and Sharapova, is not so sure about the benefits of grunting.
"If grunting would win titles then everybody in the world would be grunting as loud as they can be," the 83-year-old American said.
"You have to have talent as well."
When the noisier grunters are playing, social media is also a place full of critical comments from the public.
Andrew Castle's verdict: "There are definitely times when TV and radio viewers are concerned by the noise players are making. If people are pressing the mute button, rather than just going on Twitter to claim they are pressing mute, then we have an issue."
Tweets to
#bbctennis
Edward Ditchfield:
Wish the umpire would tell the players to remain silent during the points. Or maybe the whole crowd should start grunting too.
Apoplectic:
All extraneous #noise should be banned…especially grunting! From players and the audience!
Rebecca Paterson:
It's time something was done about #Sharapova's grunting. Totally unacceptable, and off-putting.
KarLThomas:
Really want Coco to win this match, don't think I can handle more screaming/grunting from Sharapova - it does my swede in!!
Shy Robin:
I'm sorry but if you're annoyed by a tennis player grunting on TV you must have über sensitive ears
What are the authorities doing about it?
In 2012, the Women's Tennis Association (WTA) said there was a need for an objective measure of when a player makes too much noise and suggested a decibel meter could be introduced.
Three years later, no such innovation has materialised.
The WTA told BBC Sport: "Umpires can act on grunting, but only if they decide a player falls foul of the hindrance rule. That states that a player will lose a point if they hinder their opponent's play 'with a deliberate act'."
Rather than bringing in a decibel meter, the authorities want to tackle the issue through education, though they recognise players cannot be silent when they hit the ball hard.
"We take this matter seriously and are working effectively to educate the next generation of players. Our goal is to drive excessive grunting out of the game, especially for the next generation of player," said the WTA.
Virginia Wade's verdict: "If the authorities could control noise levels I'm sure they would, but I don't think you can actually pick on one player if that is the way they hit the ball.
"Noise violations could come in, but it would be so subjective and would be impossible to consistently manage. Some stadiums sound louder than others, some matches are more intense than others - so I think that would be quite difficult.
"The problem with rules is how do you enforce them properly? You get as many bad judgements as you get good ones."
So it looks like we're stuck with noisy hitting for the time being.
Just remember to bring your ear plugs next time.