Wimbledon 2015: Murray to beat Federer in classic - John Lloyd

By Kheredine Idessane
BBC Scotland at Wimbledon
Last updated on .From the section Tennis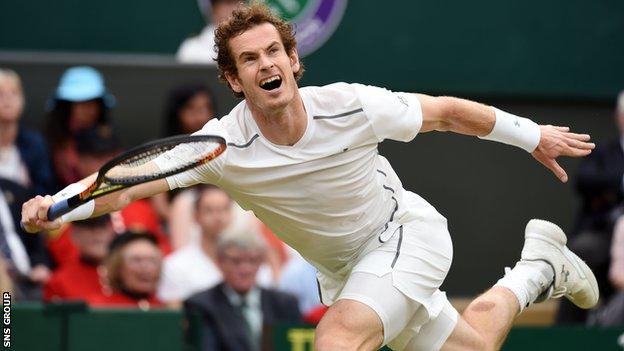 Andy Murray's Wimbledon semi-final with Roger Federer promises to be "spectacular", according to John Lloyd.
The Scot, seeking a second title at SW19, meets the seven-time champion from Switzerland on Friday.
"People with tickets are so lucky because it will be spectacular," TV pundit Lloyd told BBC Scotland.
"I picked Andy to win at the start of the tournament and I've not seen anything to change my mind, but he's going to have to be at his best."
Federer's last Wimbledon title came in 2012 when he beat Murray in the final.
But the 33-year-old has been in vintage form, dropping just one set on his way to the last four and losing only one service game.
Murray's progress to his 17th Grand Slam semi-final has also been smooth, with only two sets going against the 28-year-old from Dunblane.
"At the start it looked like he had a tough draw. Then things seemed to go his way, but you still have to win the matches," said former British number one Lloyd.
"He's been solid in all of his matches. We've seen glimpses of his brilliance but he's just played well enough to win. It seems to me like he's not had to get out of third gear. He's been so good.
"He's serving well, he's moving well and he's got plenty of gas left in the tank.
"He loves being here and his attitude is good. I'd say the report card would be a nine out of 10."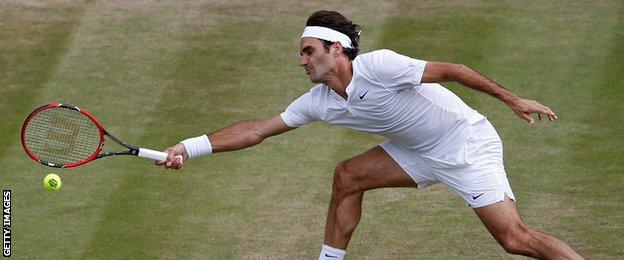 Lloyd, a two-time mixed doubles champion at Wimbledon, has also been hugely impressed by Federer, who has won his last three meetings with Murray.
"Roger is playing brilliantly and I'm so looking forward to this match," enthused the 60-year-old.
"He's gone into this serving-machine mode at the moment. He's attacking with his serve and volley, mixing it up with his slice.
"I think the crowd will be in favour of Andy but it will probably be pretty close because everybody loves Roger.
"There's just a little twinkle in his eye. It's like he thinks 'it's time for me to regain my Wimbledon title'. He's so at home here."
Murray's last major success came at Wimbledon in 2013, the year after his breakthrough victory at the US Open.
"The level of tennis is so good because the top players keep raising the bar and I actually think Andy is playing better now than when he won two Grand Slams," added Lloyd.
"Then I look at Roger. Has he lost any speed across the court? No. Has his serve gone off a bit? No. Is his defence deteriorating? No.
"We're lucky to have them both. It should be a classic.
"The balance is very close. Andy is the best returner in the game and Roger is one of the great servers of all time.
"I think Andy has the better backhand, while Roger has the better forehand. Volleys are kind of even and speed across the court - I'd give that to Andy.
"It could be five sets and I've got him going through to meet Novak Djokovic and it's Andy all the way."