Wimbledon 2015: Andy and Jamie Murray both going for glory

By Kheredine Idessane
BBC Scotland at Wimbledon
Last updated on .From the section Tennis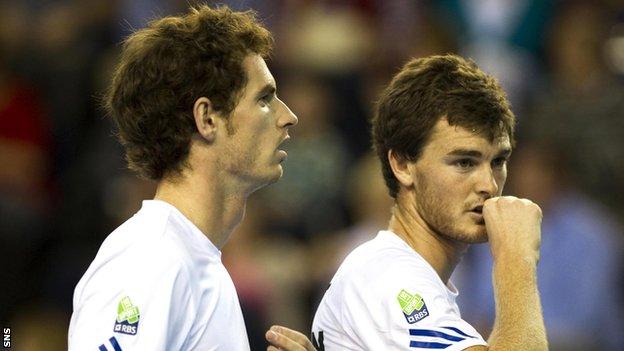 Wimbledon 2015
Dates:
Until Sunday 12 July
Play:
Centre Court 13:00 BST
BBC coverage:
TV, radio and online with up to 15 live streams. Read More:
TV and radio schedules.
Theirs is a bond between brothers that has survived many things. Personal and family ups and downs. Sporting triumphs and disasters. A grievous tragedy in their primary school in Dunblane.
A lot has happened to the boys who were swinging tennis racquets at the tender ages of four and five. Now 28 and 29 respectively, Andy and Jamie Murray seem to get on just as well as ever.
When big brother and partner John Peers knocked the defending doubles champions out of Wimbledon 8-6 in the fifth set, finishing very late, Andy was in the middle of a press conference.
On seeing Jamie's result, he stopped mid-sentence, and clenched his fists in celebration. "Sorry, my brother's just won," he said with a smile. "Now where were we?"
As soon as we'd finished with our questions, the first thing Andy did was head off to see big brother and offer his congratulations in person.
"Yeah, he came down and saw me in the ice bath," Jamie told me. "He was quite fired up."
"Its nice that he's supporting, obviously. It's funny for me playing on court 12 because you could see the score of his match coming up on the board.
"I saw that he lost the third set against Karlovic. Then when he won, everyone on our court started clapping and cheering so we had to wait for them to stop before we could start playing again."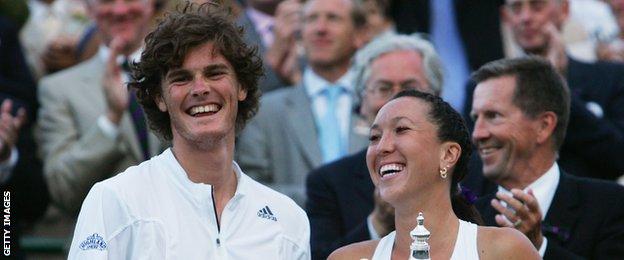 There's been much talk about a decade of Andy Murray at Wimbledon, given he first pitched up here as a raw 18 year old in 2005. However Jamie joked with me that ten years is nothing: he's had to put up with him for 28.
"Yeah, 28 years too many," he quipped, breaking out into a big smile.
"No, it's been good, we had a great childhood growing up. We'd a lot of the same friends. We're so close in age that we did so many of the same things together."
And one of those things, of course, was tennis. From a very young age, it was clear that both boys had talent, carefully nurtured by their mum and coach Judy. And no-one knew better than Jamie how competitive his little brother was.
"He'll probably admit it himself," he smiled, "because people always ask me: why did he get so good?"
"I think for us growing up in Scotland, there weren't loads of tennis players, if any, really. And I think it helped him that I was that little bit older, and therefore a little bit better than him growing up. Until about the age of 15, that is. Then he got a bit out of control!
"I guess he's always aspired to beat me and all that stuff which I think helped us both because we always had that competition so close to home, whereas throughout the rest of Scotland there wasn't that much competition because there wasn't that much tennis going on."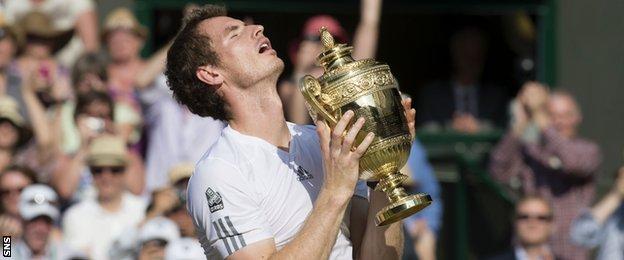 The dream for any young aspiring tennis star is, of course, to win Wimbledon. Both brothers have done it.
Jamie got there first, winning the mixed doubles with Jelena Jankovic back in 2007. So is there much brotherly banter about the fact Andy had to wait six more years before making his own piece of history at the All England Club?
"People always ask me that. We never really talked about it."
"He was super-pumped for me when I won. It was probably the last time he actually came and watched me play a match," Jamie laughed.
"But yeah, he was pretty fired up, and people always ask me if I remind him of that when he gets a bit big for his boots but no, that doesn't bother me.
"He was pretty emotional about it all - worse than I was. I was just kind of loving it really, because it was so unexpected I guess and quite surreal at the same time."
The other bone of contention in the family, albeit highly tongue-in-cheek for everyone concerned, has created plenty of interest on social media. Just who is the apple of Judy's eye, the favourite son: Andy or Jamie?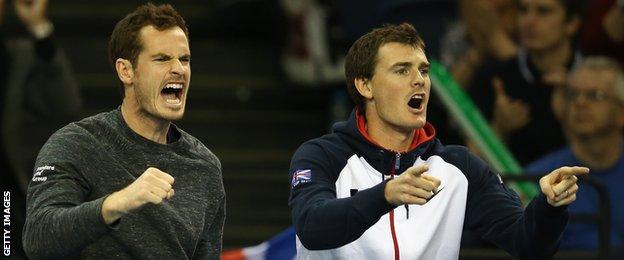 Andy is convinced it's Jamie. Big brother is not so sure.
"I was going to put a tweet out the other night because of course our matches got put on at the same time. So I was going to ask Mum who she was going to have to choose to watch.
"But, because Andy finished quickly, and ours was a long match, everyone was able to come over and watch. But if not, there would have been some choosing to do, and we might have found out who the real favourite is."
This much is for sure - both brothers will be firm favourites with the centre court crowd here at the All England Club, who appreciate the rarity of what they're seeing. Not since John and Neale Fraser in 1962 have two brothers contested the semi-finals of the singles and doubles at Wimbledon.
Expect some more banter by the ice bath between Andy and Jamie before the weekend is out.