Wimbledon 2015: Serena Williams meets Garbine Muguruza in final
Last updated on .From the section Tennis
Wimbledon 2015 - women's final
Play:
Centre Court at 14:00 BST
Coverage:
Live on BBC One from 13:00, BBC Radio 5 live from 12:00 and BBC Sport website and app from 12:00.
Serena Williams will look to win her sixth Wimbledon singles title on Saturday when she plays Spain's Garbine Muguruza in the final.
Victory would give Williams, 33, her 21st Grand Slam triumph and she would also become the oldest female winner of a major in the Open Era.
Standing in the world number one's way is 21-year-old Muguruza, the 20th seed who is in her first Grand Slam final.
"I don't think she will be intimidated at all," said Williams.
The American, who is in her eighth Wimbledon final, hopes to complete her second 'Serena Slam' - holding all four major titles at the same time - and also take another step towards her first calendar Grand Slam.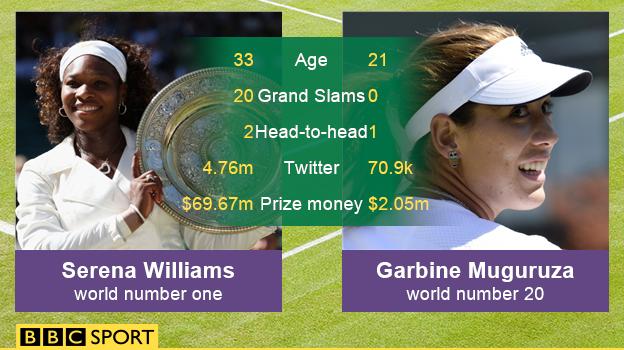 Venezuela-born Muguruza was just five when Williams won her first major title at the 1999 US Open.
She is Spain's first female finalist since Arantxa Sanchez-Vicario in 1996.
Muguruza beat Williams 6-2 6-2 in the second round at the 2014 French Open, a defeat that Williams says was a catalyst for her impressive run of form over the past year.
"It was an eye-opening loss for me," Williams said. "Some losses you're angry about, and some losses you learn from. That loss I think I learned the most from in a long time."
Williams eyes more records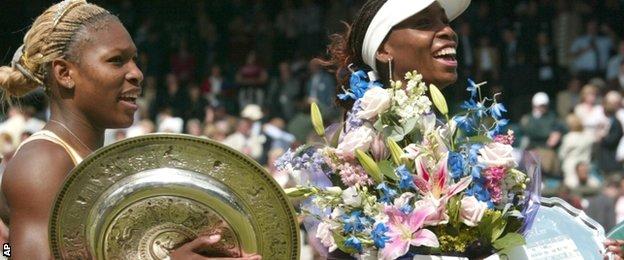 If Williams triumphs on Saturday she would be, at the age of 33 years and 289 days, 26 days older than Martina Navratilova was when she won her last Wimbledon title in 1990.
She would also move closer to Steffi Graf's record of 22 Grand Slam titles in the Open Era, and Margaret Court's all-time record of 24.
Williams says she no longer feels under pressure to add to her tally since matching Navratilova and Chris Evert's 18 major titles.
"I'm at a position where I don't need to win another Wimbledon," she said.
"I could lose on Saturday. Sure, I won't be happy but I don't need another Wimbledon title. I don't need another US Open. I don't need any titles to make it.
"Every time I step out on court, the practice court, the match court, I do look at it as a more fun time because it's not as stressful as it was."
Will nerves affect Muguruza?
The Spanish world number 20 dominated Agnieska Radwanska for a set-and-a-half of their semi-final, which was her first at SW19.
"I was almost more impressed that Muguruza lost the lead and then recovered - that's a really good sign of maturity," said two-time US Open champion Tracy Austin.
"At 21, I think she's such a major star to come. She's got a beautiful personality and I've loved her reactions when she's won.
"I think she's going to get a huge fan base behind her. In the build-up to the final, it's so important for her to relish this situation and try to get ready for the final."
A dream final - but her parents will not be there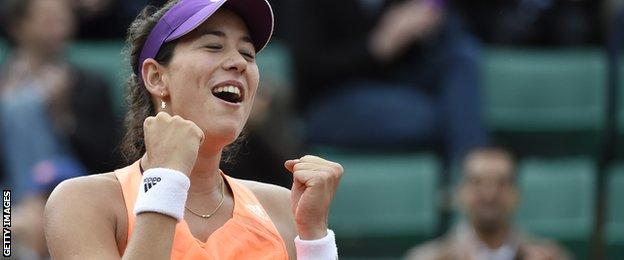 Muguruza, who will break into the world's top 10 for the first time following her run at SW19, has banned her parents from watching her live in Saturday's final.
Her mother and father have been in Spain throughout the tournament and they will not make the journey to watch her play Williams.
"They're going to be in Barcelona watching me on the TV," she explained. "I don't want to change anything, but I'm not superstitious."
Muguruza revealed that, as a child, she dreamed of facing Williams in the Wimbledon final.
"It's weird. When I was eight, I was dreaming. Now it's happening. It's amazing," she added.
"It's what I've worked for. Now I'm feeling that all my effort, all the work that I did before, is paying off."
But she says she will not be overawed by facing her in real life following her victory in Paris in 2014.
"It's really important because it makes you see and realise that she's also a person," Muguruza said.
"She knows that I can win against her, that I'm not afraid. I don't think she's really used to this. Serena doesn't lose so many matches in the year. I think it's important."