Wimbledon 2015: Is Roger Federer set for his finest hour?

By Tom Fordyce
Chief sports writer
Last updated on .From the section Tennis248
Wimbledon 2015 men's final
Date:
Sunday 12 July
Play:
Centre Court 14:00 BST
BBC coverage:
TV, radio and online.
Read More:
TV and radio schedules.
Of all the impossible tricks that Roger Federer has pulled off down the years - those forehands crushed cross-court, the one-handed backhands ripped down the line, that gossamer touch at the net or the ability to sprint without looking like he is moving - he may have found the most remarkable yet.
Federer did more than just beat Andy Murray in straight sets in their Wimbledon semi-final. He made the passing years themselves look helpless.
At 33 years old he is supposed to be not just past his prime but past the part when he was past his prime. He has won just one Grand Slam in the past four and a half years, the old magic still occasionally visible but fainter than it once was and no longer there to be summoned at will.
And yet he is now not only the oldest man to make a Wimbledon singles finals in 41 years but somehow playing as if that statistic were a lie.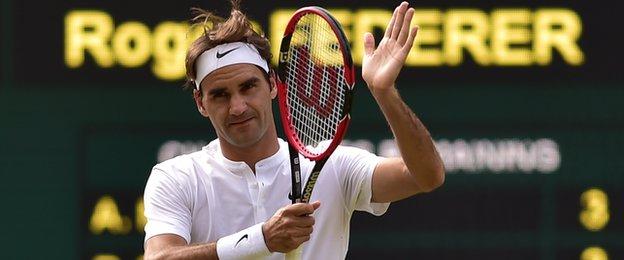 We thought his finest hours had come in 2007, when he won the last of his five consecutive titles. On Friday afternoon he appeared not back to best but to even surpass it.
It must have been a trick of the light, or the fault of a wishful mind, for it makes no sense. But this was not a semi-final that Murray lost, it was one he was never even in.
Federer had won four of the past five matches between these two. He had won four of their five matches in Grand Slams.
But few saw this coming, not those who had watched Murray arrive at Wimbledon in rare form and canter through the first 10 days of the championships, nor those who had taken note of Federer's own serene progress through this side of the draw.
At times it appeared, as it always did with peak-era Federer, as if he were barely having to work - the effortless effort that always defined his style, an economy of movement that brings the richest of strokes flowing forth.
It is another of his sweet scams, because this was a victory built on power and relentless pace as well as elegance and panache.
In a blistering first set he hit 23 winners and landed 85% of his first serves, 11 of them aces.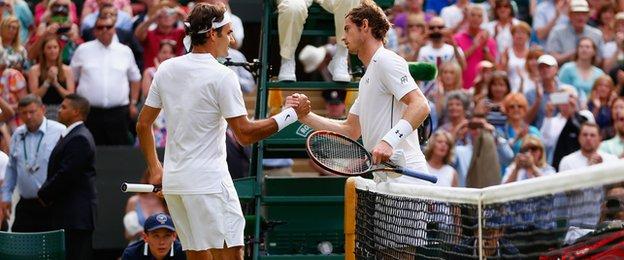 Murray was touching impressive heights himself - up at 71% on his first serve, low on errors, big on aggression. Federer pushed it higher still, winning every one of the 19 points on his first serve in the pivotal second set.
When Murray saved five set points at 7-5 4-5 in a 14-minute mini-epic of a game, you wondered if a turning point had been reached. Federer could not keep that level up, not across three straight sets, not at an age when most greats of the past are feet up and fancy-free.
Instead he came out, accelerated through his own service hold in just over a minute and dismantled Murray's serve with cruel elan in the next.
How great was the gap between the two by the end? Federer faced just a single break point on his serve, in the very first game. He hit 51 winners and 19 aces.
When his first serve failed to land, his second came crashing in at an average of 120mph. Murray's were closer to 90mph, and Federer went for them with unremitting aggression.
Because this is Federer, with the violence came the splendour.
Centre Court is a sucker for their great champion's jeweller's touch, and had purred all afternoon even as Murray's presence demanded more partisan feelings.
But there were moments even the unconverted could not deny; a backhand drop-volley that turned an 80mph return into a slow-motion stopper, a running backhand flicked cross-court at 0-15 on the Murray serve in the final game that monkeyed with physics and made a mockery of court geometry.
When Federer fell in the fifth set of a classic final to Novak Djokovic a year ago, the sadness at the end came not only from the ending of such a mesmerising contest but from the communal conviction that this was a last chance lost for good.
Tim Henman, former British number one
"Federer played an incredible match. Sometimes you have to tip your cap in tennis. Roger is one of the best players that has ever lived and that's the best I have ever seen him play."
Now well into his thirties, with Djokovic atop the rankings, Murray five years younger and the new breed of swingers like Grigor Dimitrov coming through with the late breakers like Stan Wawrinka, it seemed impossible that Federer might somehow come back to triumph afresh.
On Sunday afternoon Djokovic should still start as favourite. He is world number one for good reason, his legs younger, his recovery faster, his natural gifts still giving all they can.
With the bookmakers that may be the case. For Centre Court, it will all be about another man.
Murray may have other years. For Federer, with the chance to not only go clear of William Renshaw and Pete Sampras with eight Wimbledon men's singles titles but to do so when many were ready to worship him as a relic rather than real-time contender, it could yet be his finest hour of all.