Wimbledon 2015: Roger Federer's win over Andy Murray analysed
Last updated on .From the section Tennis
Wimbledon 2015 men's final
Date:
Sunday 12 July
Play:
Centre Court 14:00 BST
BBC coverage:
TV, radio and online.
Read More:
TV and radio schedules.
Andy Murray's bid for a second Wimbledon title is over after his semi-final defeat by Roger Federer.
Murray was beaten 7-5 7-5 6-4 after a superb display by the seven-time champion, who is into his 10th final at SW19.
BBC Sport experts Andy Roddick, Tim Henman, Pat Cash, Martina Navratilova, Andrew Castle and Richard Krajicek give their verdict on why Murray missed out.
What decided the match?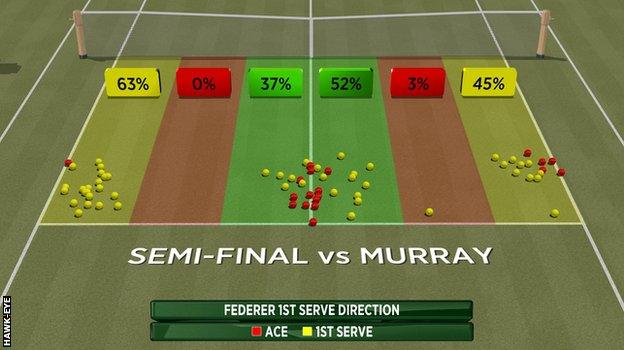 Andy Roddick, three-time Wimbledon runner-up: "I was harping on about Roger's serve before the match when his first serve success rate was 73% in his quarter-final, but it was up at 76% against Murray. I don't think I have ever seen his serve in a rhythm like this before. It was just phenomenal."
Tim Henman, four-time Wimbledon semi-finalist: "Federer's serve was just relentless. Andy was not getting any look-ins to break other than in the first game and that put enormous pressure on his own serve."
Andrew Castle, former British number one: "It wasn't for a lack of effort, expertise or technical ability by Murray. Federer was just too good. That was an imperious performance."
Martina Navratilova, nine-time Wimbledon singles champion: "Andy just couldn't do it with Roger's serve and he had to work hard on his own serve, which is mentally and physically tiring. Andy, along with Novak, is one the best returners in the game, and he couldn't get another break point after the first game."
Match stats

Murray

Federer

12

Aces

20

1

Double faults

1

74%

First serve %

76%

71%

Pts won on first serve

84%

50%

Pts won on second serve

55%

35

Winners

56

17

Unforced errors

11

0/1

Break point conversions

3/10

8/11

Pts won on net approaches

29/42
Could Murray have done anything differently?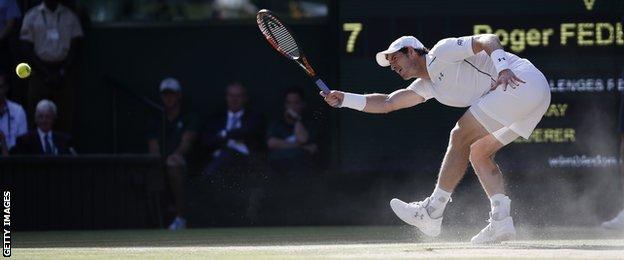 Andy Roddick: "Murray did change things. We thought Roger would step around his second serve and hit forehands, and he did. Murray adjusted and started serving wide to Federer's forehand.
"When Federer changed his return position to compensate, that gave Murray an open lane to the Federer backhand on the return which is what he was looking for. But all of a sudden, Federer started hitting winners on the backhand too. I just don't know where Murray could have gone from there."
Tim Henman: "Andy served as well as he ever has on his first serve, but when he had to hit his second serve that was where Federer was so aggressive and was stepping in to attack.
"It has always been a weakness in Murray's game but with Federer's skills and the way he is able to pass, it was absolutely evident Federer would look to dictate on that shot, and he did that."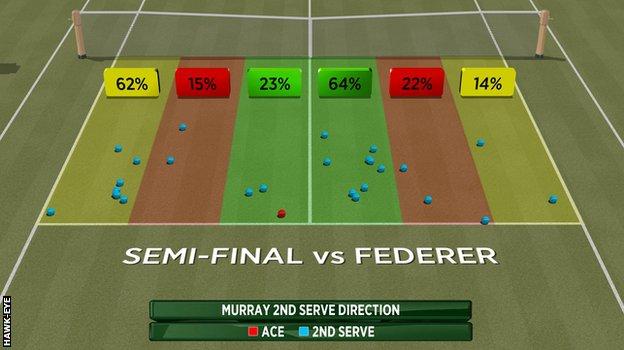 Pat Cash, 1987 Wimbledon champion: "Andy could have changed his return positions to put pressure on Roger's serve but I am not sure it would have made a difference. I have never seen so many lines being hit on the serve."
Richard Krajicek, 1996 Wimbledon champion: "The stats for Andy aren't that bad, they are not great but they aren't bad either. Andy got a bit discouraged in the third set but until then he didn't do anything wrong.
"What he could have done was pick a side on Roger's serve and just go for it and get a few more serves back. That is just nit-picking though."
What will Murray take from the match?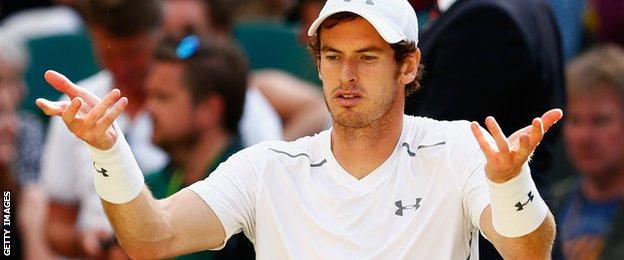 Tim Henman: "Andy is a real student of the game. He will look at all the statistics and I am sure he will watch the match, probably not tonight but after a week or so.
"When he is able to reflect on it he will know he played very, very well and lost to one of the greatest, if not the greatest, player of all time."
Andy Roddick: "Losses are easier when you execute your game plan. A loss like this will probably be easier to accept than say the 2012 Wimbledon final where Andy was up on Roger and felt like he had a real shot at it."
Tim Henman: "Murray came in to face the press straight away afterwards and even in the immediate aftermath he was able to realise that his first serve was as good as it ever has been, but Federer just played an incredible match."
Andy Roddick: "He just got outplayed, it is pretty simple. And we heard him explain exactly that afterwards. Normally, as athletes, we are victims of the moment when we come off court - we are a little bit irrational and not able to explain what happened - but Murray nailed it."
How good was Federer?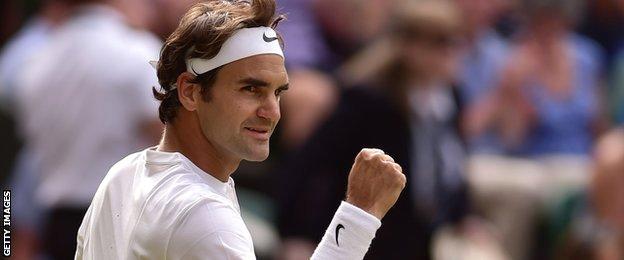 Martina Navratilova: "I don't know if I have seen a better match from Roger. He served amazingly well, was so relaxed and mixed it up so well with the serve and from the baseline."
Andy Roddick: "Andy Murray's first serve speeds were as high as they've been throughout the whole tournament, up and over 120mph pretty consistently. Like Roger, he was hitting it at over a 70% success rate. But how Federer returned is just a testament to how good he is seeing the ball right now - it must look like a basketball to him."
Head-to-head

Federer

Murray

2

On grass

1

5

At Grand Slams

1

4

Since start of 2014

0

13

Total

11
Tim Henman: "Roger was incredible. In the context of this match, playing Andy Murray in the semi-final at Wimbledon, I think that is as good as I have ever seen Roger play.
"When you look at his ratio of winners to unforced errors then you can see how good he was. Murray will be bitterly disappointed but when he reflects on his performance he really didn't do much wrong."
Pat Cash: "People are surprised when I say this but Federer is a better player now than when he was racking up the titles. It's another thing if his body can last over five sets. The way that he is playing he could win the final against Novak Djokovic in straight sets."