Wimbledon 2015: A-Z of a memorable tournament at SW19
By Chris Bevan & Paul Birch
BBC Sport at Wimbledon
Last updated on .From the section Tennis
From the Serena Slam to Novak Djokovic defending his crown, the 2015 Wimbledon championships provided plenty of memorable moments.
Here BBC Sport reflects on the best, and worst, of the championships in alphabetical form.
A is for Andy Murray
Another case of so near, so far, for Great Britain's Andy Murray.
The brilliant form he showed pre-Wimbledon carried on into the championships and he was on course for a second title at SW19. That was until he came up against a truly inspired Roger Federer in the semi-finals. Better luck next year Andy. And keep working on that serve...
B is for battling Brits
Andy Murray was not the only British player to stir national pride. Liam Broady started things off with a bang on day one with a thrilling five-set win, Aljaz Bedene managed his first win at Wimbledon after switching nationality from Slovenia and James Ward bowed out in the third round.
Making the biggest splash of all, however, was Heather Watson. She got to within two points of beating eventual champion Serena Williams and got Centre Court rocking as the home crowd gave her some of the noisiest support in Wimbledon's history.
C is for catch of the tournament
The ball boys and girls of Wimbledon did their usual brilliant job, but their numbers were bolstered by a special guest during Jamie Murray and John Peers' doubles semi-final win over Jonathan Erlich and Philipp Petzschner.
None-other-than former England captain David Beckham showed he is just as adept with his hands as he is with his feet when he caught a stray ball that flew into the Royal Box. Well played David.
D is for Dustin Brown and Dreddy Tennis
From qualifier to cult hero. That was Dustin Brown's unexpected journey at SW19, and this time he did not need his famous van to make it.
The flamboyant and unorthodox German with the mystery tattoo was the talk of the first week thanks to the 'dreddy tennis' he played in his shock win over two-time champion Rafael Nadal, and although he went out in the third round he was definitely a Wimbledon champion in terms of the amount of love he generated on social media.
E is for Edge of Glory
Tim Henman may never have lifted the men's singles trophy at SW19, but this was the year he finally won something at Wimbledon.
As Henman finished top of BBC Sport's #TheAshes challenge with an astonishing effort.
The aim of the game was to record as many keep-ups as possible with a tennis ball on the edge of a cricket bat. Tim notched a total of 212, an incredible 121 more than his nearest challenger.
F is for funnies
A host of funny moments keep the crowd and TV viewers alike chuckling away throughout the championships.
From the Duchess of Cornwall being given Andy Murray's sweaty wristband to Pat Cash getting hit in the face by his granddaughter, Wimbledon certainly showed its lighter side.
G is for grunting
Oooooh, ahhhh, urrrrrgh. The subject of grunting at Wimbledon raised its noisy head yet again at SW19.
Belarusian Victoria Azarenka was forced to defend her on-court noises following a quarter-final loss to Serena Williams - and another 'shrieker', Maria Sharapova, was again labelled as one of the main offenders.
H is for Hingis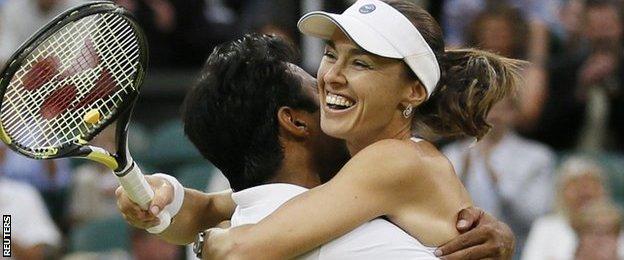 A full 17 years since her last title at Wimbledon, 33-year-old Martina Hingis rolled back the years to lift the women's AND mixed doubles titles.
Hingis was Wimbledon singles champion in 1997 and last appeared in a final at the All England Club in 1998, when she won the women's doubles.
"It feels like it was in another life," Hingis said of her last appearance at Wimbledon.
I is for In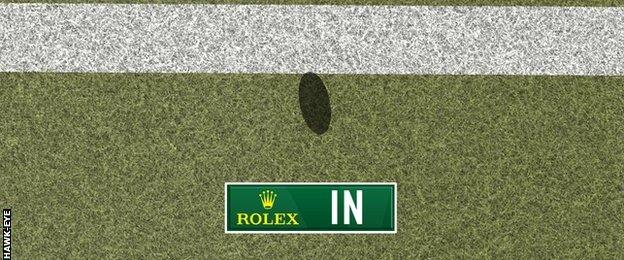 The merits of Hawk-Eye were shown throughout the championships.
The system provided its usual level of drama and accuracy, none more so than in the men's final when Novak Djokovic challenged a line judges' call that Roger Federer's shot was in. Djokovic was proved wrong by a matter of millimetres as the above graphic shows.
Agnieszka Radwanska fell foul of the system when she challenged at deuce after encouragement from her coaching staff. It was the wrong call in what proved to be the final game of her semi-final defeat to Garbine Muguruza.
J is for Jordanne Whiley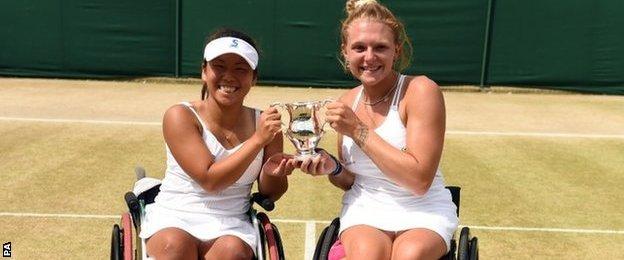 Great Britain's Jordanne Whiley, along with her partner Yui Kamiji, proved they are the dominant force in wheelchair ladies' doubles by picking up a sixth grand slam in the last seven.
They beat the Dutch pair of Jiske Griffioen and Aniek van Koot to avenge their defeat in last month's French Open final.
K is for karate - as Monfils hits new heights
Frenchman Gael Monfils is well known for entertaining the tennis public whenever he steps on a court but he took crowd pleasing to the next level with his antics at Wimbledon.
He hit new heights with a karate-kick winner against Spaniard Pablo Carreno Busta, and also conjured up a shot that dropped over the net and span back on to his side of the court in the same first-round match.
That was not the end of his high-flying either - Monfils managed more mid-air forehands and hit shots with both hands in his defeat against countryman Gilles Simon as he bowed out in round three.
L is for Leconte and Bahrami
Mansour Bahrami is used to playing in front of a packed house at Wimbledon but people do not come to watch the 59-year-old and his 52-year-old partner Henri Leconte to see serious tennis.
Their matches in the invitational doubles generally focus on comedy not competiveness, and their clowning around features rallies played with two balls, no balls and a ball-boy, often with reverse serves, false swings and elaborate slices.
M is for Magic moment - THAT 15-minute game
The greatest single game ever? That is the question being asked about Roger Federer and Andy Murray's magnificent 15-minute marathon in the 10th game of the second set in their semi-final.
Murray fended off five break-points as he fought to hold and stay in the set at 4-5, with both hitting some stupendous shots during a series of electric exchanges. The British number one won the battle, but lost the war - he was broken in his next service game to lose the second set on his way to a 7-5 7-5 6-4 defeat.
N is for Nadal
Rafael Nadal took to Twitter the day before he played Brown to announce that he was cooking for his team at his rented house in Wimbledon.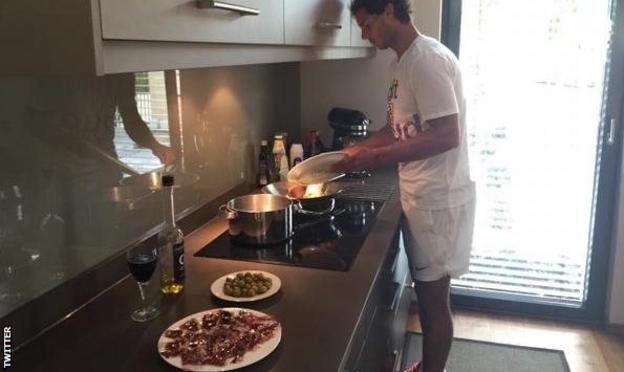 Given his defeat to the unheralded German, the two-time Wimbledon champion maybe should have swapped cooking for the courts and put in a little more practice.
Sure it tasted nice though...
O is for 'Ouch'
It seems doubles can be a dangerous business - or at least it is when you play with Ajla Tomljanovic. She sent a backhand into the back of playing partner Ivan Dodig during their mixed-doubles match. Fortunately Dodig was able to continue, and they went on to win.
Thankfully, other Wimbledon injuries were few and far between. Eighth seed David Ferrer withdrew with an elbow problem before the tournament started but there was no repeat of the epidemic that swept SW19 in 2013.
P is for pets and police puppies
Andy Murray may not have been the top dog at Wimbledon this year but he did meet some pooches who hope to be in the future - and we are not talking about Hacker T Dog.
The 2013 champion is a well-known dog lover who Skypes his sausage-loving terriers Rusty and Maggie May when he is away on the tour, so he was happy to have a cuddle with five cocker spaniel puppies who are training to be sniffer dogs at SW19 at the Metropolitan Police Dog School.
Q for Queue
It would be remiss having a Wimbledon A-Z without a mention of the famous Wimbledon queue. For once there were no tales of tents being washed away and Wimbledon Park turning into a mini quagmire akin to Glastonbury in years gone by. This year, those queuing basked in record-breaking temperatures.
R is for Roger
He may have lost in the final, but there is no doubt who was the darling of the Centre Court.
The Wimbledon fortnight saw the very best of the Swiss maestro from his hot-dog shot to his extraordinary performance against Andy Murray, and his excellent use of Emojis.
The vast majority of crowd support in the final were behind him, and has the backing of millions of 'Fed Heads' around the world. He'll be back next year for another attempt at a record eighth title.
S is for Sunshine
Fainting ball-boys, dizzy players and sunbathing spectators baking on Henman Hill. Wimbledon 2015 was not just a scorcher, it was a record-breaker - seeing the hottest temperatures recorded in the tournament's 138-year history.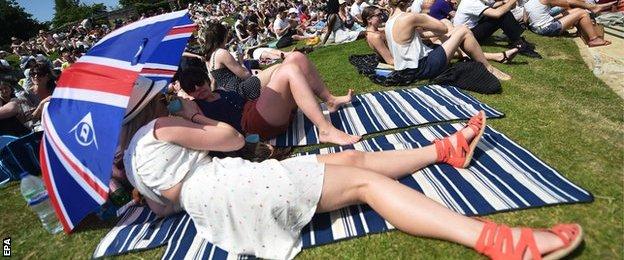 They soared to 35.7C on the first Wednesday, when it even touched 41.2C on Centre Court, even beating the levels reached during the long hot summer of 1976.
T is for Twitter
No title triumph is complete without comment from the global Twitterati - and the world was certainly watching as Serena Williams and Novak Djokovic clinched their crowns.
Kim Kardashian West, Michelle Obama and JK Rowling were among the big names to congratulate Williams after her sixth Wimbledon title.



Djokovic did not miss out either. Paris St-Germain forward Zlatan Ibrahimovic used social media to voice his approval, as did former Manchester United and England defender Rio Ferdinand and rapper Tinchy Stryder.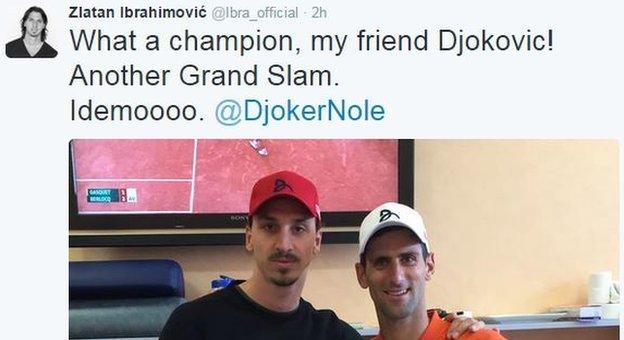 V is for Venus Rosewater dish
Serena Williams ends Wimbledon as the holder of all four grand slams and just one behind equalling Steffi Graf's Open Era record of 22.
BBC Sport's chief sports writer Tom Fordyce puts the case forward that Serena is the most dominant single athlete in sport over the past 15 years.
Hard to argue with, given her performances over the last two weeks.
W is for All White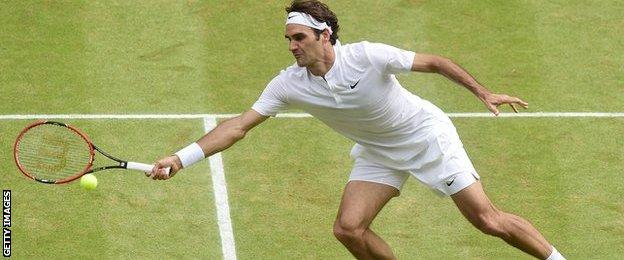 As sure as grunting and rain delays, one topic of conversation always guaranteed to be brought up during the Wimbledon fortnight is the All England Club's policy of players wearing nothing but all white clothing.
Many of the players have voiced their displeasure about it, with even the normally unflappable Roger Federer wading in.
"I love Wimbledon but they've gone too far now," he said.
"The rules have become ridiculously strict. I would be in favour of loosening it up a little bit. But it is what it is".
X for X-rated Krygios
Australian bad-boy Nick Krygios provided headline after headline during his time in SW19.
He seemed on a one-man mission to argue with every umpire he came across and turned the air blue on regular occasions.
But it was in his fourth-round match against Richard Gasquet that he really excelled himself. After receiving a code violation for an 'audible obscenity', he then appeared to deliberately lose a game by not trying, hugged a ball-boy and rowed again with the umpire over changing his socks.
Y is for Yips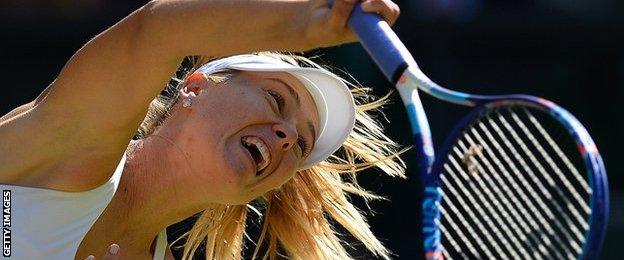 Maria Sharapova extended her losing record to Serena Williams to 17 matches.
Part of the reason she lost was the struggles she suffered with her serve.
She doubled faulted an incredible 44 times, which was the highest at the tournament.
Z is for Zen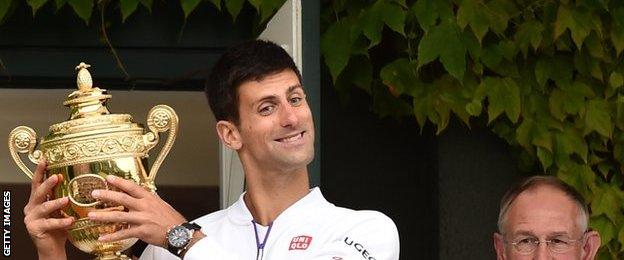 Who else to finish with but men's singles champion Novak Djokovic. The world number one claimed his third Wimbledon title with a supreme display against Federer.
Why zen? Well, the Serbian is a regular visitor at a Buddhist temple during his time in SW19 as he seeks calmness and inner peace away from the intensity of the All England Club.