Davis Cup: Murray may have to play doubles for a GB win

By Russell Fuller
BBC tennis correspondent
Last updated on .From the section Tennis86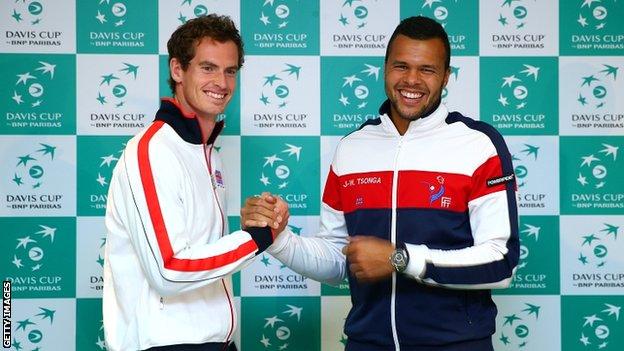 Davis Cup quarter-final: GB v France
Venue: Queen's Club, London Dates: 17-19 July
Coverage: Live BBC Red Button & online on Friday 12:25-19:00 BST, on BBC Two on Saturday 13:00-16:00, and on BBC Two (Not NI, viewers can watch online) on Sunday 12:30-16:00.
When Great Britain last won a Davis Cup quarter-final, they had to fly to Christchurch in the week after Wimbledon to beat New Zealand. Thirty-four years later, they have less than five miles to travel, but the quality of the opposition is exceptionally high.
If France win on grass at the Queen's Club in London this weekend, they will contest the semi-finals for the fourth time in six years.
They boast players ranked 11th, 12th and 13th in the world and, much to the frustration of the whole country, have lost three finals since last winning the Davis Cup in 2001.
Britain can't come close to matching the visitors' strength in depth, but they do have a trump card in the shape of Andy Murray: the only Grand Slam singles champion on either side.
Davis Cup squads

Great Britain

France

Andy Murray (world number three)

Gilles Simon (world number 11)

Jamie Murray (world number 20 in doubles)

Richard Gasquet (world number 13)

James Ward (world number 89)

Jo-Wilfried Tsonga (world number 12)

Dom Inglot (world number 40 in doubles)

Nicolas Mahut (world number 22 in doubles)
French depth can be overcome
The GB captain Leon Smith can also call upon Jamie Murray, who, in the doubles, went a round further than his brother did in the singles at Wimbledon. Another threat lies in James Ward, who has derailed American hopes in each of the last two years in Davis Cup.
"France are no doubt the strongest team in the competition, depth-wise," Smith told BBC Sport.
"If I look across at the other quarter-finals - especially with some of the withdrawals - it's like night and day: we have the toughest team. We're definitely underdogs.
"France should go into it as clear favourites with a lot of expectations on their shoulders, but we have Andy, who is the best player, and if everyone can perform as well as they can then we'll have some sort of shout."
Don't read too much into the captain's words. It often helps to burden the opposition with great expectations, but this is a tie Smith very much believes Britain can win.
A lot will rest on how Andy Murray performs over the next three days. James Ward is full of confidence after his run to the third round of Wimbledon, but will have his work cut out against all the French players. Jo-Wilfried Tsonga and Richard Gasquet have both twice reached the Wimbledon semi-finals, and Gilles Simon was a quarter-finalist this year.
Murray has won all seven of his tour-level grass court matches with Gasquet, Tsonga and Simon, but it will still be a mighty effort to win both singles rubbers - quite possibly with Saturday's doubles sandwiched in between.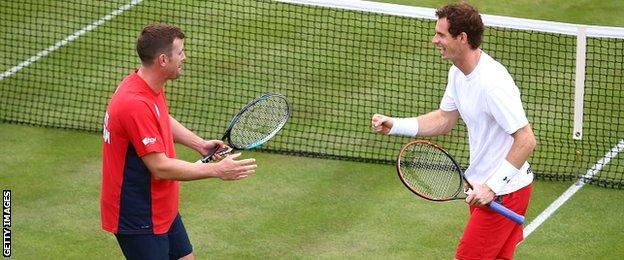 Could Saturday's doubles be pivotal?
Unless Ward continues his habit of stunning Friday singles victories, I think there is still a good chance Andy Murray will play in the doubles if his opening singles doesn't prove too gruelling.
Smith is of the view that Andy will always be the best doubles player on the court (unless, perhaps, Britain has been drawn against Serbia or Switzerland), but he does have other options up his sleeve.
"I think it's difficult for Andy to consider that right now because of what he's just come off the back of," Smith told me after practice in west London.
"A lot of people are saying as it's a grass court, that it's easier on the body - but it ain't going to be easy on Friday. What gave everyone a lot of confidence was what Dom (Inglot) and Jamie did in Glasgow against the Bryan brothers.
"They were within a few points of beating the best team in the world so I think we feel now that if Andy doesn't play, it's OK - we have a good team that is capable of beating whoever the French put out."
In his Davis Cup career, Andy has played doubles with David Sherwood, Greg Rusedski, Jamie Delgado, Ross Hutchins, Colin Fleming and his brother Jamie.
So does it take a while to adjust?
"I think it helps to play with your regular partner," Andy told me.
"The Bryans have such a great Davis Cup record because they are often coming up against scratch pairings. It does help to play together and that's not really the case with any of our teams. It's tough as you just don't know each other's game so well, so it's hard to read what they are going to do in certain circumstances."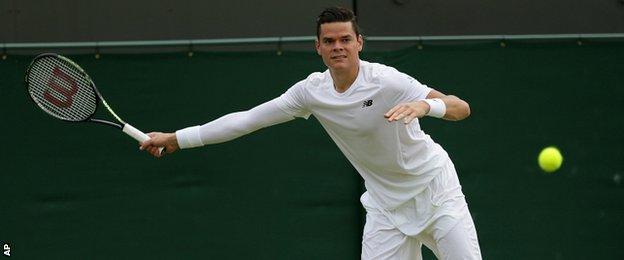 Scheduling problems
There is no doubt this is a far from ideal time to play a Davis Cup quarter-final. The players of Australia and Kazakhstan have flown to Darwin for their tie; the representatives of Argentina and Serbia to Buenos Aires.
"A lot of players have withdrawn from ties this weekend," Andy continued.
"The Spanish team is very weak; for the Canadians (Milos) Raonic and (Vasek) Pospisil - their numbers 1 and 2 - have both pulled out of their tie with Belgium. If the ITF (International Tennis Federation) want all the players to play then doing it the week after the Slams is always going to be tough.
"It does seem now as if players are picking and choosing which years they play - the Swiss team won last year and didn't really make an effort to defend the title, and I would think that would be bad for the competition."
The reality is that the ITF are restricted in their choice by the intensity of the ATP Tour. Davis Cup scheduling is far from perfect, but it remains a competition to cherish, as anyone lucky enough to have been in Glasgow for the first-round tie against the United States will readily testify.
And if Britain do finally return to the semi-finals, then they won't have to play on clay in Argentina as they did in 1981. The prize will be a home semi-final - against either Australia or Kazakhstan.
The prospects are tantalising but there is much work ahead on the Queen's Club courts this weekend before thoughts can turn to ending Great Britain's 79-year wait for Davis Cup success.