Bernard Tomic: Tennis Australia wants Davis Cup return for player
Last updated on .From the section Tennis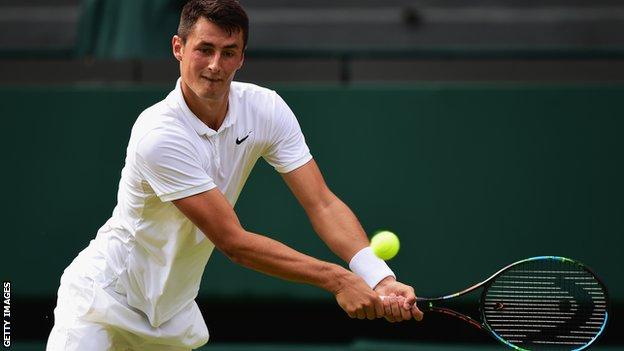 Bernard Tomic could be reinstated to the Australia team for the Davis Cup semi-final against Great Britain in September, with Tennis Australia seeking "clear the air" talks with him.
Tomic had claimed Australian tennis's governing body did not support him.
But Tennis Australia wants to set up a meeting to "address" issues and then "welcome him back into Davis Cup".
TA president Steve Healy said: "We think Tomic's criticisms are unjustified - he needs to hear that. He needs to get some detail and we want to bring him back into the fold.
"I think the important thing to understand is he's had fantastic support from Tennis Australia and we want him to understand and appreciate that and then welcome him back into Davis Cup."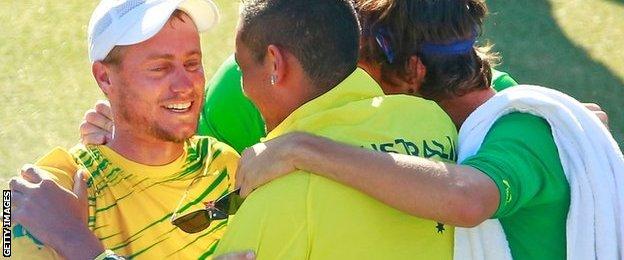 Last month, TA's high performance chief Pat Rafter said funding would be cut to Tomic and his sister Sara, citing the uncooperative attitude of their father John as part of the reason.
After losing to Novak Djokovic in the third round at Wimbledon earlier this month, Tomic criticised Tennis Australia, accusing them of neglecting his and his sister's development and claiming that the relationship changed after he had hip surgery last year.
Tomic said at the time: "I didn't get one phone call from Tennis Australia, Can we help you, Bernard? Can we do this? Do you need something? You know, Can we give you something?"
Last week, Tennis Australia issued an apology after describing Tomic's Hall of Fame championships clash with compatriot John-Patrick Smith in Newport, USA, as a "Hall of Shame" match.