Caroline Wozniacki 'forced' to play in Rogers Cup by WTA
Last updated on .From the section Tennis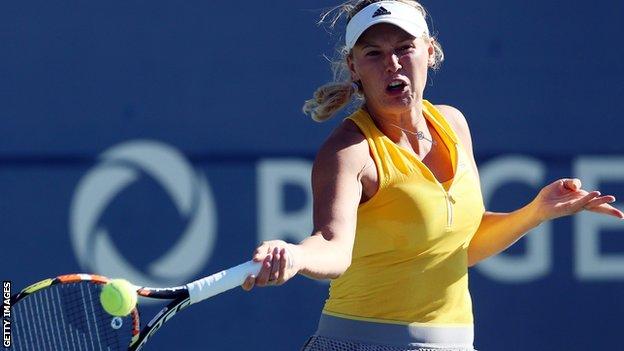 Former world number one Caroline Wozniacki claims the Women's Tennis Association "forced" her to play in the Rogers Cup without proper preparation.
She said: "I want to be able to play my best tennis and you're not going to do that if you don't practise.
"But the rules are if you're a top-10 player, that this was my commitment tournament, you're forced to play."
Wozniacki, who played with her left calf heavily strapped, added: "If you don't, you get huge money fines. You get zero points to your ranking... which is crazy."
"The WTA is all about, 'we want the players healthy, we want them to play at their best level at every tournament and we want to make it tough for them'.
"That's good, but the fact that they're pushing you to play whenever, if you are not feeling 100%, is not OK."
In response, the WTA said it was confident its schedule "strikes the proper balance" between keeping players "healthy and rested" and pleasing fans.
It said: "Players choose the schedule that suits them best and they receive incentives to appear in a certain number of tournaments.
"Unless we allow unlimited withdrawals, which would cause an uproar for fans, there is really no better or more fair way to structure a schedule."