Nick Kyrgios needs tougher sanction for jibe - Navratilova
Last updated on .From the section Tennis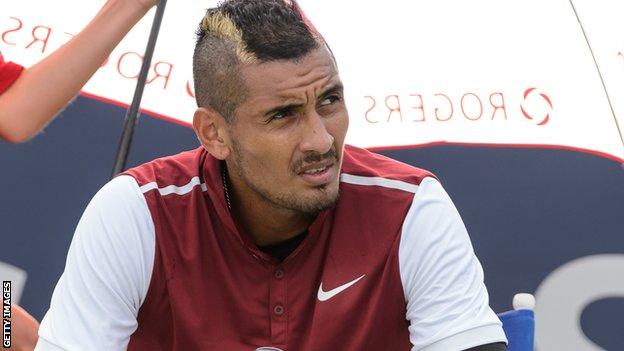 Martina Navratilova has called for tougher punishment for Australian Nick Kyrgios after the "insulting remark" he made to Stan Wawrinka.
The 20-year-old was fined £6,400 after making a lewd suggestion about Wawrinka's girlfriend in a Rogers Cup match. He later apologised.
The ATP has also served Kyrgios with a 'notice of investigation'.
Navratilova, an 18-time grand slam champion, tweeted: "There needs to be more than a fine."
She added: "There is no place for that behaviour."
The ATP may yet suspend Kyrgios from its events.
Stacey Allaster, chairman and chief executive of the WTA, said: "The statement made by Nick Kyrgios is crude and unacceptable.
"I commend the ATP on assessing the on-site maximum fine and urge there to be further sanctions in accordance with their process."
Asked about more punishment, Kyrgios himself said: "No, I don't think there should be. It's all clear now. I apologised in public and privately as well.
"I have been fined so everything has sort of been put to bed now and I feel we can move on from it."
However, an ATP statement said it had begun "a process to determine if his actions also constitute a violation of the Player Major Offence provisions set forth under 'Aggravated Behaviour' or 'Conduct Contrary to the Integrity of the Game'.
"The investigation opens up the possibility of further penalties which could include monetary fines and/or suspension from ATP events."
'Wawrinka was angry'
French Open champion Wawrinka, 30, said it was "unacceptable" and urged the governing body of men's tennis to take action against the world number 41.

The Swiss withdrew from the match between the pair with injury and briefly met with Kyrgios after the match.
"It was interesting," said Kyrgios. "Obviously, he saw me in the corridor and he came up to me as you know he would.
"I wasn't surprised. I told him I was sorry. He was angry so I just had to deal with it and, hopefully, we can just put it behind us."
Kyrgios booed by crowd
Kyrgios faced John Isner in the third round at the Rogers Cup in Montreal, Canada and was booed as he came on to court and on leaving as he lost 7-5 6-3.
"It was something that I was sort of expecting but I'm not going to take any credit away from John," said Kyrgios.
"It's been tough. I wouldn't say it has been the toughest thing that's happened. I felt good out there physically, I just got outplayed."
'No place for these comments'
The ATP Player Council has condemned Kyrgios' actions. In a statement, it said: "On behalf of the players' council, we would like to publicly condemn Nick Kyrgios's comments towards Stan Wawrinka.
"Comments like these have no place in our sport and have been met with endless criticism from the larger player body.
"Nick's comments were disrespectful not only to Stan, but to the other players referenced. We understand sometimes things are said mistakenly under tense circumstances, but Nick's comments are indefensible.
"We fully support the ATP in their fining of Kyrgios and anxiously await for further repercussions for him once a more complete investigation has been done."
'Nick is not all bad'
British number one Andy Murray did not condone Kyrgios's actions but believes "people need to give him a little bit of a break".
"In other sports that sort of thing gets said more often than we imagine and in team sports especially," said Murray. "In tennis there are certain things you shouldn't do and that was one of them.
"Hopefully he learns from it. Nick is not all bad, he is a young guy growing up in the spotlight. There has been a lot of negativity towards him over the last few months and that isn't easy to deal with."
Kyrgios 'on a journey'
Kyrgios could face Murray in the Davis Cup next month when Australia play Great Britain at the semi-final stage.
Australia captain Wally Masur insisted Kyrgios was still in his plans for the tie.
"We're looking at a young kid, he's got enormous potential, he's a good kid at heart," Masur told Fox Sports. "We're trying to put things in place behind the scenes that can make a difference and help Nick achieve that potential.
"Nick is on a journey, this is all part of a learning curve."