Andy Murray strong for US Open, say Colin Fleming & Leon Smith

By Kheredine Idessane
BBC Scotland at Flushing Meadows
Last updated on .From the section Tennis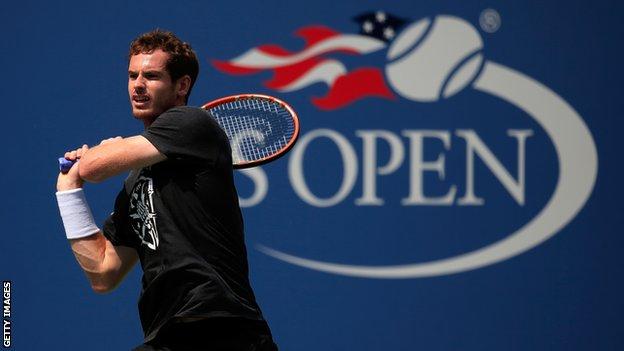 US Open 2015
Venue:
Flushing Meadows, New York
Dates:
31 August-13 September
Coverage:
Online radio commentary of Heather Watson, plus live radio and text commentary on every Andy Murray match and selected others.
It's not just Andy Murray who believes he has a great chance of winning the US Open, he has his Davis Cup captain and a former team-mate singing from the same hymn sheet.
But both Smith and Fleming are backing Murray to come through in the early hours of Wednesday morning and go the distance by claiming a second title at Flushing Meadows.
Murray in form
Fleming is a childhood friend and hitting partner of Murray's, as well as a former doubles partner, and knows the world number three as well as anyone.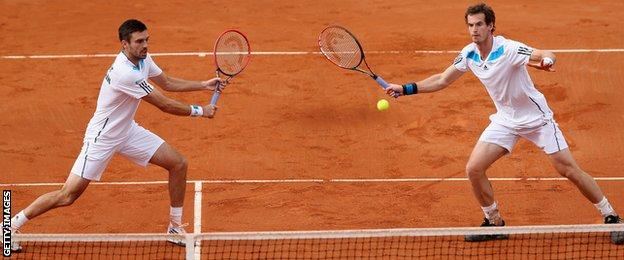 And he was quick to back up Murray's own assessment that he's playing well enough to take the title.
"Oh, I would agree," said Fleming. "I think Andy's been playing great tennis. Over the summer, a lot of people have been saying to me, 'Gee, how well is Andy playing?' And I think they're absolutely right.
"He won in Montreal and that was great to see him put another Masters title under his belt. And to get that win against [world number one Novak] Djokovic, that'll give him a lot of confidence and broke that little losing streak [of eight matches against Djokovic].
"And obviously Federer was playing incredible tennis in Cincinnati. The way he was playing was something special, so there's not too much disappointment from that loss [at the semi-final stage].
"Andy's definitely playing well enough to win here but again, there are a few other guys out there who're in the same boat and it's going to be another exciting Grand Slam."
'Amazing fortnight' beckons
Plenty of excitement too for Leon Smith, who'll be selecting Andy Murray for the Great Britain Davis Cup team for the semi-final against Australia in Glasgow in a couple of weeks.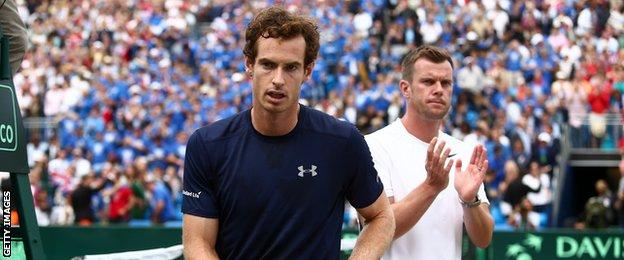 Smith, who coached Murray when he was a teenager, is not surprised that some of the locker-room chat has been centred around his former charge.
"Look, he's been great all year," Smith said. "He's playing at his very best. He's got that blend of being very aggressive but of course with his variety and defensive skills he just becomes so difficult to play.
"In Montreal he was obviously superb, showing great form and got a...I wouldn't say got a monkey off his back but it's similar, isn't it, getting that win over Djokovic having lost so many in a row?
"That was really important and shows where his tennis is at right now. And then in Cincinnati, he backed it up with another semi-final, which is great, and I'm sure those two weeks have helped.
"He'll be a bit tired but it's prepared him for match fitness, match toughness, which is very important now, and he'll have prepared accordingly this week to make sure that he's got everything in the tank ready to go again.
"He's got a really good shot, although it's going to be very difficult with Djokovic in high form and Federer also coming into some high level tennis in the last few weeks. So it's going to be an amazing fortnight but one in which he's going to be right up there challenging."
Hard court strengths
Murray was firm in the belief that he could take the title again if he can find his best tennis.
"Absolutely," agreed Smith. "And he should believe it because he's playing great tennis this year.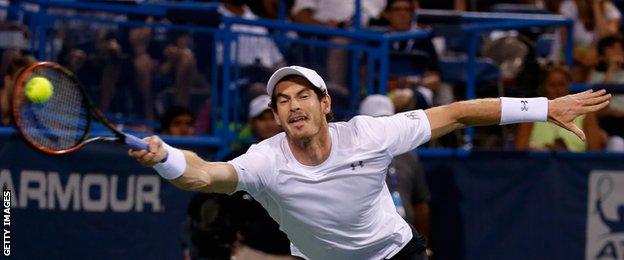 "He's a tremendous hard-court player; he's an all-court player but he's a tremendous hard-court player.
"His movement allows him to be very difficult to break down. The way he plays his shots, which is sometimes a bit flatter than the rest, allows it to shoot through the court a little bit more.
"And he's able to get a read on a lot of the serves on a hard court with the consistent bounce so he can read that and get a lot of balls back in play, which keeps applying pressure. So he's in a good place for this."
Just how good a place he's in will become clear on Wednesday morning, by which time he hopes to have negotiated all the problems posed by Kyrgios and be sitting safely in the US Open second round.