US Open: Andy Murray still has one eye on Glasgow

By Kheredine Idessane
BBC Scotland in New York
Last updated on .From the section Tennis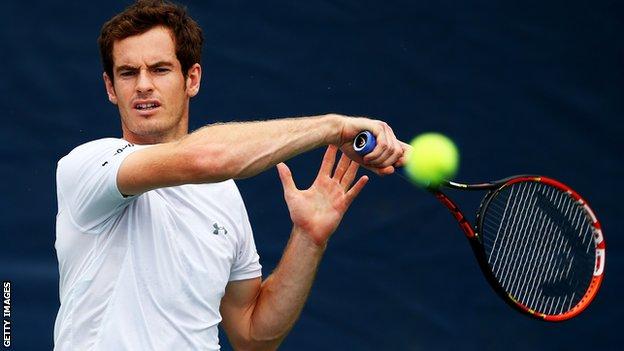 You'd think that in the middle of the US Open, the only thing on Andy Murray's mind would be New York, New York.
But he's told BBC Scotland he's always had twin priorities since Wimbledon: Flushing Meadows and the Davis Cup semi-final in Glasgow.
Be in no doubt about Andy Murray's commitment to the cause; he's been thinking about the big clash with Australia at Glasgow's Emirates Arena since the last tie was won against France at Queen's Club.
"I'm obviously looking forward to the Glasgow tie," he said.
"I spoke to my team after Wimbledon as I wanted to make sure that the priorities were the US Open and the Davis Cup. So I'm really looking forward to it."
Of course, extra spice has been given to this latest sporting clash between Great Britain and Australia, and it's not England regaining the Ashes. Murray knocked Nick Kyrgios out of the US Open here in the first round, and the Scot sees a lot of Kyrgios's fellow Aussie, and friend, Thanasi Kokkinakis.
Great Britain in the Davis Cup

Britain have been Davis Cup champions nine times

Fred Perry and Bunny Austin led the GB team when they last won, back in 1936

The last time GB were in the final was in 1937, when they lost to America

Britain's last Davis Cup semi-final was in 1978 against America
He said: "Obviously I practise with Kokkinakis quite a lot at many of the events on the tour.
"I don't know whether he's going to get picked or not. I don't know what their team's going to be as they have so many players to choose from, so it's going to be interesting."
Interesting is one way to describe it. The Davis Cup captain Leon Smith uses another word.
"Massive," he told BBC Scotland. "It's massive for the team.
"It's huge for British tennis but I think, importantly for Scottish fans, they get to see our team close up and personal and of course the Murray brothers who are such iconic figures back in Scotland."
And even though other venues were looked at by the Lawn Tennis Association, Smith says the decision to come back to Glasgow was simple.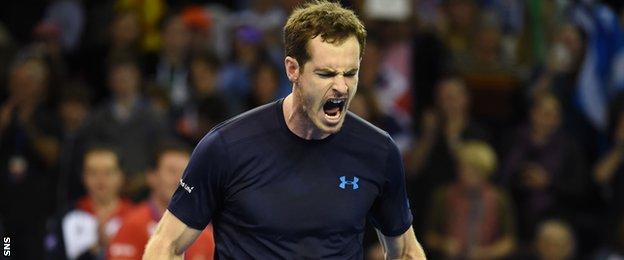 He said: "We had such an amazing occasion back in March against the USA that when the opportunity arose once again to get the Emirates Arena then it was quite an easy decision for me to make to go there.
"The crowd will play a very, very big part in this match. It's hugely important. It's a long time since Britain was in the semis and it's been an even longer time since we were in the final."
And Smith has some high praise for the Glasgow venue, and the crowd who came last time.
"I'd say the noise generated by that crowd in the tie against America is the loudest tennis environment I've ever been in, and I've been to most stadiums around the world," he added.
"In terms of a crowd really feeling they were on top of the players and helping them through it, we saw that because in two of the matches, James Ward was two sets down against John Isner and managed to come back and win.
"And in the doubles, even though Jamie Murray and Dom Inglot couldn't get over the line against the Bryan brothers, they were two sets down and came back to lose 9-7 in the fifth.
"There's no doubt that the crowd, when you're down, can pull you back in. And we're going to need more of that again because the Australian team that we're playing are very, very strong. So it's not going to be easy at all."
Andy and Jamie Murray are certainties to make the team, but could another Scot force his way back into the reckoning?
Colin Fleming has dropped out of the reckoning in recent ties. But he's just helped knock the fifth seeds Fabio Fognini and Simon Bolelli out of the US Open, and says he's right back playing his best tennis again.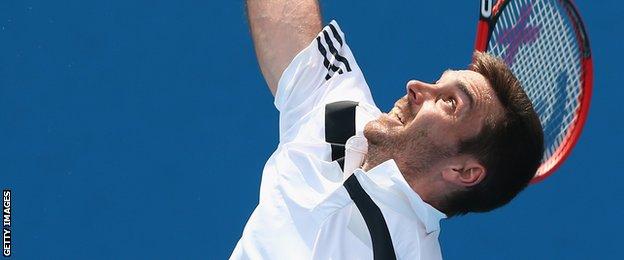 So could that mean a Davis Cup recall if he, and partner Treat Huey, keep progressing in New York?
"I certainly hope so. I would love to be involved in some shape or form," he replied.
"Obviously being out there playing in the doubles rubber would be the ultimate. I certainly feel that my game is in great shape. I was in the team for five years and then fell out of the team. I have no complaints about that. I feel like I lost my form a bit.
"But I really genuinely believe that my form is back as good as ever. Obviously my ranking doesn't quite represent that yet but I'm very confident that if I was called upon , I could do a job in that tie.
"If we can put a good run together here at the US Open, maybe I can put a question mark in Leon's mind. Either way, it's an exciting tie and I'm sure whoever goes out on court will be looking to get the job done."
Hoping for exactly the same thing will be more than 8,000 of the noisiest fans in sport packed into the Emirates Arena on the weekend of 18-20 September.