Davis Cup: Aussie Fanatics add to raucous semi-final
By Amy Macbeath
BBC Scotland Sport
Last updated on .From the section Tennis
Davis Cup semi-final: Great Britain v Australia
Coverage:
Watch Sunday's singles live on BBC Two, online and the BBC Sport app from 13:00 BST.
Having seen how raucous the Australian fans could be at Wimbledon you think you know what you are going to get when you walk into Glasgow's packed Emirates Arena.
The enthusiastic and noisy sea of blue must have been music to Team GB's ears in this Davis Cup semi-final.
Granted they have the advantage - Scots Andy and Jamie Murray on court and strength in numbers - but the Aussies are no shrinking violets.
Outnumbered greatly, the 30 or so self-described Fanatics still stand out, personal cheerleaders to each of the Australian players on court.
And head cheerleader and organiser is Bianca Metherlee from Bendigo in the state of Victoria.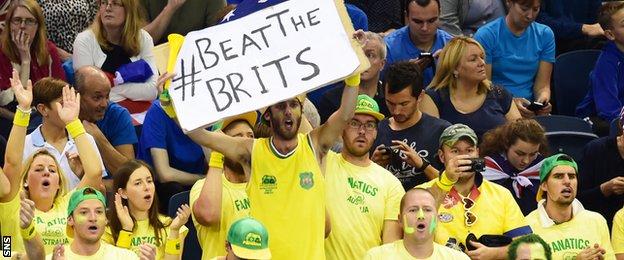 "I joined them in Poland a few years ago. It was such a good atmosphere I came back," she said.
"We're really about getting behind the Aussies, making sure they get over the line and being the back-up for them."
If you watched the Davis Cup semi on television, or have watched any major sporting event involving their country recently, you will have seen these faithful travellers.
They are the noisy bunch in yellow, kangaroo ears alert, the baseball caps on backwards like they are off to a beach Down Under, not the east end of Glasgow.
In fact, they are not unlike that gaggle standing behind the home terracing down at your local football ground on a Saturday - passionately belting out the old hardies, punching the air - but with inflatable marsupials.
After watching Dan Evans's fiery comebacks to Bernard Tomic on day one, the roaring crowd willing him to fight back each set, the value of the crowd cannot be underestimated.
The Fanatics take that role very seriously - so seriously they travel the world supporting their country at various sporting venues.
Australia's sporting tourists
Metherlee said: "We do all the sporting events - the Rugby World Cup, which we are doing just now as well, the tennis, the golf, the soccer, we went to Brazil for the World Cup, and I do all the European tours like Running with the Bulls and Oktoberfest."
The Aussie fans say the Davis Cup is "fiercely parochial" and say they have a special part to play over a full weekend of emotional tennis.
"I think it does make a difference," she added. "They definitely hear us and they do come and thank us after the game.
"Sometimes it is what they need, a little bit of encouragement and to know that we are here for them - especially when we have a big crowd of Great British people, we're here to let them know that they do have some Aussie support here."
And the Fanatics even sell it like a package holiday strictly for 18-30-somethings. Get yourself to Glasgow and for £299 you get four nights in a hostel, your supporter's attire and, of course, the tennis.
You just have to dance, jump, chant and sing for three days straight - and party nightly. Both are mandatory.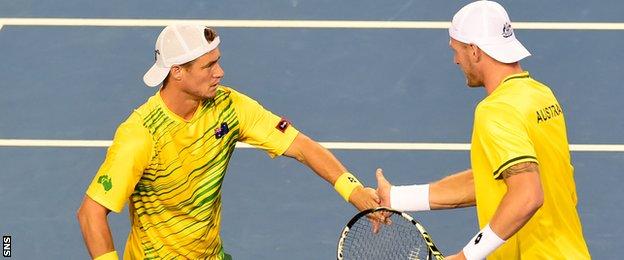 "You must have a loud voice and be really enthusiastic and passionate about getting behind the Aussies," Metherlee told BBC Scotland.
"You've got to have more energy than the tennis players sometimes."
Rob from Sydney, sporting a shock of green hair, is making his Fanatics debut here in Glasgow.
"This is my first trip but I've been to a few sporting events where I have watched these guys and thought I really want to be with them, they sound like they are having a lot of fun," he beamed.
"Halfway around the world to get here, but I'm really glad I did it as it's been the best experience so far."
Fanatics leader Metherlee said the group are particularly keen to cheer on Lleyton Hewitt because this could be one of the 34-year-old's last major tennis events.
"We would love for them to play at home for Lleyton's last," she said.
Hewitt and partner Sam Groth put up an almighty fight against Andy and Jamie Murray on Saturday but lost in five sets.
The Fanatics know their heroes now trail 2-1 going in to Sunday's matches. They might need to roar that bit more loudly.