Davis Cup: Win would rival Andy Murray's Wimbledon - Rusedski
By Piers Newbery
BBC Sport in Glasgow
Last updated on .From the section Tennis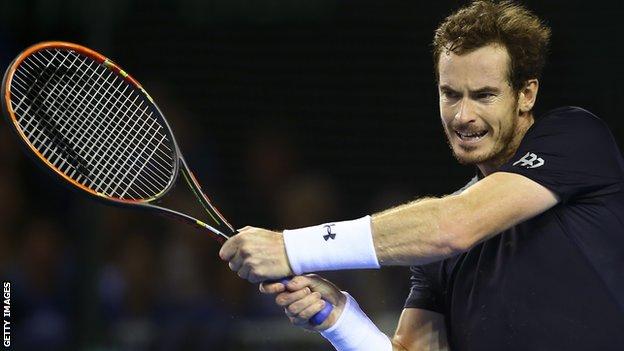 A Davis Cup victory would rival winning Wimbledon for Andy Murray, says former British number one Greg Rusedski.
Another win over Belgium in November's final would give Britain their 10th title, but their first since 1936.
"This would be right up there with winning Wimbledon," said Rusedski, the 1997 US Open finalist.
"Andy's had to drag this team through and win three matches in the last two ties against France and Australia. It's an incredible accomplishment for one person to do it.
"This is in a different league. It's like the 1966 World Cup for England. If we win this, it will go down in sporting folklore. It's an incredible feat."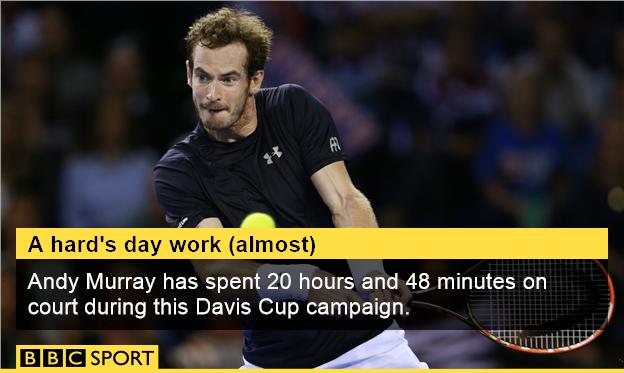 The task facing Murray
Murray played all three days of the quarter-final against France and the semi-final against Australia, winning two singles matches and the doubles with brother Jamie each time.
There is every chance that Britain's number one will be called upon to do the same again in the final.
"It's bloody tough, and you've got to be a special kind of competitor," said two-time Davis Cup winner Lleyton Hewitt. "It takes someone like Andy to be able to do that."
Murray is aiming to match contemporaries Novak Djokovic, Rafael Nadal and Roger Federer, after the latter finally won the Davis Cup for the first time with Switzerland in 2014.
The Scot was at pains to point out that Britain's is not a one-man team after the quarter-final in July, but there is no doubt he will have to perform again if the title is to be won.
"Tim Henman and I couldn't do it, and we were both top-10 players, but we weren't Andy Murray. We weren't as good as he is," added Rusedski.
"It's an incredible accomplishment for one person to do it. If you look at the likes of Roger Federer, he had to do it with Stan Wawrinka.
"Murray will have done it without a player in the world's top 100, so for me it's even more of an incredible accomplishment and up there with his Wimbledon trophy.
"Even if he doesn't win, just to get to the finals is an astounding feat and we should give him a lot of credit for what he's done.
Two months to prepare
Murray spent the closing weeks of the 2014 season playing almost constantly as he tried to gain the points required to qualify for the ATP Finals in London.
The next two months will be considerably less frenetic, with London qualification already secured, and he is only committed to playing the Shanghai Masters in October.
"He's such a genius that as long as he does the work off the court, he's played enough matches this year, I don't think that's a problem," said John Lloyd, former British Davis Cup captain.
"The fresher he is, the better it will be for us."

Murray has already played 82 matches this year in singles and doubles as he has worked his way back into the top three in the world rankings.
"He's had everything happen to him this year," said Rusedski. "He got married, he's expecting his first child, he's in the Davis Cup final, he's number three in the ATP race.
"He needs a little break mentally to relax after this, so I think it's a clever plan for him to play less and be fresh. This is a once-in-a-lifetime occurrence.
"When Federer reached the final, he pulled out of the final at the O2 to win the Davis Cup."
Smith faces selection dilemma

While the younger Murray brother bears most of the burden on Davis Cup weekends, Britain would not be heading to the final without James Ward's spectacular win over American John Isner in the first round.
Captain Leon Smith will be hopeful that he can pick a number two singles player for the final to push Belgium's number two, likely to be world number 64 Steve Darcis.
Dan Evans was given a surprise call-up against Australia in the semi-final, the world number 300 picked ahead of 100th-ranked Kyle Edmund and Davis Cup hero Ward.
"For the final, you pick your second singles player to win that fifth match against their number two," said Lloyd.
"Unless Dan goes walkabout, I'd be very surprised if Dan is not his man now. To pick Kyle Edmund in the final on his debut, I can't see that happening, and frankly James has got to win some big matches to have a chance of knocking Dan out."
The choice of surface will be a factor in any team selection, with the possibility that Belgium choose clay, to try to neutralise Murray.
Former GB Davis Cup player Jamie Baker on BBC Two
"If the final is on clay in Belgium, Kyle Edmund is arguably the best of the number twos on that surface. But would you put him in for his first live Davis Cup rubber in a final?"
That could also mitigate against Evans, with both Ward and Edmund seen as stronger on the surface.
"Dan Evans has to work as hard as he possibly can for 60 days, and if this doesn't motivate him, a Davis Cup final, I don't know what will," added Rusedski.
"James Ward and Kyle Edmund will be desperate to be playing in that match."