Jersey player Scott Clayton aims for Wimbledon doubles draw
Last updated on .From the section Tennis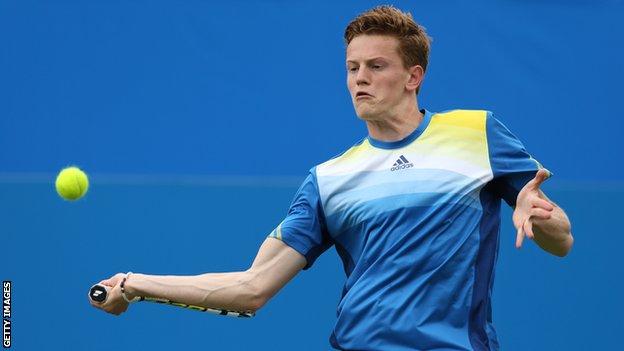 Scott Clayton has said he is aiming to reach the doubles draw at Wimbledon next year after moving back to Jersey.
Jersey's top-ranked tennis player, who was based in Bath, is 292 in the world in doubles and 810 in singles - the highest singles ranking of his career.
Clayton and partner Jonny O'Mara won two doubles titles in Egypt in October.
"If I can get my doubles ranking high enough then it would be great to play at Wimbledon next year," the 21-year-old told BBC Radio Jersey.
Explaining his decision to move his training base back to Jersey, Clayton said: "I have been at Bath for around five-and-a-half years but I wasn't moving forward the way I would like.
"It was time for me to get a fresh start. I am now working with Andrew Evans and physically Ross Jeffs is looking after me."
Despite having won 12 doubles titles since 2013, Clayton added that he has a greater passion for playing singles.
At the Egypt F33 Futures in October, where he won one of those two doubles titles with Briton O'Mara, 20, Clayton also reached his first singles semi-final of his career.
"I enjoy playing singles more, but I think because I care a bit more about it I play better in doubles, as I am much more relaxed on the court."