Tennis Scotland confident of finding next Andy Murray

By Kheredine Idessane
BBC Scotland at the World Tour Finals
Last updated on .From the section Tennis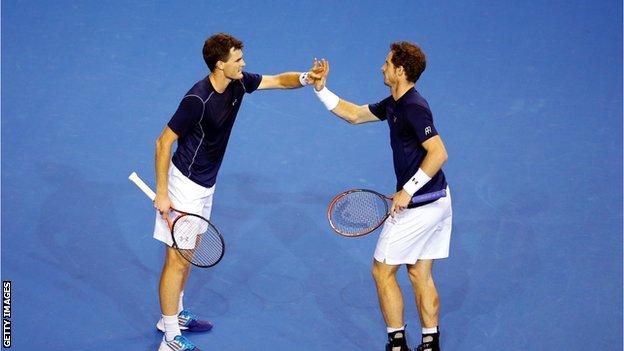 Tennis Scotland insists it is confident of producing the Andy and Jamie Murray's of the future.
Incoming chairman Blane Dodds was responding to Judy Murray's concerns that Scotland is failing to capitalise on her sons' success.
Judy Murray fears that legacy planning is already too late and has urged greater funding to boost the sport.
However, Dodds told BBC Scotland: "I'm very excited about the future; we've got big plans."
With Andy and Jamie both in the world's top four in singles and doubles and in the British team for the Davis Cup final, their mother is worried any legacy planning is already too late.
Judy Murray wants more funding and resources allocated to spreading tennis around the country and feels Tennis Scotland do not have enough experience or vision.
Speaking to BBC Scotland at the 02 Arena, where her younger son plays Stan Wawrinka on Friday evening for a place in the last four of the World Tour finals, she said: "My biggest fear is that we miss the boat.
"You know, I feel much better because I'm now going out in my van and I feel like I'm doing the things that need to be done," a reference to her Tennis On The Road programme.
"But we could do a lot more if we had more backing, if we had more funding, if we had more resource. I think that's my biggest fear: that Andy retires in two years' time and we've started too late.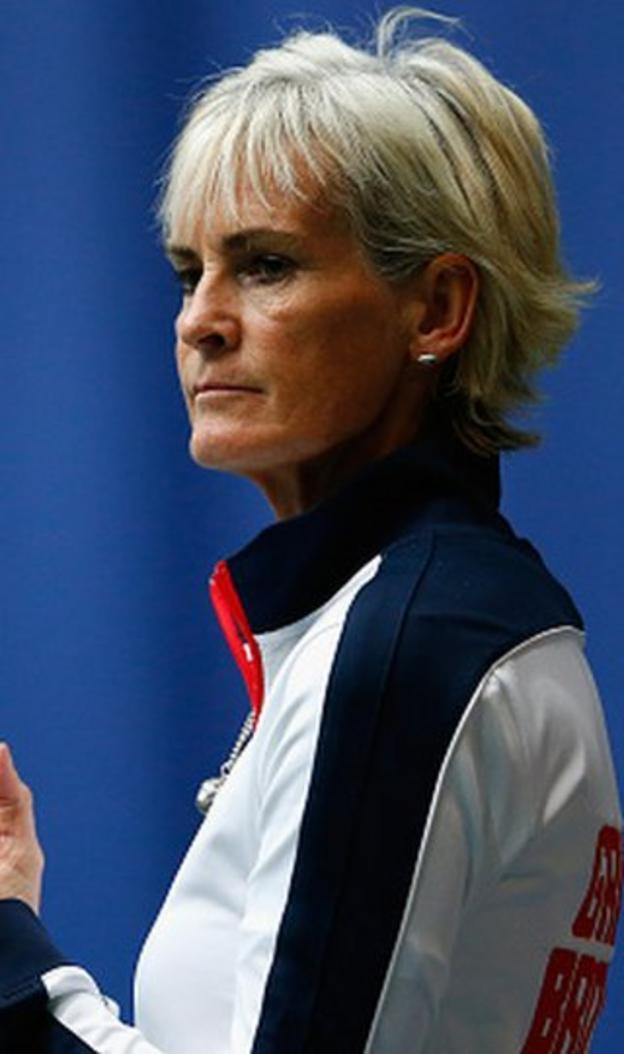 "Everything comes down to people. If Leon Smith [the current Davis Cup captain] comes back in on the performance side of the game, that would be a great start.
"We need to invest in coaches; in developing strong coaches at every level of the game , from recreational all the way through to elite performance, in order to increase the numbers.
"But we also need a really good facility plan to give us more indoor facilities.
"I think in all the years Andy has been in the top five, we've had two courts at a club in Bridge of Weir and more recently four courts at Gleneagles hotel, but there are huge pockets of the country where there is no possibility of playing tennis indoors all year round, so that's a limiting factor as well.
"So I think it's facilities, yes. But for me the biggest thing is people. You've got to invest in good people to really grow each department of our game and the coach education and development department is massive because that's what grows the workforce."
This year Judy has seen Andy have his most consistent season, winning four titles on the world tour, and reach a further three finals, including the Australian Open.
With Novak Djokovic, Roger Federer and Rafa Nadal all still around, and all playing well, there's a very good chance Murray junior could end the year ranked second in the world for the first time in his career.
Big brother Jamie has never been higher ranked as a doubles player, just missing out on the last four of the World Tour finals, and reaching back to back Grand Slam finals this year at Wimbledon and the US Open.
"I think what Jamie and Andy have achieved in their tennis has shown that anything is possible," added Judy. "You know, in a country that has no track record, terrible weather, very poor facilities and very little resource thrown at it, it's shown what can be achieved. So why couldn't we do it again?
"Every governing body would give their eye teeth to be in the position of having a Grand Slam champion and players at the top of their sport because the profile and the exposure do all your marketing for you. But then you've actually got to make things happen. So somebody's got to go out and get their hands dirty. "
Dodds stressed the need to produce "an effective legacy," adding: "We're looking at resources: Tennis Scotland has about £1.7m a year; the Lawn Tennis Association has approximately £60m per year.
"We've got world class players but we also need world class coaches based here in Scotland. We're very excited about the plans we've got in place will make a big difference in developing the Andys and Jamies."
As well as supporting both her sons on the tennis tour, and refining her dance moves on Strictly Come Dancing recently, Judy has been trying to get planning permission for a facility of her own in Scotland.
She said: "I have a project to build a tennis centre close to our home in Dunblane which would give me a base to work out of and somewhere from which I could share the 25 years of coaching experience that I've got."