Davis Cup: Victory must be built on - Leon Smith
Last updated on .From the section Tennis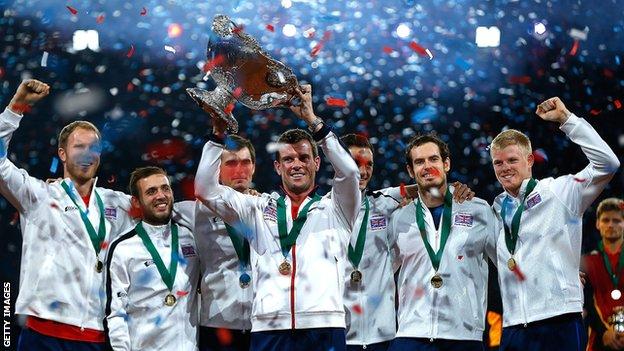 Victorious Davis Cup captain Leon Smith is urging tennis authorities to build on Great Britain's success.
"The time is now," Smith told BBC Scotland. "We say it all the time but I really hope the powers that be do what's necessary to capture this wave of excitement and interest.
"We need people to follow up on it and keep people engaged in the sport."
Murray, ranked number two in the world, won all three of his matches in the weekend final with Belgium, two singles and the doubles with brother Jamie.
The 28-year-old Scot did the same in the ties against France and Australia, while he won both singles in the opening win against the United States, sitting out of the doubles on that occasion.
"For Scottish tennis in particular, it's an incredible time," said Glasgow-born Smith.
"It's a great sport and the scenes we've seen this weekend and throughout the whole campaign have been amazing - the crowd support and the passion from the players, none more so than Andy.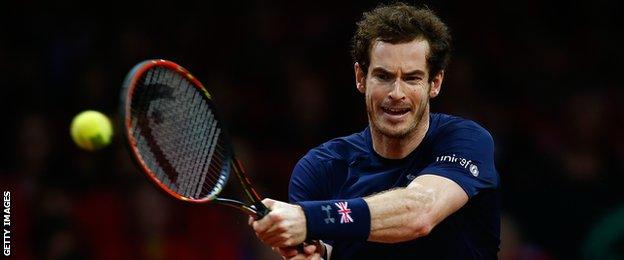 "In Andy, we have such an amazing role model that the time is now to make sure this sport is right at the forefront.
"Without Andy it wouldn't be possible. Although it's a team game, you need someone of that quality to challenge for a title like this.
"Andy has had a terrific year, finishing number two in the world, and with him involved you have a great chance because he can look to pick up three of the available five points.
"Then Jamie has had the best year of his career, he reached two Grand Slam finals and is up to seven in the world in doubles.
GB Fed Cup captain Judy Murray
"It's an enormous achievement and it's also an enormous opportunity. There has been huge fan engagement - it's so much easier for people to get behind teams. For us in Scotland to have two players and the captain is quite remarkable. I'm not sure we capitalised on Andy's Grand Slam wins but surely now people must see that this is huge. We have to get out there and make sure there are more public courts, so everyone that fancies taking up tennis has got somewhere local where they can go. Somewhere accessible and inexpensive, Workforce is another thing. Facilities are no use if there is no activity on them. We need to create a much bigger workforce so we have lots of pied pipers encouraging people to pick up a racket."
"Last year we lost in the quarter-final to Italy - it came down to the fifth and final match and Andy was nursing a few aches and pains that weekend.
"At that point we realised we were close and thought if we can pick up a few extras rubbers outside Andy, then it's possible."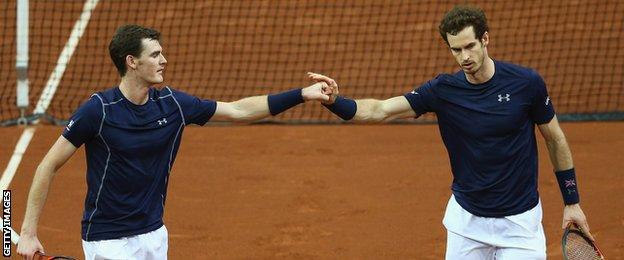 David Marshall, chief executive of Tennis Scotland, was in Ghent to watch the final and insists his organisation is well placed to capitalise on the triumph.
"It's fantastic for Scotland and everyone should be very proud of what these guys have done," he said of Smith and the Murray brothers.
"It's a great platform for us to continue to build the game and get more people playing tennis.
"We've been very fortunate that Andy's been on a huge journey and that makes our job a lot easier because his profile is so high."
Marshall told BBC Scotland that £5.4m had been spent since October 2012, with much of that investment on outdoor courts, while promising that more indoor courts are planned.
Smith, who helped coached the Murray brothers as teenagers, has many wonderful memories of this year's campaign and particularly enjoyed the Glasgow ties against USA and Australia.
"I played a small role in their careers and that has allowed me to keep a close bond with them," he said of the siblings from Dunblane.
"That's why it was so special this year.
"I'll never forget walking out for those home ties in Glasgow, with the two of them. Those are among the proudest moments I'll ever have."