Australian Open: Andy Murray starts brightly as rain hits

By Kheredine Idessane
BBC Scotland in Melbourne
Last updated on .From the section Tennis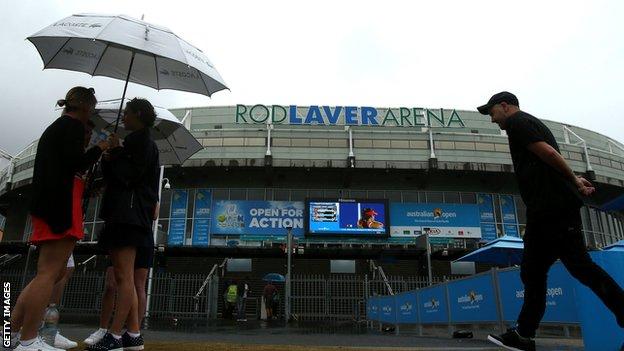 So here's a situation I wasn't expecting, having been used to sun-drenched weather in Melbourne over the past few years which regularly included temperatures over 40C - no play on the outside courts until 14:30 local time due to rain.
Rain?! I didn't sign up for rain at the Australian Open.
And nor did most of the players, and their fans.
Those who had gathered around practice courts 16, 17 and 18 - where the likes of Andy Murray, Serena Williams, Roger Federer and Maria Sharapova were all due to have a hit - were left disappointed as the players scurried instead to the indoor courts for their training sessions or pre-match tune-ups.
Meantime, three of the most under-used pieces of equipment around Melbourne Park cranked thankfully into action. The main show-courts all have roofs, although there's rarely much call for them.
In fact they're so underused, I'm surprised they actually still work. Like a barbie in a Scottish summer, they're not often dusted down for action.
And to think some of the qualifying matches a few days ago had to be halted as the mercury rose above 42C. What a difference a week makes...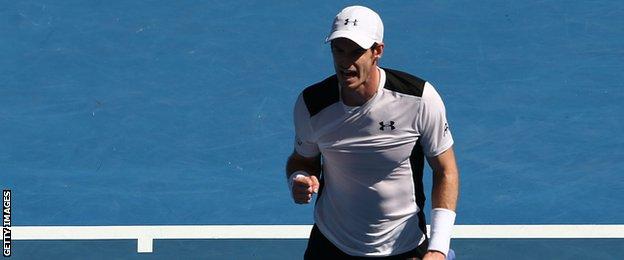 The same could be said for someone who knows a thing or two about rain. Growing up in Dunblane, world number two Murray must have spent many a depressing afternoon wistfully looking out of his misted-up windows, hoping for a break in the gloom.
But there are no clouds hanging over him here in Melbourne.
We all wondered how he might fare given the understandable distraction of his wife Kim's imminent labour. Her waters could break at any moment, it seems. Not so her husband's resolve to give himself another shot at a title he craves.
He says he's got plenty of books with him about parenting and fatherhood. His tennis stats make for good reading too, albeit we're at a very early stage. Played two, won two, not a set dropped.
The 90-minute mauling of Sam Groth was particularly impressive, a Murray master class in the art of returning and passing.
Greg Rusedski, former British number one, on Murray
"I think he's played great. We always talk about that Davis Cup win for [Novak] Djokovic, when he went on to have his best year in 2011, the same thing's kind of happening for Murray at the moment. He's growing in confidence, he's growing in stature. If you look at his game, everything is firing."
This, remember, against a Melbourne man who had nearly all of the Rod Laver arena firmly in his corner. The Scot's shot-making had won over even the most die-hard Aussie by the end of the match.
If he can maintain this momentum - and I fully expect him to - Murray has every chance of living up to his second seeding, and going all the way to the final a week on Sunday.
It certainly looks as if it will take a special performance from one of the top players to stop him. And having reached, and lost, four finals, Scotland's finest certainly knows what it takes to manoeuvre himself through the rounds.
So yes, the wet stuff is annoying for players, punters and pundits alike.
But there's absolutely no sign yet that it's raining on Murray's Melbourne parade.