Jamie Murray: Louis Cayer expects more Grand Slams for Scot
Last updated on .From the section Tennis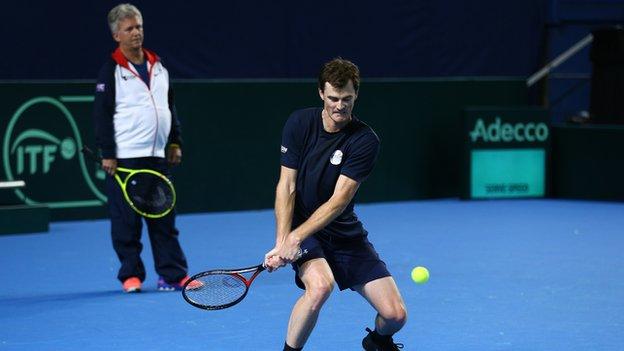 The man who has helped guide Jamie Murray to the top of the world rankings believes the Scot can add more Grand Slams to his Australian Open victory.
Louis Cayer, Murray's LTA coach, is widely considered to be the best doubles coach in the world.
And the Canadian says Murray and Bruno Soares are the perfect combination.
"By taking two players who combine very well to make each other look really good, I think they will do very well," he told BBC Scotland.
Cayer said Murray had changed partners following a successful pairing with Australian John Peers because he wanted Grand Slam titles.
"[Soares] was number two and three in the world for about three years," said Cayer.
"He was very, very steady and he brings a game style that will make Jamie shine because Jamie is the best in the world at the net. Everybody agrees on that.
"But he needs someone who returns a lot, who can set him up and Soares is the best in the world at that.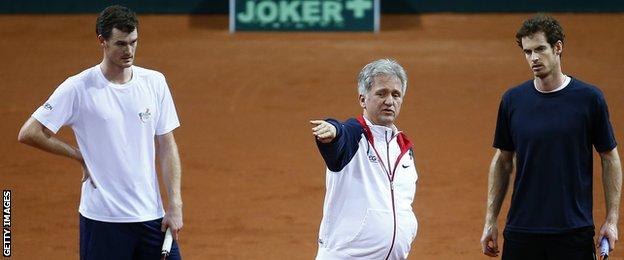 "Hopefully, they can finish as a team at number one, because right now they are leading the race."
Cayer first coached Murray in 2006, but it was not until three years ago that they resumed their relationship, at a point when the Scot was considering retiring, having dropped to 92 in the rankings.
"I said, if we work with you, it's because you've got to aim to be the best, to be number one and he said 'OK, I'll do whatever it takes' and he did that, legally of course," said Cayer.
"I think the key thing for Jamie was first of all belief because it was shaken. When you don't have belief, nothing is possible.
"Then it was to get him to accept his game style. Those who've seen him play know he chips his forehand. Nobody does that. He will lob, he will come in, he'll poach a lot and creates a lot of uncertainty and confuses opponents.
"So, instead of playing like everybody else and hitting hard, he has a very good diversity. He's accurate, placing the ball and mixing it up.
"By accepting that he could win by being different, he went very quickly to the top."
Cayer hopes to help Jamie and Andy Murray to Olympic gold in Rio this summer but for now is content to reflect on the older Murray's success in taking a number one spot that has so often been dominated by the Bryan brothers, Bob and Mike.
"I talked to him on the phone last night and he was ecstatic because, when you achieve that, it's for the rest of your life," he added.
"It's a great achievement. It's not easy to do. In the last 10 years, it was almost always a Bryan at number one and there was very little room at the top.
"And for myself it's nice. We started a journey together Jamie and I in 2006 when I arrived in the UK and to share that feeling of being number one is amazing."