Gordon Reid relishing Wimbledon singles debut
Last updated on .From the section Tennis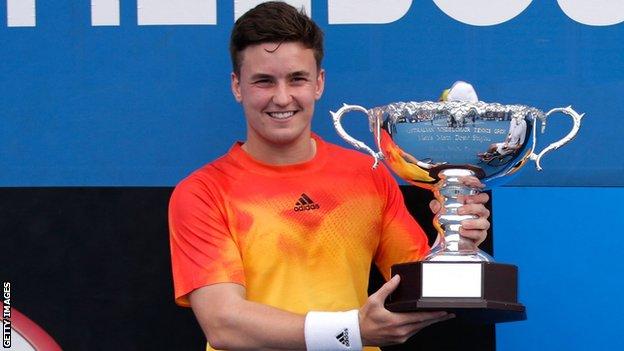 Gordon Reid reckons that being the first-ever wheelchair singles champion at Wimbledon would match being a Paralympic champion in Rio.
The Scot had been gearing up for a shot at gold in Brazil before it was decided to add the event to the schedule at the All England Club this year.
"It is a tough question," the Australian Open champion replied when asked which he would prefer to win.
"If I was being greedy, I would have to say both."
Reid is currently ranked third in the world in singles having also reached the French Open final after his win in Melbourne.
"This year, with it being the first one, you are going to go down in history as the first-ever wheelchair singles champion at Wimbledon, which would be phenomenal," the 24-year-old told BBC Scotland.
"At the same time, my coaching team have been working hard for three-and-a-half years since London towards Rio with one goal in mind - to try to win gold there.
"We don't play the US Open this year because it lies on the same dates as the Paralympics, so it almost replaces it.
"But, at the same time, it is an even bigger event because it only comes round once every four years.
"You also feel like you are part of something bigger because you are representing your country."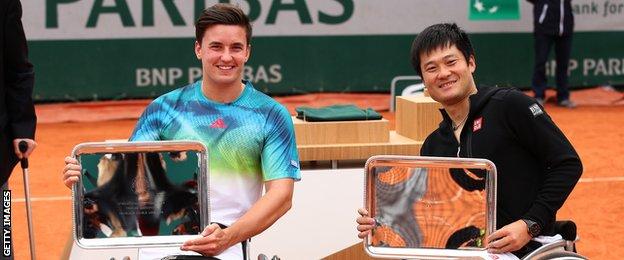 Reid knows the conditions at Wimbledon, which begins next Monday, from playing doubles there and concludes that it will be a testing preparation for the trip to South America.
"It is a lot tougher for us to move on grass," said Reid. "It is a lot heavier on the wheels and physically it is a lot more fatiguing.
"You have more of the court to cover in singles, so I think it is going to be a real test of everybody's physical fitness and strength.
"A lot of us are going to have to take some well-deserved days off afterwards as I think we are going to be feeling it in our upper bodies."
Reid goes into Wimbledon high in confidence, being ranked world number two in doubles and having retained the French Open title along with Japan's Shingo Kunieda.
"It's been a brilliant year for me so far," added Reid, who will team up with Alfie Hewett in Rio as the Scot competes in his third Paralympics.
"Coming into the start of the year in Australia, I had never reached a Grand Slam final and I'd never felt I had performed that well at a Grand Slam in a singles event either.
"So to be sitting here now having reached two finals in a row and to have won one of them in Australia, I've got to be pretty happy with that."