Andy Murray claims place in Shanghai Masters final as Novak Djokovic loses
Last updated on .From the section Tennis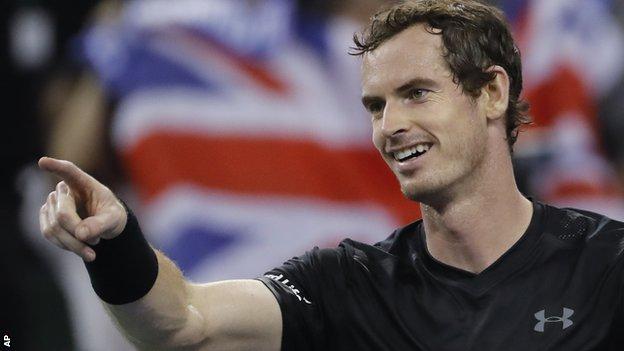 Andy Murray is through to the Shanghai Masters final and will play Roberto Bautista Agut, after Novak Djokovic smashed his racquet and tore his shirt as he lost to the Spaniard.
The world number one, 29, lost 6-4 6-4 to world number 19 Bautista Agut.
Murray reached his 10th final of the year with a determined 6-4 6-3 semi-final win over France's Gilles Simon.
The 29-year-old Briton, seeking his sixth title of the year, saw off world number 32 Simon in a confident display.
If Murray wins Sunday's final he will be just 915 points behind Djokovic in the annual rankings points, increasing his chances of finishing as the year-end world number one.
Djokovic vents fury at umpire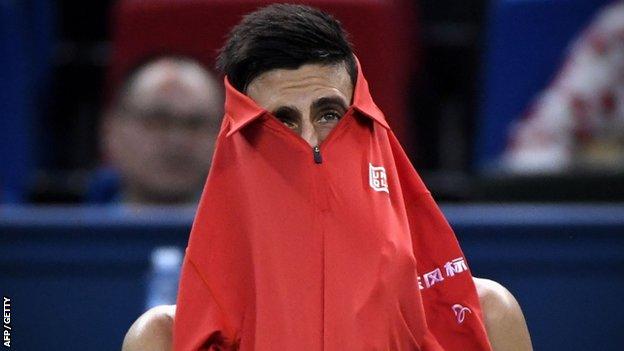 Having ripped his shirt open in frustration, Djokovic was further incensed at receiving a time violation when changing into a new one, raising the point forcefully with umpire Carlos Bernardes at the end of the match.
"He was the star of the show," Djokovic said of the official. "That's what he wanted to be today.
"But there are definitely things that I need to regain from the emotional, mental point of view."
Djokovic, who has won the event three times and was also aiming to reach his 10th final of the season, said exhaustion may have played a part in his mood during the match.
"I had to experience this sooner or later," he said. "I knew I could not go on playing at the highest level for so many years all the time."
The world number 19 took the first set against Djokovic in 42 minutes with his first break point and broke three times in the next to triumph in an hour and 47 minutes.
The Serb, who had won all five of his previous encounters with his opponent, could make little headway against Bautista Agut's intrepid, athletic baseline tactics.
Djokovic failed to take the two break-point chances he was able to create in the opening set and it was his opponent who seized the opportunity, prompting the 12-time Grand Slam title winner to smash his racquet beyond repair.
Djokovic had committed 37 unforced errors before beating world number 110 Mischa Zverev in the previous round, and was soon a point away from a 5-2 deficit in the second set against 15th seed Bautista Agut.
He held off three match points as the Spaniard's serve showed signs of tension, but made further mistakes when serving to level at 5-5 - with 29 unforced errors in total during the contest - as Bautista Agut reached a Masters final for the first time.
'Consistent' Murray not thinking about number one ranking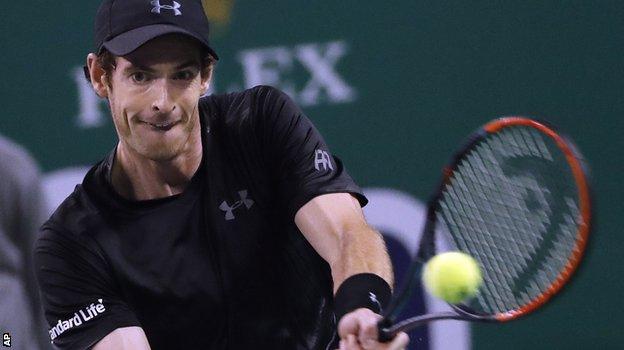 Murray has said that reaching the world number one spot is his main aim for the rest of the 2016 season.
However, speaking after his match with Simon, he accepted that Djokovic's exceptional start to the season has made that "difficult" for him.
"I said that I want to try to get to number one, but I'm still quite far away from [Djokovic], so I'm not thinking about the number one ranking this week or right now," he said.
"I just want to finish this year as best as I can, it's been the most successful in my career.
"The last few months have been some of the most consistent I have been, so I just want to keep it going until the end of the year and finish as strong as possible."
Having not lost his serve throughout the tournament, Murray was broken in the very first game of the match, setting the tone for a compelling opening set.
After six successive breaks of serve Murray capitalised on a set point when, having been lobbed himself, he raced back and produced a sublime backhand lob of his own.
The first set took 53 minutes, but Murray clicked into a higher gear in the second, pulling away from the determined Simon.
The match seemed done and dusted when Murray was serving for a place in the final at 5-1, only for a combination of Simon's grit and the Scot's serving errors to keep both men on court.
That quickly became back-to-back games for Simon, leaving Murray under some pressure in his second attempt to serve out the match.
But the Scot thrives under such pressure, and sent down an ace to seal his place in yet another final.
Analysis
BBC tennis correspondent Russell Fuller
"Novak Djokovic has experienced a strange sensation in recent months. Unable to bend matches to his will on a regular basis, as he did so relentlessly in an extraordinary period of domination, his frustration has become evident.
"Andy Murray, meanwhile, who has been the best player in the world for the past four months, looks increasingly like the man who will officially succeed Djokovic at the top of the rankings. April 2017 would still be my best bet, but if Murray beats Bautista-Agut in Sunday's final then claiming the year end number one ranking will still be in his sights."