Andy Murray is Scotland's greatest-ever sportsperson, says Sir Chris Hoy

By Jane Lewis
BBC Scotland at Sir Chris Hoy Velodrome
Last updated on .From the section Tennis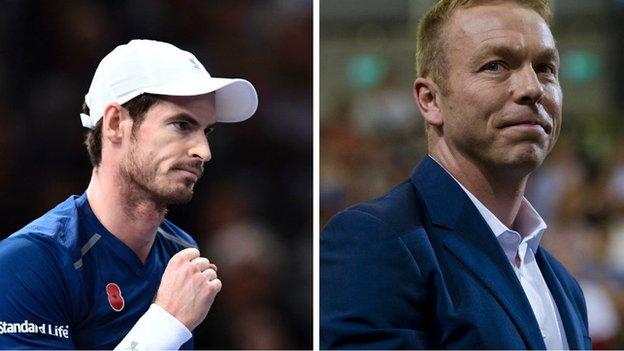 Andy Murray is Scotland's greatest-ever sportsperson, according to six-time Olympic Gold medallist Sir Chris Hoy.
Murray took over at the top of the world tennis rankings on Saturday after reaching the Paris Masters final.
"With no disrespect to any current or past sportsman or woman in Scotland, I think he is the greatest," said Hoy.
"I personally think to have achieved what he has done in such a competitive era in such a high-profile sport is a great achievement."
Roger Federer, Rafa Nadal and Novak Djokovic, the player Murray has dethroned as world number one, have prevented the Scot's rise to the top until the age of 29.
"I'm a massive fan of a number of other athletes and achievements from many other Scottish sports men and women, but the era that he is in definitely contributes towards the magnitude of this achievement," former champion cyclist Hoy told BBC Scotland.
"It's such a huge sport with such a high level of competition.
"It's not just the achievement. The way he's battled, the way he's been so singled-minded, so focused on achieving in his sport and not getting distracted by a lot the things that he could get distracted by."
Hoy knows his fellow Scot well, has watched his career develop with interest and has noted something in Murray that he believes sets him apart from other top sportsman.
"There's something about his mental attitude," said Hoy. "It's more than the physical side, it's his mental approach that impresses me and it's his determination to come back from setbacks and keep on battling and not to give up.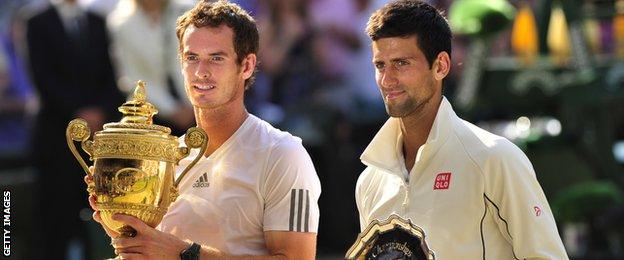 "A lot of athletes have talent and a lot of athletes have opportunity, but not everyone can keep going for as long as he has to finally reach the top of their sport."
Now that Murray, who went on to beat John Isner 6-3 6-7 6-4 in Sunday's final in Paris, has taken over at the top of the rankings, the question now is how long he can remain there.
"He can definitely stay there, but a lot of that is out with your control," added Hoy. "Injuries and setbacks can come along that you have no influence over at all.
"So mentally, physically, yes, he can do it, of course, but who knows? He could be there for years, or it might last a short time.
"But he's become the world number one and that's a fantastic achievement."