Australian Open 2017: Serena Williams will not speculate on final Grand Slam tally
Last updated on .From the section Tennis
Serena Williams was thrilled to win a record 23rd Grand Slam title at the Australian Open but would not speculate on how many more she could secure.
She is now just one behind Australia's Margaret Court in terms of all-time Grand Slam singles victories.
"I never had a number. That's the beauty of it," said Williams, who won her first major at the 1999 US Open.
"When I started this journey, I just wanted to win a Grand Slam.
"Then I just wanted to win. Every time I step on the court, I want to win. It's just really remarkable."
Williams drew level with Germany's Graf on 22 major singles titles at last year's Wimbledon, but then lost in the semi-finals of the US Open.
She won her seventh Australian Open title without dropping a set in Melbourne.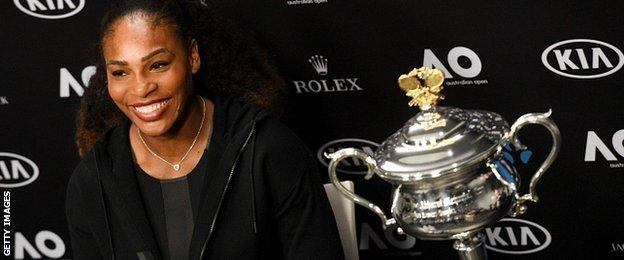 "It's such a great feeling to have 23," she said. "It really feels great.
"I've been chasing it for a really long time. When it got on my radar, I knew I had an opportunity to get there, and I'm here.
"It's a great feeling. No better place to do it than Melbourne."
The experience was all the more special because it was shared with Venus, who at 36 was making her first Grand Slam final appearance since 2009.
The sisters became the oldest women to appear in a major final since the Grand Slams accepted professional players in 1968.
"We're both, like I say, 30-fun," Serena joked. "Now I just feel like I'm satisfied with where I am, although I always want to win."
As well as the title, Serena regained the world number one ranking from Germany's Angelique Kerber - but she did not know that was on the line as her coach, Patrick Mouratoglou, kept it from her.
"That was a bonus. I didn't know actually. It feels good. I like being on top, so I really like that feeling," she said.
"In the beginning of the tournament, I was like, 'If I win, will I be number one?' Patrick said, 'No, no, no.'
"Today on the court when they were like, 'And number one', I was like, 'Whoa, really?'"
All-time Grand Slam singles titles leaders

24

(1960-1973) -

Margaret Court

(Aus)

19

(1923-1938) -

Helen Wills Moody

(US)

23

(1999-present) -

Serena Williams

(US)

18

(1974-1986) -

Chris Evert

(US)

22

(1987-1999) -

Steffi Graf

(Ger)

18

(1978-1990) -

Martina Navratilova

(US)
Venus 'ready to kill it' in 2017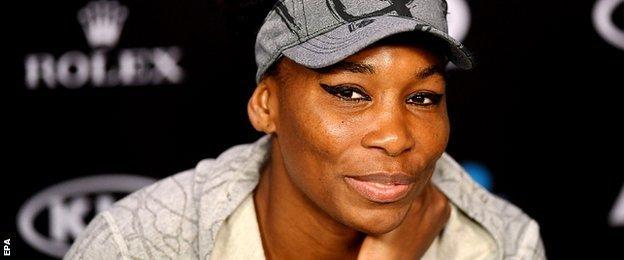 After reaching her first Grand Slam final since 2009, Venus Williams will head into the rest of the season in confident mood.
She will rise from 17th to 11th in the world rankings after her run to the final in Melbourne.
"Ready to kill it this year," she said. "That's my goal. It's a great start to the year. I'm looking forward to the rest of year.
"This is like tournament number two and it's already a lot of work. I'm looking forward to tournament number three and four. It's going to be awesome."
Venus, who has had to cope with auto-immune disease Sjogren's syndrome in recent years, played down the suggestion she and Serena are the greatest sporting siblings of all time.
"I don't think we're going for the greatest story in sports," she said.
"We're just going for some dreams. In the case that we are, what an honour, what an honour."