Petra Kvitova: Tennis comeback 'huge motivation' after knife attack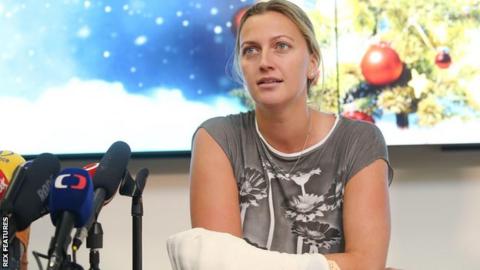 Two-time Wimbledon champion Petra Kvitova has spoken of her determination to return to tennis following a knife attack at her home in December.
The Czech, 27, has regained the use of her racquet hand after being stabbed by an intruder in her home in Prostejov.
She still has no comeback date but said: "I can tell you that tennis is a huge motivation for me."
Kvitova's last appearance on court was against France's Caroline Garcia in the Fed Cup final on 12 November.
In a post on her Instagram page on Tuesday, she said: "I realised while I've been away how much I like challenges.
"My perspective on life has changed a lot and I am doing everything to give myself a second chance to be back on the court."
Kvitova added: "I'm working really hard on my recovery."
Surgeons spent almost four hours repairing tendons and nerves on Kvitova's left hand - her playing hand - following the attack on 20 December, in which she struggled with an intruder who was attempting a burglary.
Doctors initially said the 2011 and 2014 Wimbledon winner would be unable to compete for at least six months.
Her spokesman, Karel Tejkal, told AFP on Monday: "Petra's recovery is continuing as planned, but everything is up in the air as to her return."
Tejkal said Kvitova's psychological recovery had been "very encouraging" and that she had been fitness training in the Canary Islands.
"Petra uses her hand without problem for daily activities. Of course, the hand is weakened but at first glance you can't see that she was injured," he added.
"But at the moment no-one can give a concrete date."