Scott Clayton: Jersey tennis player unsure on date of Island Games return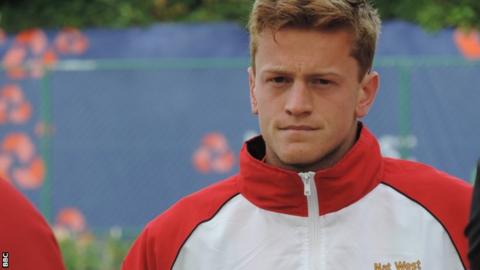 Jersey's top tennis player Scott Clayton says he is unsure when he will next compete at an Island Games, as he prioritises his professional ranking.
The 23-year-old has opted to miss this year's Games and last week made his bow at Challenger Tour level in doubles.
"Things like the Island Games will have to take a back seat," Clayton said.
"That's not me undermining the Island Games at all. I think it's a great event, it's fantastic to be part of a big team and have the camaraderie."
He told BBC Radio Jersey: "I'm sure I'll play it in years to come, but when my next one will be I don't know."
Clayton is ranked 253 in the world in doubles and narrowly suffered defeat alongside partner Jonny O'Mara in the first round of the second-tier Aegon Open event in Nottingham on Tuesday.
In November he said he would aim to reach the doubles main draw at Wimbledon this summer.
"I think it's a great opportunity for me to be around these kind of players and to play at this level," Clayton added.
"Ultimately right now I need to focus on my individual career, and what it can do for me."