Leon Smith tips Andy Murray to return to top form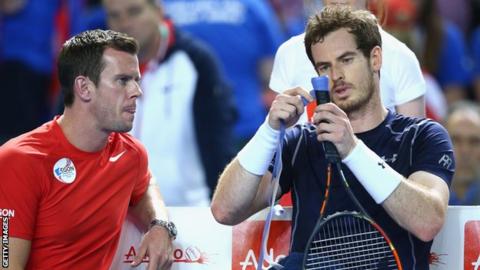 British Davis Cup captain Leon Smith is tipping Andy Murray to recover from his hip problem and win more Grand Slams.
Smith believes his former protege can return to winning major titles, Olympic gold medals and world number one spot.
"He's one of the best players in the world and he's only 30 years old. He's got great years ahead of him," said Smith, who coached a teenage Murray.
"A fit and healthy Andy Murray is absolutely terrific, and unbelievably tough to beat. A champion."
Murray announced on Saturday that his ongoing hip problem would prevent him from competing in the US Open, a tournament he won in 2012 before two Wimbledon titles.
The pain affected his Wimbledon campaign and the world number two subsequently pulled out of tournaments in Montreal and Cincinnati.
"This is what he does," Smith told BBC Scotland. "His home is the tennis court. He's worked all his life to get to the stage where he was winning Grand Slam titles, a Davis Cup, the number one ranking.
"He wants more of that. He is absolutely capable of coming back and winning Slams."
Murray travelled to New York on 18 August to prepare for the tournament at Flushing Meadows and Smith believes he was right to give himself until the last minute to try to be fit.
"It doesn't matter about the money or anything else; he's built to compete," said Smith.
"He loves fighting for every point, figuring out opponents, trying to win titles. Clearly he felt he wouldn't have been able to win the title here.
"He may have been able to get through some rounds but his aspirations are bigger than that.
"He was absolutely right to wait until the last possible moment because sport works like that. You've got footballers doing fitness tests just before match day to check if they're able to cope with the loading and the movements and tennis is the same. "
While Murray will decide in the next day or so whether to play again this season, Smith sees no reason to fear that his time at the top of tennis could be coming to an end.
"He'll want to keep playing for years to come and, for that to happen, then clearly there's an injury that needs resolved for the longer term," said Murray's fellow Scot.
"He's sought the advice of various specialists and he and his team will figure out what's best and that'll determine how long a rest period he might need.
"I would say to him, 'listen to yourself'.
"He's very savvy. He'll know his body better than anyone else and now that he's had input from specialists he'll be able to filter that information and he'll know what's right for him."