Guilherme Clezar: Brazilian tennis player fined for 'offensive' gesture
Last updated on .From the section Tennis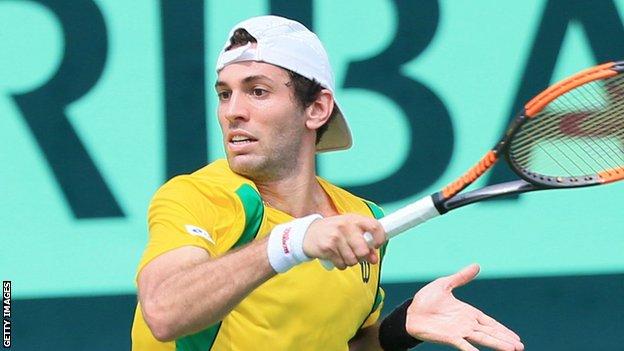 Brazil's Guilherme Clezar has been fined £1,100 by the International Tennis Federation for a gesture he made during a Davis Cup match against Japan's Yuichi Sugita in Osaka.
After successfully challenging a line call, Clezar stretched his eyes in the direction of a line judge.
The 24-year-old said later he "never had the slightest intention to be aggressive, racist, prejudiced".
The ITF said it had fined Clezar for "unsportsmanlike conduct".
In a statement, it added: "The incident was reported after the match and the TV footage was then reviewed by the tie referee.
"Clezar issued a written apology. The ITF condemns all forms of offensive behaviour."
Clezar lost 6-2 7-5 7-6 (7-5) and Japan lead the World Group play-off 2-0.
In a post on the Brazilian Tennis Confederation Facebook page, Clezar said: "We have been extremely well received here and I have an excellent relationship with all tennis players from many different countries on the circuit.
"Even though I didn't mean any prejudice, I recognise the gesture doesn't ring true with the attitudes of respect, enthusiasm, solidarity, emotion and many other things that sport means to us and I want to express my regret and my most sincere apologies."
Earlier this summer, Premier League football club Chelsea apologised to "our Chinese fans as well as Chinese people" after Brazilian player Kenedy posted offensive social media comments before a pre-season match in the country.