Hawk-Eye to replace line judges at Next Gen Finals in Milan
Last updated on .From the section Tennis50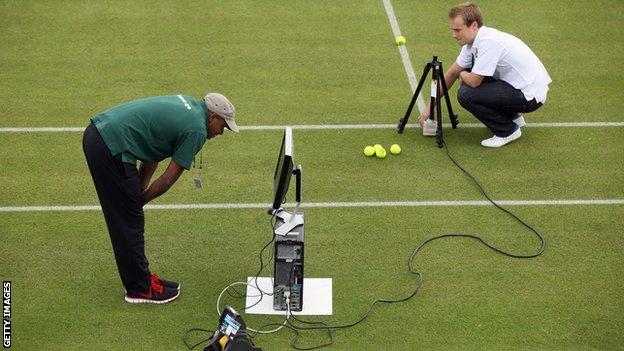 Line judges will be replaced by Hawk-Eye technology at the inaugural Next Gen Finals in November.
For the first time at an ATP event, the umpire will be the only official on court at the tournament in Milan.
The decision has been described as a possible "landmark moment" for the sport by ATP official Gayle David Bradshaw.
The tournament will feature the top eight players aged 21 or under and takes place from 7-11 November.
Germany's world number four Alexander Zverev, 20, has qualified for the event after winning two Masters 1000 titles this year.
Shorter sets and a shot clock are among the ideas that will also be trialled at the event.
Hawk-Eye allows players to use video replays to question line calls. It was first used at Wimbledon in 2007.
At the Next Gen Finals, decisions will be final and players will not be able to challenge calls as they do at most tournaments via Hawk-Eye playback.
However, marginal calls will still be accompanied by a visualisation on screens around the stadium.
Foot-faults, usually called by judges positioned in line with the baseline, will be decided by a review official using a camera to monitor the server's feet.