Laver Cup 2017: Europe v The World - results & standings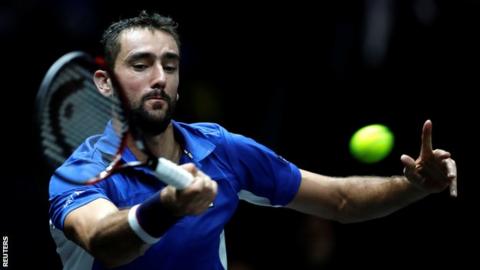 The inaugural Laver Cup took place in Prague, Czech Republic from September 22-24.
The three-day tournament saw a selected European side face a World team and included some of the world's best male tennis players including Roger Federer, Rafael Nadal, Marin Cilic and Nick Kyrgios.
The first team to reach 13 points won the Laver Cup, with Team Europe, captained by Swedish legend Bjorn Borg, beating John McEnroe's team world 15-9.
| Team Europe | Team World |
| --- | --- |
| Team captain: Bjorn Borg (Swe) | Team captain: John McEnroe (US) |
| Rafael Nadal (Spa) | Jack Sock (US) |
| Roger Federer (Swi) | Nick Kyrgios (Aus) |
| Marin Cilic (Cro) | John Isner (US) |
| Dominic Thiem (Aut) | Sam Querrey (US) |
| Alexander Zverev (Ger) | Frances Tiafoe (US) |
| Tomas Berdych (Cze) | Denis Shapovalov (Can) |
Team Europe 15-9 Team World
Results
Sunday 24 September
Jack Sock & John Isner (World) bt Tomas Berdych & Marin Cilic (Europe) 7-6 7-6
Alexander Zverev (Europe) bt Sam Querrey (World) 6-4 6-4
John Isner (World) bt Rafael Nadal (Europe) 7-5 7-6
Roger Federer (Europe) bt Nick Kyrgios (World) 4-6 7-6 1-0 (11-9)
Saturday 23 September
Roger Federer (Europe) bt Sam Querrey (World) 6-2 6-4
Rafael Nadal (Europe) bt Jack Sock (World) 6-3 3-6 1-0 (11-9)
Nick Kyrgios (World) bt Tomas Berdych (Europe) 4-6 7-6 (7-4) 1-0 (10-6)
Roger Federer & Rafael Nadal (Europe) bt Sam Querrey & Jack Sock (World) 6-4 1-6 1-0 (10-5)
Friday, 22 September
Marin Cilic (Europe) bt Frances Tiafoe (World) 7-6 (7-3) 7-6 (7-0)
Dominic Thiem (Europe) bt John Isner (World) 6-7 (17-15) 7-6 (7-2) 1-0 (10-7)
Alexander Zverev (Europe) bt Denis Shapovalov (World) 7-6 (7-3) 7-6 (7-5)
Nick Kyrgios & Jack Sock (World) bt Tomas Berdych & Rafael Nadal (Europe) 6-3 6-7 (7-9) 1-0 (10-7)