Andy Murray & Serena Williams 'will be back' at Australian Open - tournament boss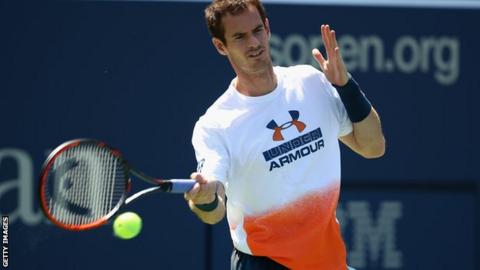 Andy Murray and Serena Williams are set to play at the Australian Open in January, according to tournament director Craig Tiley.
British number one Murray, 30, has not played since July when a hip injury hampered him in a quarter-final defeat at Wimbledon, while Williams, 36, gave birth to her first child in September.
The pair could be joined by Novak Djokovic and Stan Wawrinka, says Tiley.
"All the top players will be back in Melbourne," he said.
Former world number one Djokovic has been sidelined since suffering an elbow injury at Wimbledon, while Wawrinka and Nishikori have been out since the summer with respective knee and wrist problems.
"I can tell you that in talking to Andy, he has been training and he is preparing for having a great year in 2018," Tiley said.
"How much would this year have hurt him, to watch over the entire year Roger [Federer] and Rafa [Nadal] share four Grand Slam titles - he would not have liked that.
"As competitive as Andy is, we know he's back and he'll want to improve his current ranking of number three in the world and getting back to number one."
Murray had hoped to return for the US Open in August but pulled out 48 hours before it started.
During his absence, the Scot has dropped to number three in the world behind number one Nadal and number two Federer.
Last month, Murray's mother Judy said there was "no timescale" for his return to competitive action.
Williams' potential return to Melbourne Park would allow the American to defend the 2017 title she won while eight weeks pregnant.
The 23-times Grand Slam champion said before giving birth that she was planning to play at the tournament.
Tiley said Williams has a "special relationship" with the Australian Open, while the player has said the initials of her daughter's name - Alexis Olympia Ohanian - are a nod to the tournament.
"She wants to come back in 2018 and defend her title," Tiley said.
"Obviously, at training now, there is several months to go and it will be up to her as far as where she is with her fitness."
The men's and women's singles winners will each collect four million Australian dollars (£2.4m) in 2018, up from A$3.7m in 2017, while the entire prize money pool has increased by 10% to A$55m (£32.4m).
Analysis
Russell Fuller, BBC tennis correspondent
While there is nothing to suggest Andy Murray won't be in Melbourne in January, it is simply too early to say he will definitely be fit.
He is happy to be away from the public eye as he continues his rehabilitation, and is still planning to play Roger Federer in a charity exhibition match in Glasgow in a month's time.
And although Murray has not officially called time on the 2017 season, it seems almost certain his next competitive appearance won't be before the Brisbane tournament in the first week of the New Year.