Martina Hingis to retire from tennis after WTA Finals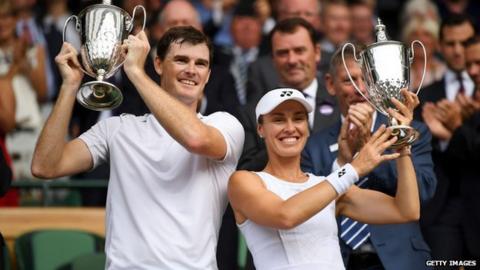 Martina Hingis - the world number one doubles player and five-time Grand Slam singles champion - will retire from tennis after this week's WTA Finals.
The Swiss, 37, originally retired as a 22-year old in 2003 and then again in 2007 after a brief comeback.
Hingis won this year's Wimbledon and US Open mixed doubles titles and regained the number one doubles ranking.
"I think now it's definite. It's different, because before I walked away thinking I might come back," she said.
"After a season like this, I think it's also perfect timing. You want to stop on top and not when you're already going backwards.
"I couldn't ask for a better finish."
'This isn't a goodbye'
Hingis became the youngest player ever to win a Grand Slam title as a 15-year-old alongside Helena Sukova in the 1996 Wimbledon doubles event, and would end the year by losing to Steffi Graf in the singles final at the WTA Tour Championships.
In 1997, Hingis became the world number one singles player, at the age of 16, and won the Australian Open, Wimbledon and the US Open, becoming the youngest singles champion at the All England Club since 1887.
Hingis went on to win two further Grand Slam singles titles, at the Australian Open in 1998 and 1999, only missing out at the French Open, where she finished runner-up in 1997 and 1999.
Retiring in 2003, she said that a return to competition was "unforeseeable" and that she had "no plans to ever return".
However, the Swiss made a comeback on the singles circuit in 2006 before retiring for a second time a year later after testing positive for a metabolite of cocaine at Wimbledon.
Hingis maintained her innocence but was given a two-year ban and chose to retire once again.
After being inducted into the International Tennis Hall of Fame, she returned to the doubles circuit in 2013 and went on to win another 10 major doubles titles, bringing her tally of career Grand Slam titles to 25, as well as Olympic silver alongside Timea Bacsinszky in Rio last year.
Hingis has already tried her hand at coaching during brief periods helping Anastasia Pavlyuchenkova and Sabine Lisicki, and added: "This isn't a goodbye.
"As history shows, I haven't been able to stay away from tennis for long in the past, and I am looking forward to seeing what new opportunities and challenges lie ahead of me."
Hingis and her doubles partner Chan Yung-jan play in the last eight of the WTA Finals in Singapore on Thursday.
She showed me how it was done - Federer
Hingis' compatriot, Roger Federer, credited her with helping him become a 19-time Grand Slam champion.
Speaking after he beat Benoit Paire 6-1 6-3 in the second round of the Swiss Indoors tournament in Basel on Thursday, Federer said Switzerland were "very lucky" to have her.
"Martina was partially the one who showed me how it was all done," he said.
"I'm not sad to see her retire, she's been in the game for long enough, she seems at peace with her decision. I've always been a fan of her and I always will be."