Next Gen ATP Finals: 'Disgraceful' draw ceremony leads to accusations of sexism

By Russell Fuller
BBC tennis correspondent
Last updated on .From the section Tennis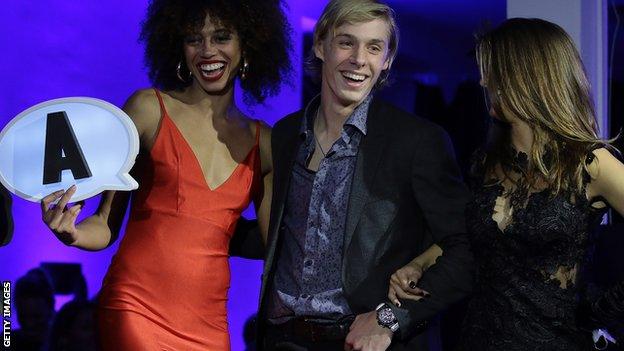 A tennis player was asked to pull off a female model's glove with his teeth in a "disgraceful" draw ceremony that has led to accusations of sexism.
At the Next Gen ATP Finals draw in Milan on Sunday, female models decided groupings by revealing letters hidden under their clothing.
In a joint statement, the ATP and sponsors Red Bull said they "deeply regretted" causing offence.
"Our execution was in poor taste and unacceptable," the statement read.
One model suggestively took off her jacket to reveal the letter B on her back, while Denis Shapovalov discovered he was in Group A when his chosen model pulled up a lace dress to reveal the letter A on her right thigh.
South Korea's Hyeon Chung was asked to pull a model's glove off with his teeth.
Former Wimbledon champion Amelie Mauresmo said the draw was a "disgrace", while Judy Murray tweeted that it was "awful".
French player Alize Cornet posted on social media: "Good job @ATPWorldTour. Supposed to be a futurist event right? #backtozero"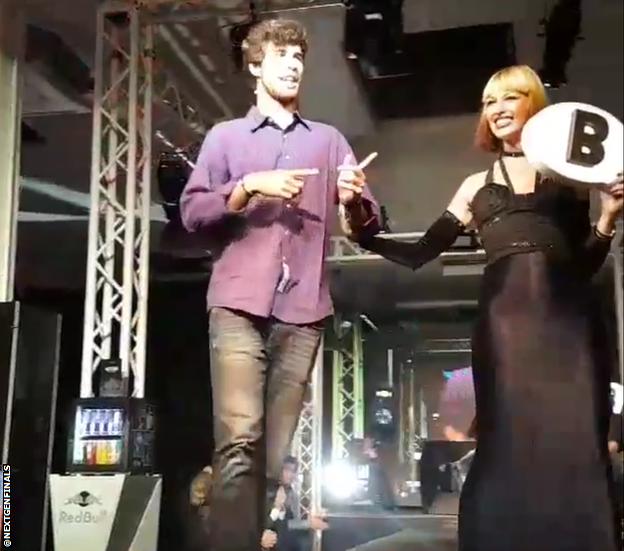 The inaugural Next Gen Finals is the ATP's under-21 version of the World Tour Finals, featuring eight of the world's best young players.
The qualifiers were asked to select one of two models before making their way down the catwalk arm in arm.
At that point the model revealed the letter A or B, which had been concealed under an item of clothing.
The event is run by the ATP in partnership with the Italian Tennis Federation and the country's National Olympic Committee.
The draw party, though, was sponsored by Red Bull and the evening appears to have been designed as a tribute to Milan's famous links with the fashion industry.
The ATP is understood to be "furious" about the way the draw was executed, and accepts it was in "poor taste".
Its joint statement with Red Bull read: "ATP and Red Bull apologise for the offence caused by the draw ceremony for the Next Gen ATP Finals.
"The intention was to integrate Milan's rich heritage as one of the fashion capitals of the world. However, our execution of the proceedings was in poor taste and unacceptable. We deeply regret this and will ensure that there is no repeat of anything like it in the future."