Jana Novotna: Duchess of Kent says Wimbledon "will not be the same"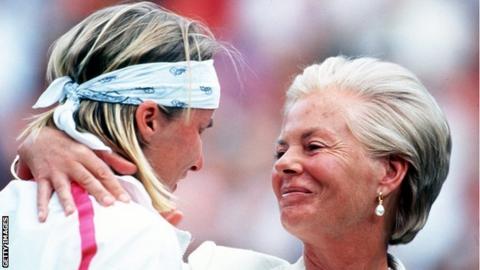 Wimbledon "will not be the same" following the death of former champion Jana Novotna, says the Duchess of Kent.
The Duchess provided a shoulder to cry on when the Czech player lost in the Wimbledon final in 1993, before presenting her with the trophy in 1998.
Novotna captured the nation's hearts when she burst into tears following defeat to Steffi Graf.
In a tribute, the Duchess described her as "a brave, courageous, sweet lady with a wonderful sense of humour."
"I am very saddened by the news of her death and all my feelings are with her family," she added in a statement.
Novotna's only singles Grand Slam win came at Wimbledon but she also won 12 Grand Slam doubles titles and four in mixed doubles.
She was inducted into the Tennis Hall of Fame in 2005.
Former British number one, Annabel Croft, said her tough approach on the court went against her mild nature off-court.
"She was so utterly sweet and charming off the court, everybody loved her she was such a lovely person and also in terms of her tennis she was such a beautiful player," she told BBC Radio 5 live.
"She was very, very athletic. She had a really aggressive game style, she had a lot of variety, she served and volleyed, she slice backhand, she made life very difficult but it was a game that took a long time to develop which I think is why everyone was so utterly thrilled for her when she finally realised those dreams of winning Wimbledon."
"I think because she was so ruthless on the court and so competitive and so driven that I think that moment on Centre Court when she did break down in tears, you saw this really vulnerable side to her and somebody who was just so utterly crushed and devastated at coming so close to winning.
The Wimbledon win in 1998 saw Novotna become the oldest first-time Grand Slam singles winner in the Open era at 29 years and nine months.
Virginia Wade, who won the title at SW19 in 1977, said she envied the Czech's forehand.
Wade said: "She had all the talents in the world, boy, was she talented, but she was a little bit self-effacing so it took her a while to put it all together and make it work but her talent was good enough, definitely, without any question to win more Grand Slams.
"She was a terrific person, she really was. She had a sort of quiet competitiveness. She was steely on the inside but she was always such a good sportsman and always polite. I know that emotional outburst with the Duchess of Kent, nobody will ever forget that."