Australian Open 2018 to use 25-second shot clock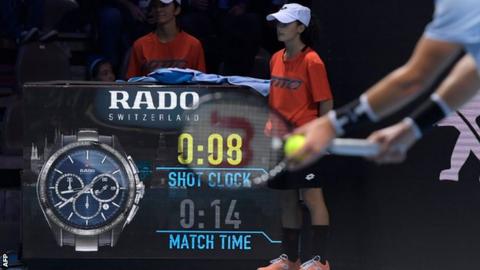 The Australian Open will use a 25-second shot clock and players may be fined for retiring or performing "below professional standards" in the first round of Grand Slams from next season.
The shot clock, trialled at US Open qualifying and the Next Gen ATP Finals, is used in between points to ensure players serve within 25 seconds.
It is one of a number of changes decided by the Grand Slam Board (GSB).
The GSB is also intending to reduce Grand Slam seeds from 32 to 16 in 2019.
Other rule changes:
Timing of pre-match warm-ups to be strictly enforced, with players subject to a fine up to $20,000 (£15,000).
Any main draw singles player who is unfit to play and who withdraws on-site after 12:00 noon on Thursday before the start of the main draw will now receive 50% of the first round prize money.
The replacement lucky loser will receive the remaining 50% plus any additional prize money earned thereafter.
World number one Rafael Nadal has criticised the introduction of a shot clock and said it would ruin the sport as entertainment.
"If you don't want a great show, of course it's a great improvement," he said in August.
The men's tour, the ATP, introduced a rule at the start of 2017 that means a player can retire before a first-round match and retain their prize money.
At Wimbledon, there were total of eight retirements - seven in the men's draw and one in the women's - over the first two days of the Championships.
Australia's Bernard Tomic was fined by the International Tennis Federation for unsportsmanlike conduct at Wimbledon, after saying he felt "bored" during his straight-set first-round defeat.
The new rule would see players fined part of their prize money for similar behaviour or first round retirements.