Andy Murray using management company to develop Britain's next sports stars

By David Ornstein
BBC Sport
Last updated on .From the section Tennis67
Three Grand Slam titles, two Olympic gold medals, one knighthood and a place guaranteed among the greatest British sportspeople of all time - imagine having Sir Andy Murray in your corner...
For the first time, double Wimbledon champion Murray has spoken about his new venture in sports management.
In an exclusive interview with BBC Sport, the 30-year-old Scot explains his plan to recruit and mentor top prospects, while still competing at the highest level himself - and how he will use his own experiences of the pressure and pitfalls faced by an up-and-coming athlete.
'I was too young'
Murray started playing tennis at the age of three.
Two years later he began competing and his potential was quickly recognised, although on reflection, Murray says, there are aspects of his development he would change.
"I signed with a management company for the first time when I was 12, 13 years old, which to me is ridiculous," Murray admits. "It's way, way too young. You don't need that pressure.
"You're trying to become a professional and certainly my parents were not experienced in dealing with those situations.
"You can get yourself into trouble by signing long-term contracts that might not be in your best interests. Things like that you can avoid if you've got the right people around you."
'I want to work with the best'
Murray says he decided to start up his own management company after his maiden Wimbledon triumph in 2013.
"Throughout my career as a professional - and actually when I was a junior as well - I worked with three or four different companies and found a number of people who I liked and trusted," said Murray. "That's how it began.
"Then I thought I could look at helping some younger British athletes go through that transition phase from juniors into the senior ranks and mentor them along the way.
"It's something that interests me a lot. I want to work with the best British athletes, whether that's male or female."
Murray set up 77 Sports Management, an offshoot of the group that looks after him. It intends to provide recruits with access to the player himself as well as much of the set-up around him - personnel, sports science, nutrition, facilities, commercial opportunities and more.
"If there's anything they, their family, or anyone around them wants to ask or talk to me about, then that's what I'll do," he adds.
"I don't want to be imposing my views or ideas on anyone. But I think that's one of the nice things about having an athlete as part of the management company.
"Often the people in management companies haven't played the sport or been athletes themselves, so hopefully that's a little extra thing I can add."
'I need to learn about other sports'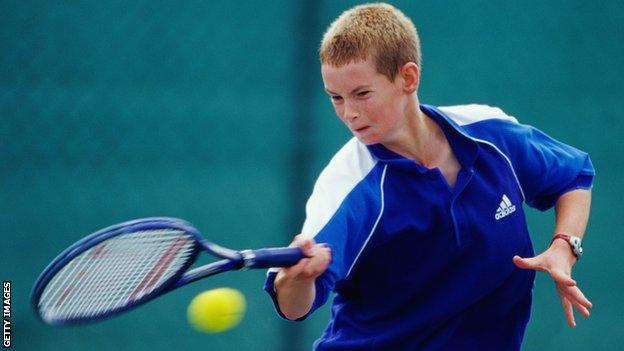 "We've looked at a number of different sports," Murray explains. "You don't want to throw yourself into too many and try to learn in an instant.
"It takes time to understand a sport. Tennis, we'll be good on. But there are others we like and, over time, hopefully we can help athletes in various sports.
"This is the only thing I've really thought of beyond tennis and something I do feel like, when I finish playing, I'll still be very, very interested in. I can't concentrate on too many things at once.
"I'm focusing on getting myself fit and healthy again - it's been a really tough year on the court, but it's important to do things away from your sport, to keep your mind fresh.
"I've got the tennis, the management company and a young family keeping me busy - that's enough for now."
So who are the first recruits?
How would it feel as a young athlete to have a direct line into somebody who has been there, done it? Someone who has won and lost, sampled the highs and lows, pressure and pain, and wants you to use their expertise and support structure for the path ahead?
The first athletes to benefit from Murray's guidance will be 20-year-old twin sprinters Shannon and Cheriece Hylton, and 17-year-old tennis player Aidan McHugh.
They have impressed Murray not only with their sporting prowess, but their academic achievements too.
Shannon is studying bio-medical science and eventually aims to focus on neuropsychopharmacology, while Cheriece is reading business management. They are due to graduate in 2019.
Before turning his attention solely to tennis, McHugh achieved seven A grades in his National 5s - Scotland's version of GCSEs - and then four As and a B in his Highers, the equivalent of A-Levels.
"There are things that go into sport other than just the performance, like the education to set yourself up for life after you finish playing," says Murray.
"That's actually something I regret not doing myself - I wish I spent more time in education and that's something I would pass on to others and certainly recommend more athletes do."
Analysis
Chris Slegg, BBC London
Shannon and Cheriece Hylton hope Murray can help them make the transition from Blackheath & Bromley Harriers to the 2020 Tokyo Olympics.
Shannon's breakthrough moment came this summer when she edged out Olympians Bianca Williams and Desiree Henry to become British 200m champion, equalling her lifetime best of 22.94secs and qualifying for the London 2017 World Championships.
Tearfully cheering her across the line at the Alexander Stadium was twin sister Cheriece, a 400m specialist who has been named in England's 4x400m relay squad for next year's Commonwealth Games.
Kheredine Idessane, BBC Scotland
The dreaded 'next Andy Murray' tag is one I'm sure Aidan McHugh is keen to avoid but, as the double Wimbledon champion's first tennis client, the 17-year-old Scot could scarcely have a better mentor.
A star pupil at Glasgow's St Aloysius college, he idolised both Murray brothers growing up and got a taste of potential fame to come by practising with Andy at this year's Wimbledon Championships.
That inspired McHugh to a couple of good wins in the boys' event at the All England Club as the highly promising junior began to plan for life on the tennis tour.