Andy Murray: Is this the beginning of the end for double Wimbledon champion?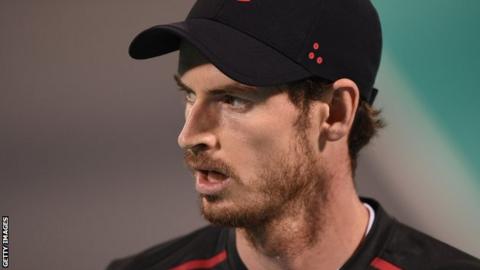 As two-time Wimbledon champion Andy Murray flew home from Brisbane after another comeback foiled by the same old injury, was he leaving behind any hope of scaling the tennis heights again?
The 30-year-old has pulled out of the Australian Open and will now consider whether to have surgery on a hip complaint that has restricted him to exhibition matches since July.
Former British number one Andrew Castle had a hip replacement at 49, while Tommy Haas, the German former world number two, returned from major surgery on the joint to play at the top level, even beating Roger Federer at Stuttgart in June last year.
Both say that Murray's top-level career is in the balance as he assesses his options.
"It's just an awful long way back," Castle told BBC Radio 5 live.
"People don't generally, in sports like tennis, recover from this level of hip injury - assuming it's either a labrum tear or full-on arthritis that requires a new hip.
"Andy Murray can probably be at 95% and beat 95% of the tour, but if a piece of your body like your hip, which is so central and important to your movement, needs major surgery, I don't see any way back."
Haas, 39, returned to a ranking of 11 in the world after surgery to fix a labrum tear in his right hip in 2010, but knew his career could easily have been over.
"I was 32 at the time and I knew that if the surgery did not go well or if I didn't put the effort into rehab it might be the end," the German told BBC Radio 5 live.
"Will Andy ever be the same? Will he ever move the same, with the foot speed that gives him the confidence at the top of the game? That remains to be seen.
"But when you have that nagging pain that is not gong away, you don't really have a choice but to do it.
"Maybe if he writes off 2018 and then comes back in a year or 18 months, he might feel great at only 32. Look at what the other players are doing in their mid-30s."
Maclagan, who coached Murray for two-and-a-half years before they parted ways in 2010, admitted that the Scot's career could be nearing an end.
"It has to be a possibility," he said on BBC Radio 5 live when asked if this was the beginning of the end. "Let's hope not."
"It is clearly serious, he has given it a good go with the rehab and that has not worked and it is time for Plan B.
"It is a little worrying that the problems started at the French Open and he tried to push through to the grass. How much extra damage was done then?"