Andy Murray: Will surgery give three-time Grand Slam champion new lease of life?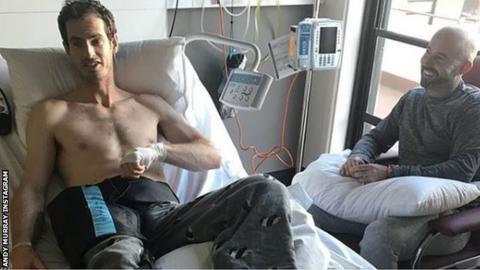 Less than a week after eloquently describing on social media how demoralising it is to be deprived of the sport he so loves, Andy Murray spoke confidently of being able to compete at the highest level once more.
Surgery on his troublesome right hip had taken place just 12 hours earlier: a hip which has prevented him playing a match in anger since Wimbledon, and left him in regular pain even when walking.
His surgeon has told him the remodelled hip will feel better than it did a year ago, and it has not escaped Murray's attention that a year ago he was the world number one. He is very unlikely to top the rankings again, but Murray clearly believes he can be a significant figure in the second week of Grand Slams in future. He is not returning just to complete one richly deserved lap of honour.
Whether he can do so remains to be seen. It would be foolish to predict exactly how his body will recover, and then respond when he returns to the tour. But he will be determined and diligent over the months to come, and that can only be a force for good.
Rehabilitation, rather than surgery, was considered the best course of action last July. To his huge frustration, Murray still found himself at base camp six months later.
The 30-year-old has tacitly admitted he should not have tried to return in time for the start of the US Open last August. Other than the three-week break he took after his aborted attempt to play in the year's final Grand Slam, Murray says he has been practising virtually every day. Would a three-month break have averted the need for surgery? His love for the sport, and drive for self-improvement, has often made it difficult for him to leave his racquet and balls alone.
That debate is now academic. Murray plans to be playing again by the grass-court season, perhaps even a little earlier. He will reduce his schedule, but not to the detriment of his Grand Slam chances.
He probably would not wish to skip an entire clay-court season as Roger Federer did last year. For the sake of his rhythm, and given the opportunity, he is likely to want to play more than the 12 tournaments Federer did in 2017. The two have totally different game styles and totally different bodies, but the Swiss - and Serena Williams - have at least proved you can have astonishing success on a much-reduced diet.
A major worry for Murray is that, even in a best-case scenario, he will be away from the tour for virtually a year. That is a very long period of time for a man who may aspire to play top-five tennis again.
When Murray had back surgery in September 2013, he was absent for just three and a half months, and yet not back to his best for more than a year.
If he returns on the grass, he will do so at the age of 31 and with a ranking of around 150. A protected ranking will afford him direct entry into all the main events, but not a seeding, and so he will find himself at the mercy of the draw.
These, though, are worries for another day. Murray accepts it is only fair to question his ability to compete once more at the highest level. But if this surgery gives his career a new lease of life, then everyone in tennis should cheer.