Australian Open 2018: Novak Djokovic should involve women in prize money fight - Martina Navratilova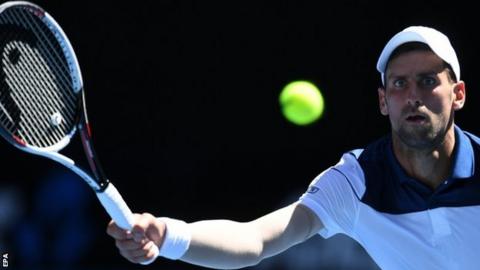 2018 Australian Open
Dates: 15-28 January Venue: Melbourne Park
Coverage: Watch highlights on BBC Two, the BBC Sport website and app. Live commentary on the best matches on BBC Radio 5 live, 5 live sports extra and online.
Tennis legend Martina Navratilova has urged Novak Djokovic and other male players who want higher prize money to "get together with the women".
Djokovic used last Friday's ATP players' meeting at the Australian Open to propose the formation of a union to fight for greater financial reward.
Navratilova supports that but warned the 12-time Grand Slam champion paying men more than women is not the answer.
"We really need to pull together and not against each other," she said.
Navratilova, who won 18 major singles titles, told BBC Sport: "I think it's great that the players should be getting more.
"The percentage of the money the majors give to the players is less than it ought to be. For me, the right way to do it would be for both the men and women to get together and say, 'This is what we want and you need to give it to us or there won't be a Grand Slam'.
"Certainly, giving more money to the men than the women is not a solution. That's the wrong thing to do and I wish that Novak would see that.
"The biggest reason why these majors are so big and so important and so meaningful is because both men and women play in them and contribute equally.
"That equal prize money discussion - I thought we were done with that 10 years ago. That's done and dusted. You should not be asking for that. It's the wrong thing."
| Grand Slam prize money | |
| --- | --- |
| Australian Open 2018: 55m Australian dollars (£32m) | Wimbledon 2017: £31.6m |
| French Open 2017: 36m euros (£32m) | US Open 2017: $50.4m (£36.2m) |
Women earn the same as men at tennis majors, with the Australian Open champions receiving four million Australian dollars (£2.3m) each.
There is no suggestion that last Friday's meeting discussed increasing men's prize money at the expense of the women's tour, but the issue remains a subtext to the debate.
There are a significant number of men who think they should be paid more. Djokovic, who feels he has been unfairly portrayed as "very greedy" in some reports of recent days, made his feelings clear at the Indian Wells tournament in March 2016.
"I think that our men's tennis world, ATP world, should fight for more because the stats are showing that we have much more spectators on the men's tennis matches," the 30-year-old Serb said at the time.
"Women should fight for what they think they deserve, and we should fight for what we think we deserve. As long as it's like that and there is data and stats available upon who attracts more attention, spectators, who sells more tickets, it has to be fairly distributed."
Navratilova, 61, has responded by saying Djokovic is not "seeing the big picture" and that the "guys just need to get over it".
"There was a time when the women's game was a lot more interesting than the guys', and we never asked for more," she continued.
"I don't think Novak is seeing the big picture here. You need to send that signal to the world that women and men are equal and you have to back it up with the prize money.
"It's not about quantity, quality - it's about the drama and that we're all in this together, and the guys just need to get over it.
"You should not be upset that someone is making just as much as you because, for the moment, your TV ratings are bigger than the other guy.
"If you just get paid like that, then Roger Federer should get paid 10 times. He should get paid more than Novak because his ratings are better - so should Roger then get a better piece of the action? It would never occur to him to ask."
'More noise needed' in Margaret Court row
Navratilova said she also wishes players at the Australian Open had made "a little more noise" about the naming of the Margaret Court Arena.
Australian Court, whose 24 Grand Slam singles titles is a record, opposes same-sex marriage. Earlier on Thursday, Britain's Laura Robson suggested the arena should be renamed.
Like 12-time Grand Slam singles champion Billie Jean King, Navratilova says she would refuse an invitation to play in the arena and believes her name will be removed from there in future, but says she is disappointed that so many leading players have avoided commenting on the issue.
"I'm not asking them to boycott the tournament or not play on the court", she said.
"But you have to stand up for what is right and there's no pressure on you if you say how you feel. It doesn't affect how you play the game or hit the ball.
"You can certainly state your opinion and hold your head high. Putting your head in the sand never solved anything. You have to live with yourself, and is a potential dollar more important than speaking the truth and saying how you feel?
"It never was for me, and I wish there was a little more noise made by the players."