Australian Open: Organisers defend heat policy after extreme temperatures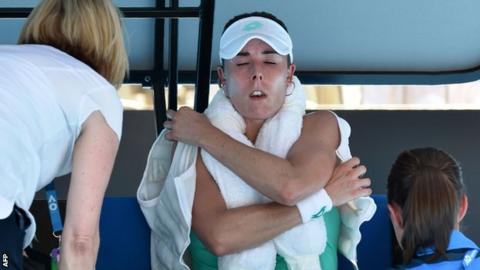 Australian Open organisers have defended the decision not to stop play for extreme temperatures during the tournament after player criticism.
Temperatures on day five reached 40C in Melbourne while six-time champion Novak Djokovic called conditions "brutal" and "right on the limit" on Thursday.
Officials said they "came close" to enforcing their heat rule on Friday which would have halted play.
Director Craig Tiley said: "We are, at the end of the day, an outdoor event."
He added: "We want it to stay an outdoor event as long as possible but at the same time ensuring that the health and wellbeing of players is taken care of."
The extreme heat policy at the Australian Open does not use a simple maximum heat, rather a combination of factors including temperature, humidity and wind speed.
It was last enforced in 2014 when play was suspended after Melbourne had three consecutive days with temperatures above 40C.
On Friday France's Alize Cornet had to have her blood pressure taken by a doctor during her defeat by Elise Mertens.
Croatia's Petra Martic also said she took painkillers to deal with blisters caused by the heat coming through her shoes from the court surface of Melbourne's main show court, the Rod Laver Arena.
After her match, Martic said: "That was really ugly. I think we were lucky to play on Rod Laver because we had some shade behind so you could hide for a few seconds in between the points.
"Other than that you just need to be mentally tough and ready to just suffer out there and try to make it through."
Spectators at the venue were advised to wear hats and drink fluids to reduce the chance of heat sickness while there were large numbers of empty seats on many courts as fans sheltered from the sun.
On Thursday, the host broadcaster reported a reflected temperature on court of 69C.
Djokovic's third-round opponent Gael Monfils said he was "dying on court" in the hot conditions.
"For sure we took a risk," the 31-year-old Frenchman said.
Five-time winner in Melbourne Roger Federer, who avoided the worst of the heat by playing in Thursday's night session, played down the issue saying players have to be able to play in "all conditions".
"We know it can be very hot here in Australia," Federer said. "I remember the days when we had four days of 40 degrees in a row a few years back. Now we got two.
"It's definitely a challenge."
'Not a great spectacle'
BBC commentator David Law, who was watching British number two Kyle Edmund's five-set marathon in the severe heat, said the matches "were not a great spectacle" because of the conditions.
"There are question marks over whether they should play in this," he said.
"If the heat rule wasn't going to be employed on a day like yesterday when will it be invoked?
"You had players leaning on racquets in the second set of matches. Super-fit athletes struggling to carry on - it wasn't a great spectacle."