Australian Open 2018: The making of Kyle Edmund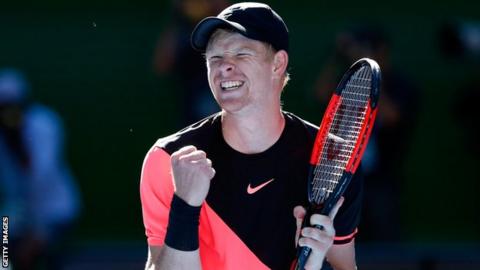 2018 Australian Open
Dates: 15-28 January Venue: Melbourne Park
Coverage: Watch highlights on BBC Two, the BBC Sport website and app. Live commentary on the best matches on BBC Radio 5 live, 5 live sports extra and online.
Kyle Edmund might have been born in South Africa but he endures the traditional problem faced by some Britons in the sun.
"I got a bit burned," he said after an early round at the Australian Open last week.
"I didn't put enough sunscreen on. I have to take responsibility - my mum gives me a lecture if I don't."
That is about the only misstep from the 23-year-old since he arrived in Melbourne earlier this month.
He opened the tournament with the best win of his career over the 11th seed, followed it with a five-set win in 40C heat in round three, fought back to reach his first Grand Slam quarter-final, and upset the world number three to reach the semi-finals.
Edmund now stands one win from a place in the final, and in the process overtaking the injured Andy Murray as British number one.
On the face of it, this is a remarkable leap into new territory that few could have seen coming.
However, the implacable Edmund has made quiet but relentless progress since emerging from a talented group of British boys at the start of the decade.
From South Africa to the Bahamas, via Yorkshire
The chant of "Yorkshire! Yorkshire!" that rang around Rod Laver Arena during the quarter-final did not quite do justice to Edmund's background.
Born in Johannesburg in 1995 to Welsh father Steven and South African mother Denise, Edmund's family, including sister Kelly, relocated to Tickton in Yorkshire when he was three years old.
Twenty years later, he lives in the Bahamas, has career earnings of £1.5m - with at least another £500,000 to come at the end of this week - and is on the verge of becoming a famous face in every place where this most globe-trotting sport has a presence.
A talented footballer and cricketer, it was not until the relatively late age - for someone who would go on to become a professional - of 10 years old that Edmund took to tennis.
At 13 he moved to the National Sports Centre at Bisham Abbey, and then on to the LTA's National Training Centre in Roehampton.
By the age of 16 he was a leading light in Britain's junior boys' team which won the prestigious Summer Cup, Winter Cup and Davis Cup, under the captaincy of Greg Rusedski.
"Kyle would just go out there and batter people," Rusedski later told the Telegraph.
"He has always had this massive forehand, and he would rip his opponents to pieces with it."
An obvious talent, Edmund would peak at eighth in the junior world rankings, marking him out as one to watch without ever being tagged as the next big thing.
That would serve him well as he made his way into the professional ranks.
When Kedders met Muzza
It was when Edmund started racking up titles in the senior ranks as a teenager on the Futures and Challenger tours, that he began to serve notice of a significant career in the making.
A first Davis Cup call-up in 2014 would also prove to be a major milestone, as he came under the wing of one of the best players in the world.
Murray invited Edmund to one of his famously punishing training blocks in Miami at the end of the year, and the Scot has been a huge influence ever since.
Given first-hand experience of what it takes to make the top of the game, the diligent Edmund took note.
On the court, he became only the sixth man in history to make his Davis Cup debut in the final, blasting his way to an unexpected two-set lead over David Goffin before eventually losing in five.
Murray would lead the side to their first victory since 1936 and "Kedders" - as he is known - played the role of youngster in a squad full of jokes and merciless mickey-taking.
"The Davis Cup has been a vehicle to give him confidence and some big stages. From that, he got to spend a lot of time with Andy," said Great Britain captain Leon Smith.
"I think he has done three pre-seasons with Andy in Miami and one in Dubai, and he has got to rub shoulders with Andy on a regular basis - that can only help a young player coming through."
A rapid rise years in the making
After rising through the ranks to a career-high of 40th in 2016, Edmund found it harder going as he tried to push on into the highest echelons of the game.
A succession of near-misses against players such as Rafael Nadal, Stan Wawrinka and Milos Raonic meant he remained without a top-10 win, and 2017 ended with defeat by Jack Sock from 5-1 up in the final set in Vienna, and an end-of-year ranking of 50th.
Edmund had worked with a number of coaches over the years, with Rusedski taking the role for a brief period in 2014, but in the latter stages of 2017 he put together a partnership that appears to be working wonders.
He brought in Mark Hilton, the British coach who previously worked with Liam Broady and Dan Evans, over the summer and then Swede Fredrik Rosengren later in the year to share the role.
Together, they headed to Nassau in the Bahamas, where Edmund has relocated to train at the new Lleyton Hewitt Academy and enjoy the weather and easy access to American tournaments.
The tax implications did not escape everyone's notice, and the increased level of scrutiny - good and bad - that is sure to follow his growing success will be another test for Edmund.
There is no doubt the move has paid off in tennis terms, with the work done on his serve, in particular, playing a huge part in his success in Melbourne.
"[Rosengren] is a great guy," said former British number one Tim Henman.
"He's got enormous enthusiasm and passion for the game and I think that's rubbing off on Kyle.
"He's always had a lot of attributes to his game and it's just a question of stringing them together."
Edmund's route to the semi-finals
First round: Beats Kevin Anderson 6-7 (4-7) 6-3 3-6 6-3 6-4
Second round: Beats Denis Istomin 6-2 6-2 6-4
Third round: Beats Nikoloz Basilashvili 7-6 (7-0) 3-6 4-6 6-0 7-5
Fourth round: Beats Andreas Seppi 6-7 (4-7) 7-5 6-2 6-3
Quarter-finals: Beats Grigor Dimitrov 6-4 3-6 6-3 6-4
Liverpool FC, the TT and Ricky Ponting...
Edmund was beaming in front of the media after his first-round win last Monday, and not just because he had beaten 11th seed Kevin Anderson.
As Davis Cup team-mate Jamie Murray had pointed out on social media, Liverpool's win over Manchester City the day before had been uppermost in Edmund's mind.
"Good result, wasn't it?" Edmund smiled in his news conference. "And no Coutinho or Van Dijk."
His love of Liverpool has extended to an appearance on the club's TV channel, and there were plans for a visit to the training ground to meet coach Jurgen Klopp.
When on tour, he is able to indulge his love of football with Liverpudlian doubles players Ken and Neal Skupski and Australian John Millman, fellow supporters, while his coaches should provide some interesting conversation - both Rosengren and Hilton are Manchester United fans.
Motorsport is another huge passion, Formula One and TT racing in particular, and sport plays a central role away from the tennis court.
"I was in a restaurant the other day and Ricky Ponting walked in," said Edmund.
"He's like one of the biggest Aussie legends. It was like, 'Oh, there is Ricky Ponting.' Fidde [Rosengren] had no idea who he was!
"Because I follow sports, I idolise him. I am aware of him and how good they are in sport."
Apparently Ponting did not recognise Edmund, but that might not be the case the next time they dine in the same restaurant.
The recognition factor in Australia is growing with every win, and a prime-time slot awaits on Australian television for Thursday's semi-final.
Some England cricketers have already sent messages of support, and he is likely to find himself closer to the centre of attention than ever before when he travels the 12,000 miles home next week.
"Occasionally you get people coming up to you,' said Edmund. "I imagine probably a bit more now."