Caroline Wozniacki: world number one unhappy over 'disturbing' grunting
Last updated on .From the section Tennis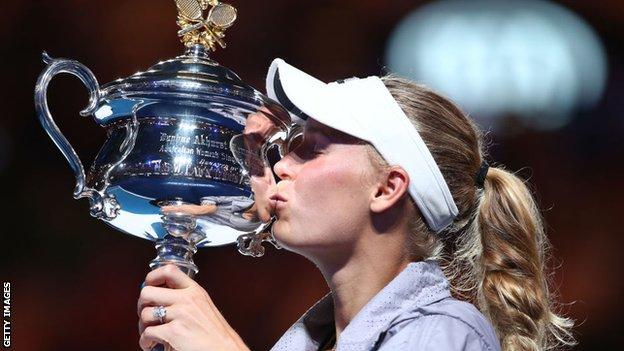 World number one Caroline Wozniacki has complained about Monica Niculescu's "disturbing" grunting after beating her in the third round at the Qatar Open.
The Australian Open champion won 7-5 6-1 but accused the Romanian of making too much noise and spoke to the umpire.
Wozniacki, 27, continued her criticism off-court, calling Niculescu "a player that tries to get into your head".
The WTA has said umpires can act on grunting if it is deemed to affect an opponent through a 'deliberate act'.
"I just tried to let him [the umpire] know to pay attention to her grunting because she'll hit the ball and two seconds later when the ball is on my side and I'm right about to hit, she'll start grunting and make a noise, and she'll change the grunt according to what she feels like," Wozniacki claimed.
"It's disturbing. It's in the rules that they're not supposed to do that so I was just making sure the umpire was paying attention to that. And she stopped doing that after."
Wozniacki moved back to the top of the women's rankings after winning her first grand slam title in Melbourne in January.
But Niculescu, who beat Maria Sharapova in the first round in Qatar, has defended her game.
She told Romanian TV channel Digi Sport: "That was very bad from her, I have never heard a number one talk like that. I am really disappointed by what she said and I think she gives herself too much importance. I didn't want to get in her head. This is how I play."