Laureus Awards: Roger Federer named World Sportsman of the Year 2017
Last updated on .From the section Tennis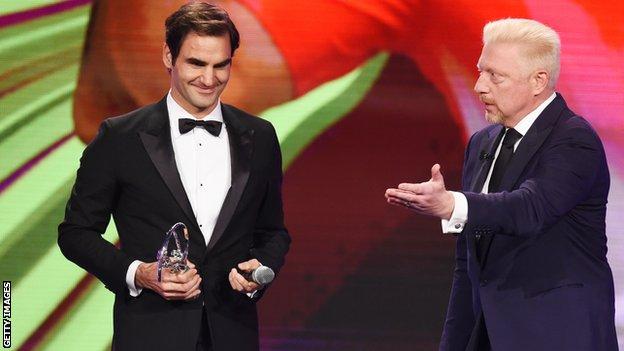 Twenty-time tennis grand slam champion Roger Federer has won the 2017 Laureus World Sportsman of the Year and Comeback of the Year awards.
The 36-year-old Swiss won the Australian Open and Wimbledon titles in 2017 after nearly five years without a major.
"I didn't believe I would ever come back to this level," said Federer. "The year I had was something else."
Serena Williams took the World Sportswoman of the Year award after winning her 23rd grand slam in 2017.
"This means the world to me," added world number one Federer.
"The comebacks are always extremely emotional. Last year was a dream come true."
Formula 1 constructors' champions Mercedes picked up the Team of the Year accolade, and wheelchair athlete Marcel Hug won Sportsperson of the Year with a Disability.
"There's so much expertise in all parts of our team, I feel so proud to be a part of it," said Mercedes' world champion Lewis Hamilton
Also at the ceremony in Monaco, golfer Sergio Garcia secured the Breakthrough prize following his Masters success, while recently-retired Roma forward Francesco Totti clinched the Laureus Academy Exceptional Achievement award.
Brazilian football club Chapecoense were given the Best Sporting Moment of the Year for their response in adversity following a plane crash in 2016 in which they lost the majority of their team.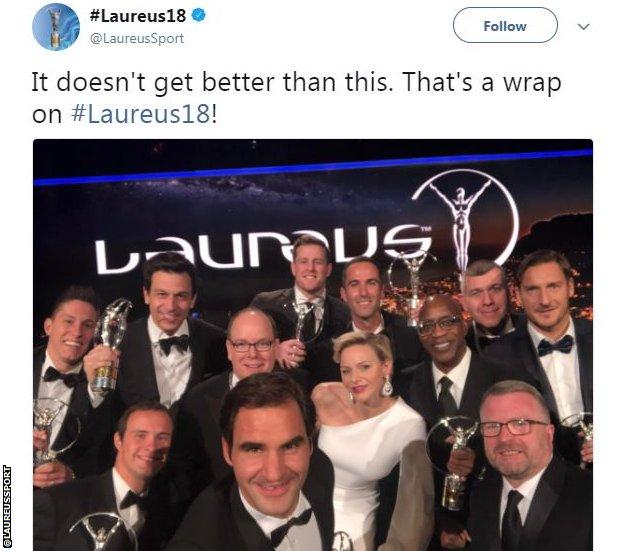 Winners:
Sportsman of the Year award
Roger Federer.
Also nominated: Cristiano Ronaldo (Portugal) football, Mo Farah (GB) athletics, Chris Froome (GB) cycling, Lewis Hamilton (GB) Formula 1, Rafael Nadal (Spain) tennis.
Sportswoman of the Year award
Serena Williams.
Also nominated: Garbine Muguruza (Spain) tennis, Caster Semenya (South Africa) athletics, Allyson Felix (US) athletics, Katie Ledecky (US) swimming, Mikaela Shiffrin (US) alpine skiing.
Team of the Year
Mercedes.
Also nominated: France's Davis Cup team (tennis), Golden State Warriors (basketball), New England Patriots (American football), New Zealand's America's Cup team (sailing), Real Madrid (football).
Breakthrough of the Year
Sergio Garcia.
Also nominated: Anthony Joshua (GB) boxing, Kylian Mbappe (France) football, Jelena Ostapenko (Latvia) tennis, Giannis Antetokounmpo (Greece) basketball, Caeleb Dressel (US) swimming.
Comeback of the Year
Roger Federer.
Also nominated: FC Barcelona (Spain) football, Valentino Rossi (Italy) motorsport, Sally Pearson (Australia) athletics, Justin Gatlin (US) athletics, Chapecoense (Brazil) football.
Sportsperson of the Year with a Disability
Marcel Hug.
Also nominated: Yui Kamiji (Japan) wheelchair tennis, Oksana Masters (US) cross-country skiing, Bibian Mentel-Spee (Netherlands) snowboarding, Jetze Plat (Netherlands) ironman, Markus Rehm (Germany) long jump.
Action Sportsperson of the Year
Armel Le Cleac'h.
Also nominated: Tyler Wright (Australia) surfing, John John Florence (US) surfing, Anna Gasser (Austria) snowboarding, Mark McMorris (Canada) snowboarding, Nyjah Huston (US) skateboarding.
Best Sporting Moment of the Year
Chapecoense.
Also nominated: The Iowa Hawkeyes and the 'Kinnick Wave' (US) American football, Bradley Lowery and his special bond with Jermain Defoe (GB) football, Kimi Raikkonen and his six-year-old fan Thomas Danel (Finland) Formula 1, Billy Monger (GB) motorsport.