Serena Williams: Statistics on deaths in pregnancy or childbirth 'heartbreaking'

By Russell Fuller
BBC tennis correspondent
Last updated on .From the section Tennis
It is "heartbreaking" black women in the United States are more likely than white women to die from complications in pregnancy or childbirth, says tennis great Serena Williams.
The 23-time Grand Slam singles winner is returning to the WTA Tour six months after she "almost died" giving birth.
Williams, 36, suffered a pulmonary embolism after her first child was delivered by Caesarean section.
The American says it may be time for women to "to get feisty and stand up".
According to the Centers for Disease Control and Prevention, black women in the United States are more than three times as likely as white women to die during pregnancy or childbirth.
"Doctors aren't listening to us, just to be quite frank," Williams told the BBC as she competed in the Tiebreak Tens event in New York.
"It may be time for women to be comfortable with having uncomfortable conversations.
"I was in a really fortunate situation where I know my body well, and I am who I am, and I told the doctor: 'I don't feel right, something's wrong.' She immediately listened.
"She was great. I had a wonderful, wonderful doctor. Unfortunately a lot of African Americans and black people don't have the same experience that I've had.
"Also there are some things we are genetically pre-disposed to that some people aren't. So knowing that going in, or some doctors not caring as much for us, is heartbreaking.
"Because of what I went through, it would be really difficult if I didn't have the healthcare that I have - and to imagine all the other women that do go through that without the same healthcare, without the same response, it's upsetting."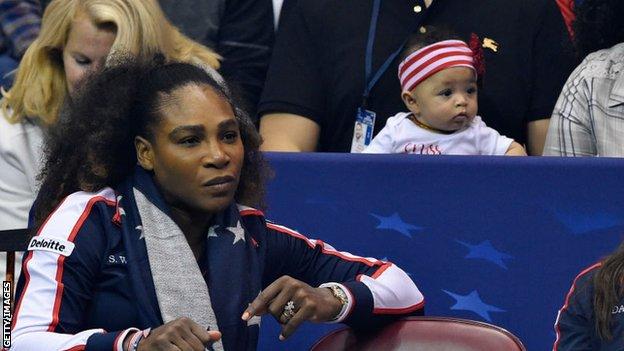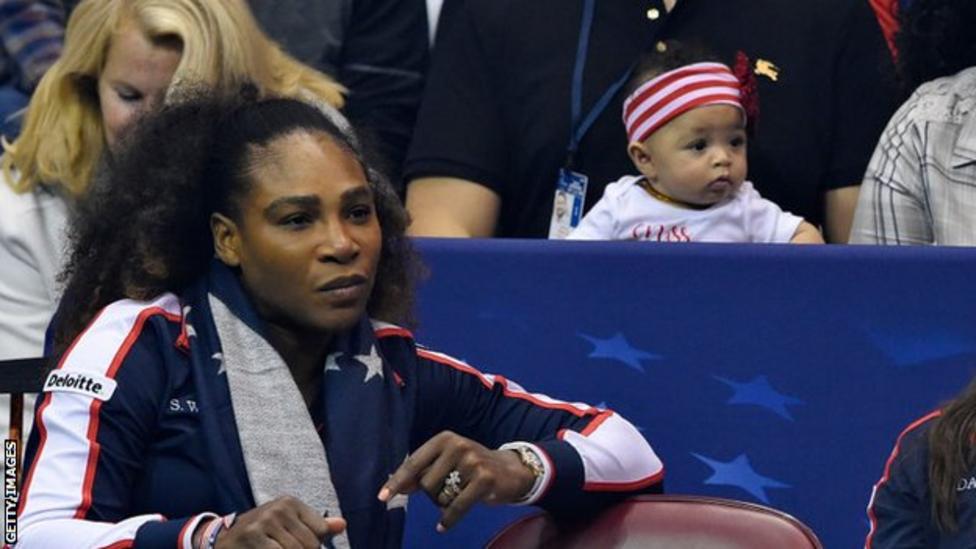 Williams was acutely aware of the danger she was in after giving birth, as she had previously suffered a pulmonary embolism in 2011. But does she put this disparity in mortality rates down to prejudice, or to a lack of access to healthcare?
"I don't know," she said. "I think there's a lot of pre-judging absolutely that definitely goes on. And it needs to be addressed."
In recent years, as the pre-eminent sportswoman of her generation and one of the world's most influential figures, Williams has begun to speak more freely about issues which concern her.
Whether it is to address a lack of diversity, the gender pay gap or sexual harassment, she argues it is time to have "conversations that really in 2018 we shouldn't have to have".
"I can't say that's it not time to get feisty. I think maybe it is," the former world number one said.
"You have to stand up and, I heard someone say, have conversations that aren't comfortable. Be comfortable with having uncomfortable conversations like we deserve to be paid what a guy does; we deserve to be treated fairly, the same way.
"I think it's important to speak up loud and clear and say: 'No, this isn't right. Treat me the same way that you're treating...' How am I going to explain to my son that he is getting more? How am I going to explain to my daughter that she is getting less than my son? To me it's impossible to explain this."
The Serena Williams Fund aims to try to bring about equality through education. Williams has helped build three schools: two in Kenya, and one in Jamaica. Having "literally put nails in the school" in Jamaica, Williams says she faced more of a political challenge in Kenya.
"We had to fight really hard for equal education rights," she said.
"We ended up on 60%-40% either way, because usually they send only boys to school in this area. And we were really excited with that because usually if there's 10 kids, there would be like nine boys to one girl."
In conjunction with her sister Venus, Serena has also developed an organisation to help the victims of what she describes as "senseless violence". Their half-sister, Yetunde Price, was shot dead in Compton in California in 2003.
The goal is to help people deal with traumatic and sudden loss, but does Williams also feel she can bring any influence to bear on the gun law debate in the United States?
"Oh, I wish. We're trying, everyone's trying," she says.
"We've got teenagers speaking up on it now, so that's really been great. We keep raising awareness, we keep raising money: obviously it's affected me personally, so it's been really really trying.
"A lot of my partners donate to our centre to raise awareness in terms of helping these people after the fact, because you go though something so traumatic and you have no place to go."